Little Mixes New Babies!
January 24th, 2022
1012 Views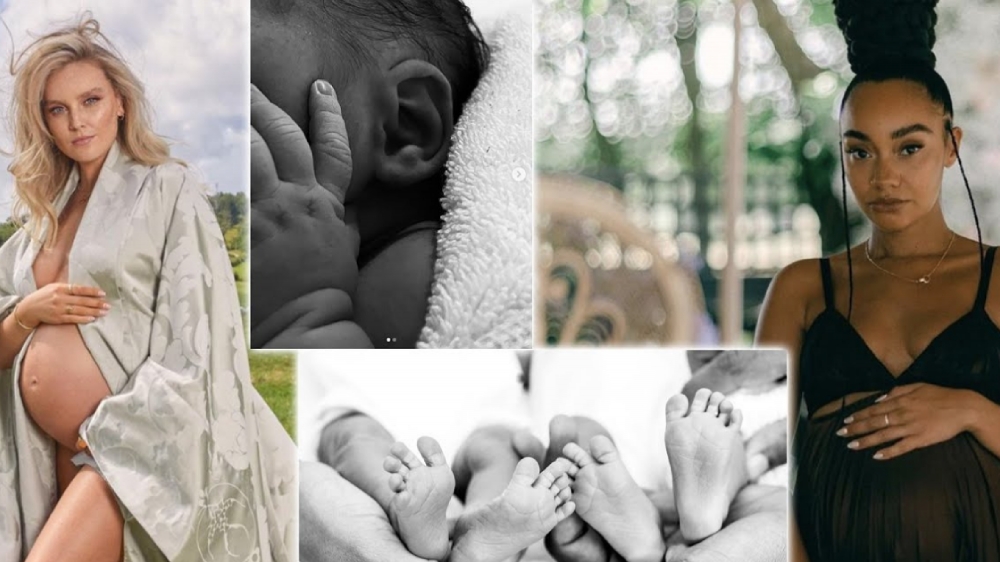 2021 was certainly an amazing year for Little Mix the popular UK girl band. When they announced the release of their new single 'Confetti' they also announced that two of the band– Leigh-Anne Pinnock and Perrie Edwards - were expecting babies. They were both seen on the red carpet for the Brit Awards with baby bumps and proud auntie, Jade Thirwell walking alongside them! Pregnancy certainly seemed infectious as their manager Sam Cox announced she was pregnant too!
Leigh-Anne Pinnock has twins!
Leigh-Anne 's babies were the first to arrive. She and her fiancé, Watford FC footballer, André Gray, welcomed the twins on Monday 16 August and Leigh Anne made the announcement seven days later – 'We asked for a miracle, we were given two.. our cubbies are here'!
As yet, she and André have kept the babies' names and sex a mystery. In the first photo, with her babies, Leigh-Anne has blocked out her newborns' faces with heart-shaped stickers. In October she told a reporter from the UK's Daily Telegraph "I'm just gonna keep it to myself".
At Christmas Leigh-Anne and André posed with the twins – all wearing matching festive pyjamas but with only the backs of the twins' heads showing. Leigh-Anne later released a black and white photo of her breastfeeding one of the babies. Maintaining privacy for her babies seems to be the singer's top priority. She has released a beautiful photograph of herself pushing an olive green double pram in the grounds of Cliveden House.
Throughout her pregnancy, Leigh-Anne (Lee-Lee) kept her followers up to date with news of her pregnancy and photos from her baby shower.
Image from @leighannepinnock instagram.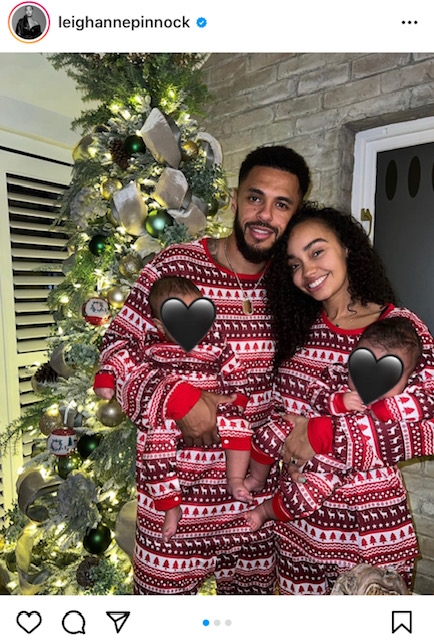 Perrie Edwards welcomes a baby son!
Perrie's baby (or 'Pez' as she is affectionately known) arrived on 21 August 2021. She and her fiancé, Liverpool footballer Alex Oxlade Chamberlain, announced the arrival the following day on Instagram with the cutest photo of the baby's hand brushing against his cheek. The proud parents kept details of the baby's sex and name a secret until 4 September 2021 when they presented their son Axel Oxlade Chamberlain to the world..
During her pregnancy Perrie used Instagram to post some stunningly creative pregnancy photos including one in mid-August which showed her naked and covered in gold paint. Since Axel's arrival there have been few photos of him except when the family flew to Dubai in November on holiday.
Image from @perrieedwards instagram.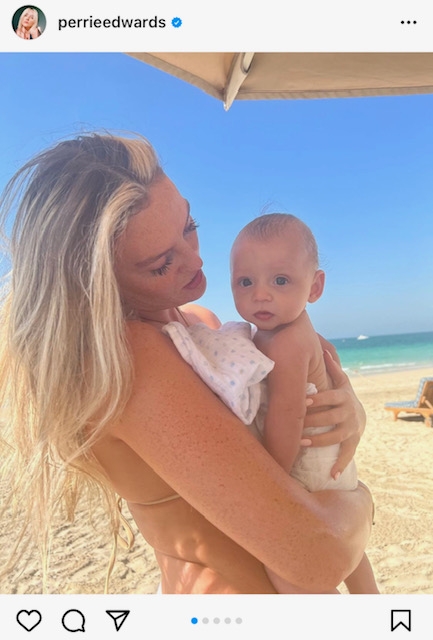 And their manager's a mum too!
Sam Cox's baby surprised everyone by arriving earlier, but the delighted mum took to Instagram on Monday 9 August with a photo of her newborn's tiny hand- 'This little Soul arrived earlier then expected.. We're feeling so blessed! Our little family is complete 🤎.'
And a great 2022 ahead for the band!
Having had to cancel their tour last year because of Covid, Little Mix will be on their 'Confetti' tour in April and May this year and will then be taking a well- earned break they recently announced – but they have also confirmed to fans that this is not because they are breaking up. The group made the announcement on Twitter -
"It's been ten amazing years, a wonderful non-stop adventure, and we feel the time is right to take a break so we can recharges and work on some other projects,"
The Confetti Tour will comprise of 36 events, kicking off in Belfast on 9 April and visiting many cities including Newcastle Upon Tyne, Liverpool, Birmingham and Glasgow before the three final concerts at the 02 Arena in London.
● For more details go to Ticketmaster here:
Click Here to Buy
Chrissie x