Winnie the Pooh range at Matalan
August 23rd, 2021
488 Views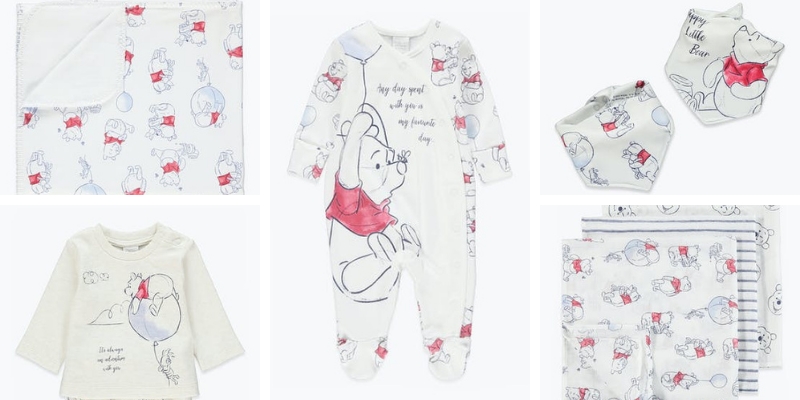 Since the 1920s, generations of children around the world have grown up with Winnie-the-Pooh. This honey-loving bear, created by the English writer A..A. Milne, is also referred to as 'Pooh Bear' and simply 'Pooh' The first collection of stories about him were published in a book entitled Winnie-the-Pooh, and this was followed by The House at Pooh Corner.

Whether you are preparing for the arrival of your baby or have a relative or friend is expecting, why not check out Matalan to discover the gorgeous coordinated Winnie-the-Pooh collection? You will be delighted that you did!
"Any Day Spent With You Is My Favourite Day."
The unisex Winnie-the Pooh baby grow is soft and cute and needn't just be used for bedtime!
The baby grow is priced at just £6.00 and is cream in colour with a soft grey Pooh print on the sleeves, side panel and feet.
On the front, there is a lovely line drawing of Pooh holding onto his famous blue balloon. Alongside the drawing is the printed phrase 'Any Day Spent With You Is My Favourite Day''. The baby grow can be bought in sizes up to 12 months and in the sizes up to six months, the suit has fitted scratch mitts.
Click Here to Buy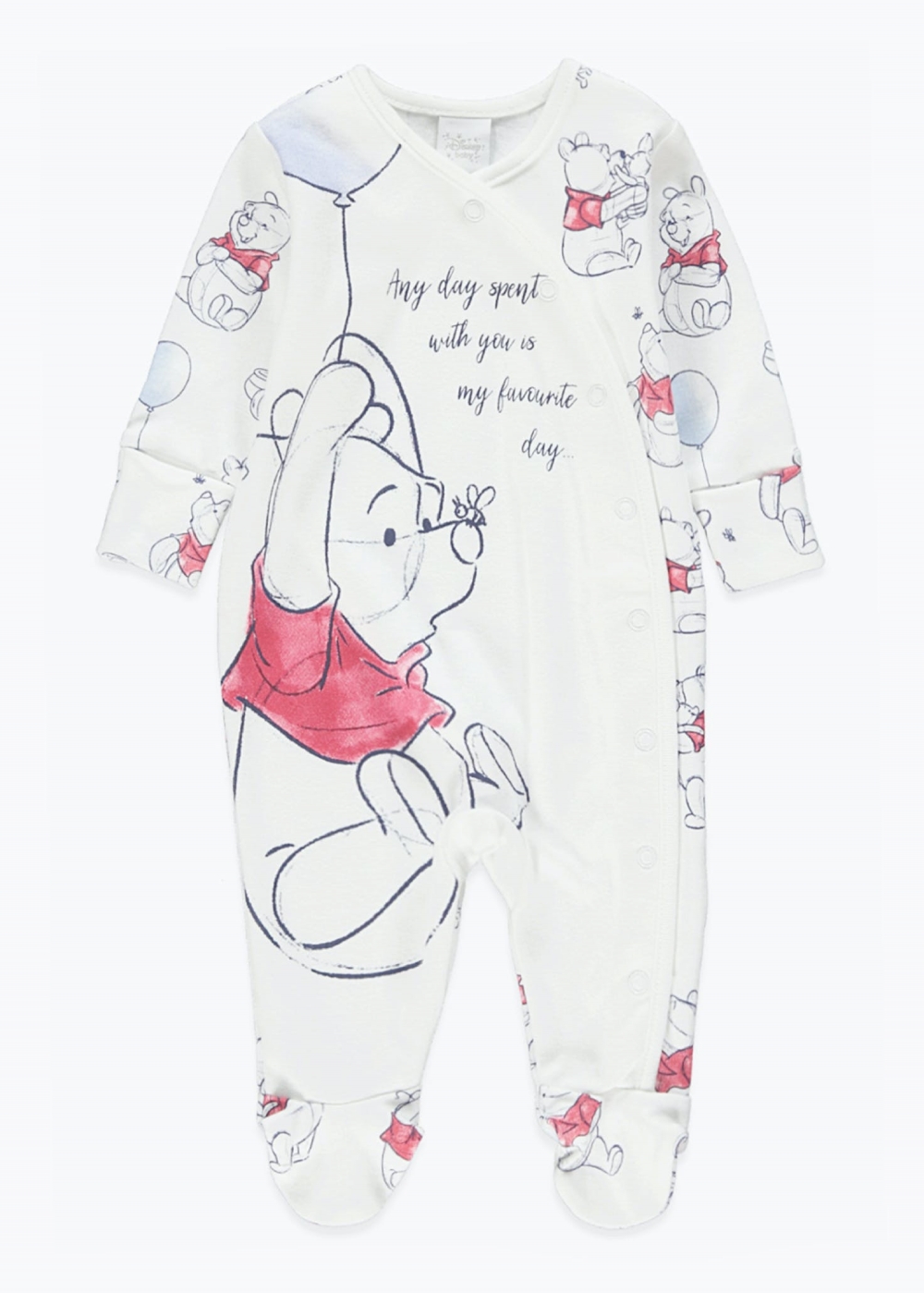 There are two five-piece gift sets in the Matalan range to choose from.
The first is in the same cream colour with pooh wearing a soft red-coloured top and the other is in grey and yellow and features Pooh's friend Tigger too! Both sets comprise of a baby grow, short-sleeved bodysuit, pair of scratch mitts, matching cosy hat and a bandana-style bib.
The sets are priced £14.00 each and are available in sizes newborn – 9 months.
Click Here to Buy
"It's always an adventure with you."
If you prefer your newborn to wear a two-piece sleeping set, you will love the design on the Matalan pyjamas as it shows Pooh lying on top of his blue balloon as he heads off on an adventure.! Next to the design is the appropriate phrase 'It's always an adventure with you'.
Click Here to Buy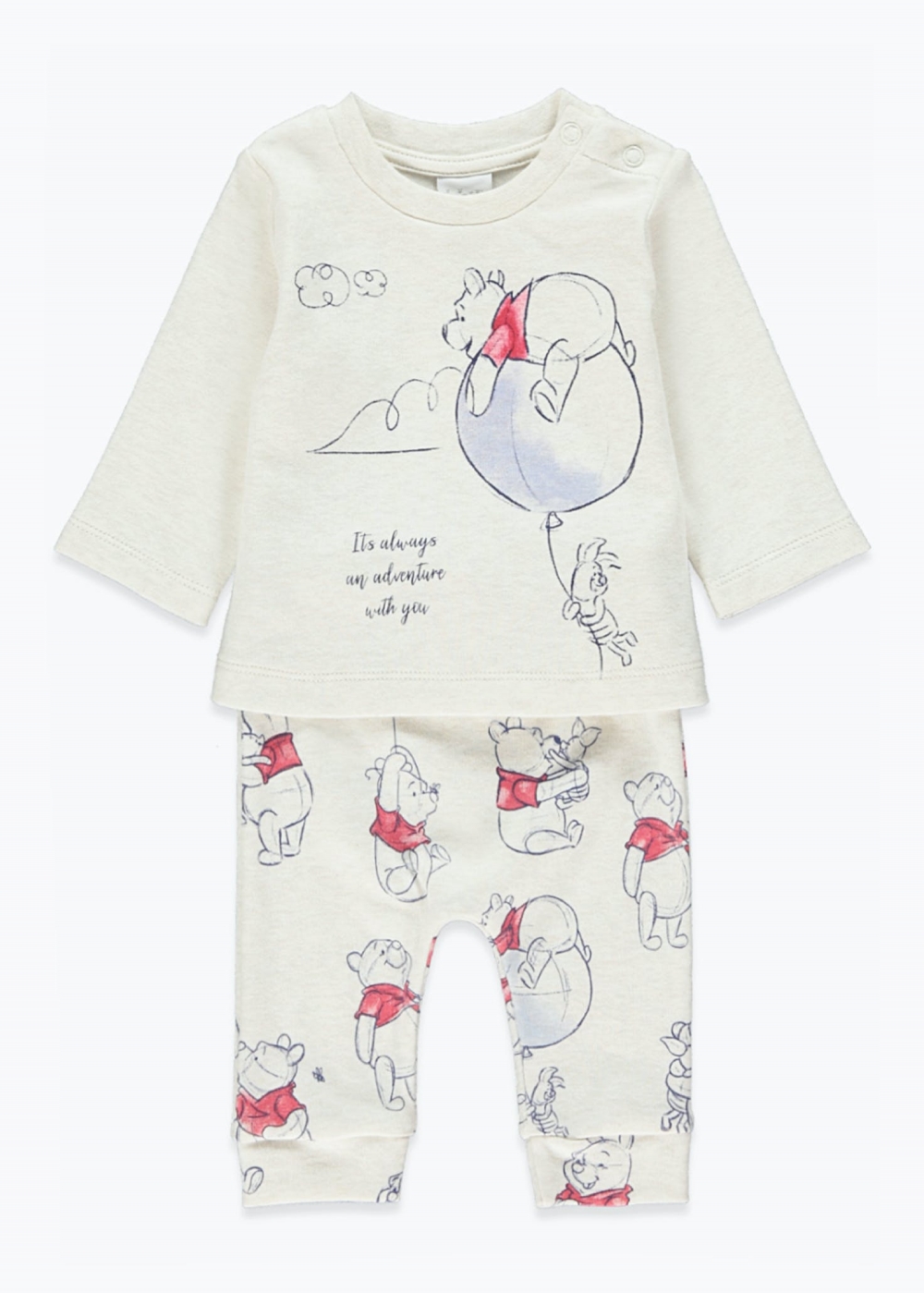 Other fun purchases for your baby include a three pack of bodysuits in five sizes from newborn – 12 months (£7.50)
Click Here to Buy
There is a lovely three-pack of pretty Pooh decorated muslin squares which are always useful (£4.50)
Click Here to Buy
Also a cute two pack of bandana bibs (£4.00)
Click Here to Buy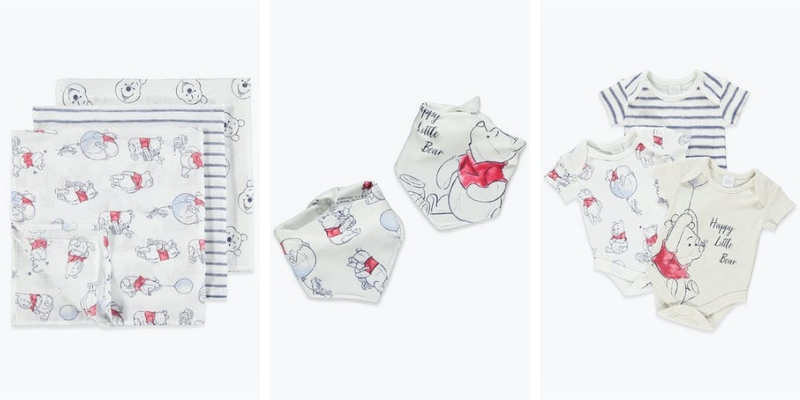 The Winnie-the-Pooh top and leggings set are really cute and just as comfy! They are cream in colour with an overall sketch pattern featuring Pooh Bear, Eeyore, Piglet, Tigger and Pooh's beloved honey pot! (Available in sizes for newborn- 18 months and costs £10.00)
Click Here to Buy
Alternatively there is a pretty little dress in the range for newborn – 18 months. The dress has short sleeves and a frill collar and is cream with a sketch pattern depicting Pooh with his blue balloon and surrounded by bumble bees (£5.00)
Click Here to Buy
"You're braver than you believe, stronger than you seem, and smarter than you think."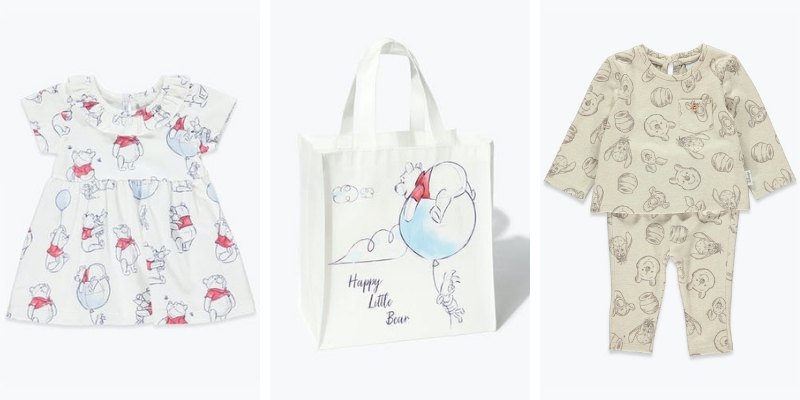 All of the items in the Matalan Winnie-the-Pooh range make really special gifts to give to a new baby and the beautiful Milestone Blanket is a clever way to record a baby's development as it comes with a special marker pen for adding dates and other important details.
The idea is that the baby lies on the blanket while you take a photo which can be sent to family and friends (the blanket costs £10.00)
Click Here to Buy
What better way to present your chosen gifts, than in the matching gift bag?
The bag features a lovely line drawing of Winnie-the-Pooh sailing along on his blue balloon with Piglet sailing far below as he tightly holds onto the string. If you are buying the clothes for your own baby, the gift bag makes the perfect toy tidy for your nursery and it is only £2
Click Here to Buy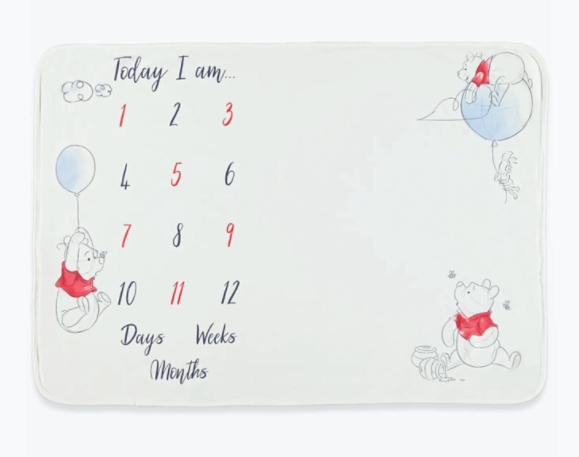 "Sometimes the smallest things take up the most room in your heart."
Enjoy this beautiful collection of clothes and basics while your baby is very young and look forward to reading the Winnie-the-Pooh stories together very soon….
Chrissie x