Have you seen the Dumbo Baby range at Matalan?
August 18th, 2021
603 Views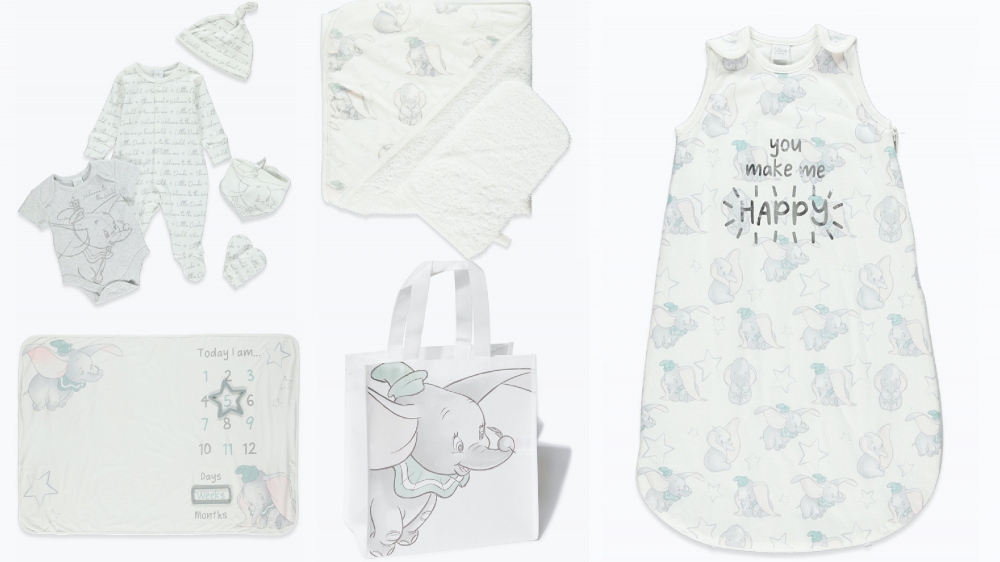 Having a cute welcome home themed wardrobe can be great fun and Matalan makes it so easy with their fun range of Dumbo products. The range has been carefully designed to be stylish yet practical and features one of Walt Disney's best loved characters – Dumbo.

If you haven't seen the film Dumbo then why not treat yourself soon? Everyone loves Dumbo whether they are 3 or 103! A young elephant called Jumbo Junior has been given the nickname 'Dumbo' as he isn't always the brightest elephant. He has huge flappy ears and to everyone's surprise – including his - Dumbo can use them like aeroplane wings and fly!
Dumbo at bedtime!
The Matalan range has some lovely bedtime items for your baby's cot. The first is a lovely fleece baby blanket that measures 100 cm x 75 cm and is perfect for keeping your baby snug as winter approaches. The blanket is beautifully soft and is cream in colour with a delicate grey Dumbo print on one side. The blanket is machine washable and dries quickly making it practical as well as beautiful!
Click Here to Buy
This fleece baby blanket is presented rolled and tied with ribbon, making it an ideal gift if you have family or friends who have just welcomed their new arrival!
Keeping babies warm through the night when they wriggle around can be a challenge but Matalan has the answer with its Dumbo sleeping bag – which is used instead of a cot duvet or blanket. The sleeping bag is available in three sizes so is suitable for up to 18 months of age. With a cream background, the sleeping bag has an all over Dumbo print in soft grey. The sleeping bag is light in weight, has a 1.5 to rating and is machine washable.
Click Here to Buy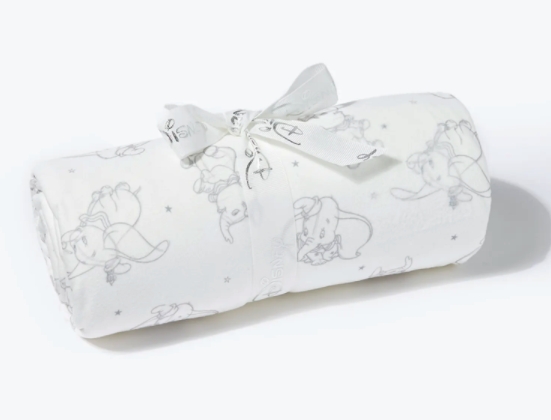 Dumbo during the day!
The Matalan Dumbo range includes some lovely items to use all day through. The Dumbo baby grow is so smart that you can easily use it as daywear for your newborn, as well as a snuggy sleepsuit. Beautifully made in soft cotton, the suit is cream in colour with a soft grey pattern on the sleeves and a large portrait of Dumbo on the front with the sweetest phrase – 'Welcome to the world….you are a loved little one'. This will melt the heart of everyone who sees your baby wearing it! The baby grow is available in three sizes: 0-3, 3-6 and 6-9 months and it is only £6
Click Here to Buy
.
Bodysuits are really practical basics and Matalan offer a delightful three pack for just £7.50 in their Dumbo range. They are made in the softest cotton and are cream in colour with three different Dumbo designs. To make them easy to put on your baby, they have envelope necks and when it comes to speedy nappy changes, the bodysuits have double poppers.
Click Here to Buy
If you have a baby girl, you will fall in love with the Dumbo dress which comes in six different sizes for up to 12 months. The dress is perfect for cooler days as it is made in soft dove grey combed cotton. The dress has frilled short sleeves and the message on the front reads 'Fly High Little one'.
Click Here to Buy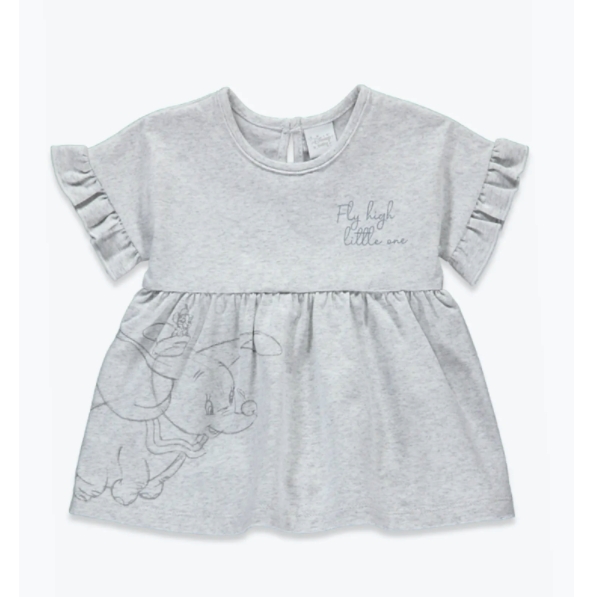 Dumbo at bath time!
When it comes to bath time, the Matalan Dumbo bath set is totally appealing! It features a white hooded towel that is decorated with a soft grey Dumbo pattern on the hood and comes with a matching bath mitt
Click Here to Buy
Dumbo perfect at gift time!
The Matalan Dumbo range is so gorgeous, you will definitely want to buy some items for your baby, but there are great gift ideas too such as the muslin pack and baby fleece blanket – especially as they are both sold tied with ribbons. Alternatively, the newborn five piece set comprising of baby grow, bodysuit, bandana, notch cap and scratch mitts makes a really beautiful – and practical gift.
Click Here to Buy
There are two stylish gift bags available in the range and both are generously sized with enchanting pictures of Dumbo, great to pop a baby shower gift together in full of Dumbo Goodies!
Click Here to Buy
Dumbo for a very special gift!
The Matalan Dumbo range is certainly very appealing, but one item stands out as being extra special as a gift to new parents. The Disney Dumbo Baby Milestone Blanket is a very clever idea for capturing milestone photographs of a new baby. The soft, comfortable blanket has sweet images of Dumbo and a print to mark the days, weeks and months using a special marker pen. It is a really great way for family and friends to follow a baby's progress. I would definitely add it to your list as a gift from you to welcome the arrival of your own wonderful baby!
Click Here to Buy
See the full range >> Click Here to Buy
Chrissie x