Crazy Toy Codes at Argos
October 19th, 2019
1732 Views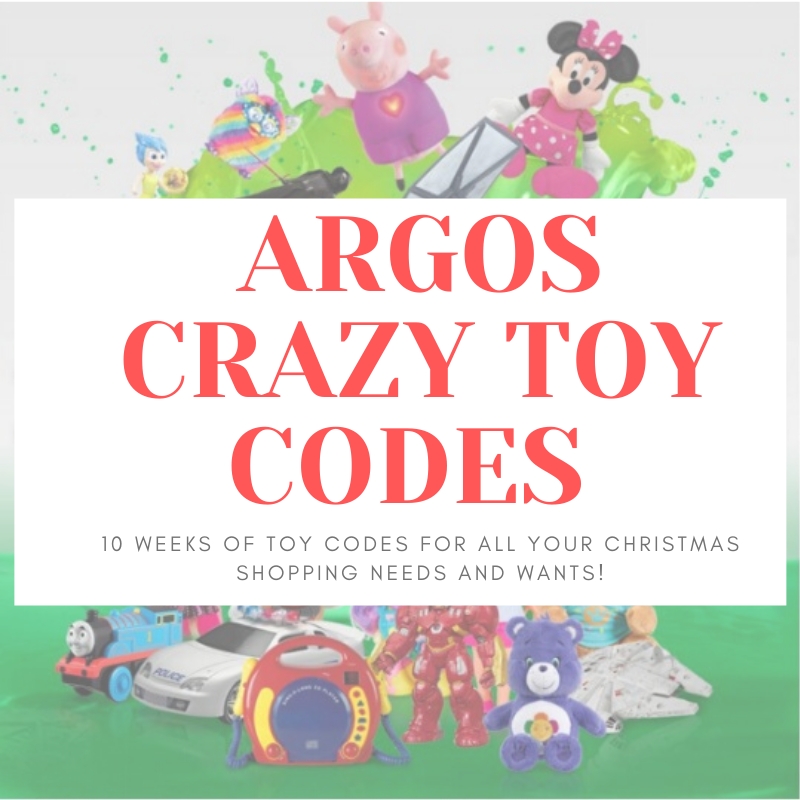 Argos have launched a NEW promotion in the run up to Christmas this week where a new code will be launched every week for 10 weeks until Christmas Eve where you can snag some amazing savings on popular toys for 2019!
Click Here to Buy
In past years 3 for 2 has dominated shoppers looking for toys from the kids Christmas lists, but these are few and far between so we think this 10 week toy code promotion will help mums out a lot on making some great savings on the Christmas shopping!
Code 1.
Week 1 kicked off with 25% OFF Chad Valley toys with code CHAD25 we have listed below some of our top finds in this promo!
Click Here to Buy

Code 2.
Week 2 has come in with a BANG! LEGO is already reduced by a 1/3 and now with code LEGO10 you get a whopping further 10% OFF making some of these prices crazy cheap for some amazing sets! Time to get those sets crossed off the list!

code 3.
Week 3 we are being treated to not a code for just 1 brand of products but THREE, simply use PLAY20 and get a HUGE 20% OFF Nerf, Play-doh and even Power Rangers!
Click Here to Buy

CODE 4.
This is a GOOD ONE Mums! Get 20% OFF your entire Toy order when you spend £20+ with code TOYS20, it even includes all of the LOL Surprise toys too, some of which are already REDUCED!
Click Here to Buy

CODE 5.
If you have Hatchimals, Paw Patrol or Meccano on your kids Christmas lists you are in for a big treat this week, just pop in code PAW15 and see 15% get knocked off your basket contents! I have had my eyes on the WOW Hatchimals for a while so I may have to definitely snap one up this week.

CODE 6.
Week 6 has come in smoothly with a code that gives you 20% OFF Star Wars, Frozen and Marvel and it includes loads of LEGO, simply use STAR20 and watch your basket total drop. There are some big ones included this week!

CODE 7.
Got a whole bunch of Peppa Pig toys to buy? You can get 20% OFF all week using code PEPPA20 which includes Little Live Pets and Pokemon Toys too!

CODE 8.
BRANDS20 will get you a cool 20% OFF Barbie, Fisher Price and HotWheels this week!
CODE 9.
Week 9 and we are coming to a close of the Argos Crazy Toy Codes! This week LEGO10 is back so you can make some great savings on Lego when you spend £20 or more.

LEGO Classic Medium Creative Brick Box Building Set is £22.50 with code
Click Here to Buy
LEGO Technic Bugatti Chiron Collector Model Car £225 with code
Click Here to Buy
Code 10.
The last and final code lasting until Christmas Eve is GAMES10 where you will get a cool 10% off board games - one of the all time Christmas favourites!

Angey x