The Magic and the Madness! Disney World or Universal Studios?
November 2nd, 2023
57 Views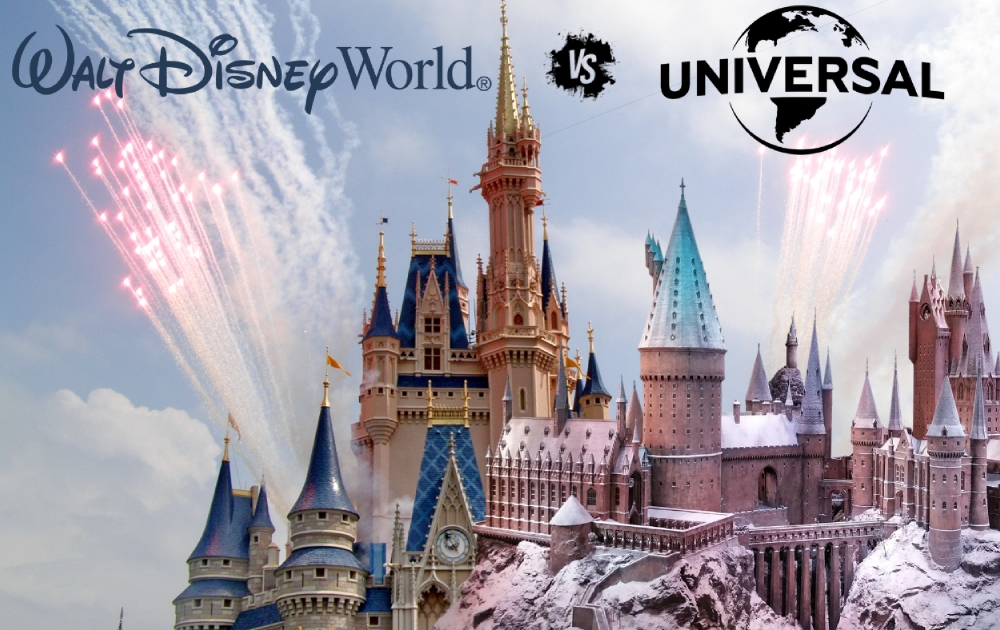 Embarking on a family adventure to Disney World or Universal Studios is like stepping into a page of a storybook or the scene of a blockbuster film. These theme parks are destinations that promise wonder, excitement, and memories to last a lifetime. However, bringing kids to such popular and bustling places comes with its set of fairy tale charms and real-world challenges. Let's dive into a balanced narrative of the pros and cons of visiting Disney World and Universal Studios with kids.
The Pros:
1. The Wonder of Imagination:
Disney World and Universal Studios are lands where imagination reigns. For kids, these parks are not just about the rides; they are about stepping into the realms of their favorite stories and characters. The look of awe on a child's face when they meet Mickey Mouse or Harry Potter is priceless and can ignite a spark of creativity and wonder that lasts well beyond the trip.
2. Educational Opportunities:
Believe it or not, these theme parks offer a host of learning experiences. From the cultural showcases in Epcot's World Showcase to the scientific curiosities in Universal's Jurassic Park, kids can learn about history, geography, science, and the arts in an interactive and engaging environment.
3. Entertainment Value:
Both Disney World and Universal Studios offer unparalleled entertainment. Parades, fireworks, shows, and character encounters provide non-stop amusement that is often inclusive and designed for all age groups.
4. Bonding Experience:
A family trip to these parks can strengthen bonds. Whether it's sharing the thrill of a first roller coaster ride or working together to plan the day, these experiences can bring families closer together.
5. Accommodation of Younger Guests:
Both parks are designed with kids in mind. Baby care centers, stroller rentals, and child swap programs on rides make it easier for parents to manage little ones.
The Cons:
1. The Cost:
Visiting Disney World or Universal Studios can be expensive. Admission tickets, food, souvenirs, and accommodations add up quickly. For families on a budget, this can be a significant drawback.
2. The Crowds:
These parks attract thousands of visitors daily, which means crowds and long lines. For kids, especially younger ones, the wait times can be challenging and the throngs of people overwhelming.
3. Overstimulation:
With so much to see and do, sensory overload is a real concern. The noise, excitement, and visual stimulation can be exhausting for children, leading to meltdowns and fatigue.
4. Height Restrictions:
Many rides at Disney World and Universal have height restrictions for safety reasons. This can lead to disappointment for kids who are too short to ride certain attractions.
5. Weather Concerns:
Florida's weather can be unpredictable, with heat, humidity, and rain affecting your park experience. Kids can become uncomfortable and cranky in extreme weather conditions, which can dampen the day's fun.
Finding the Magic Balance
To maximize the positives and mitigate the negatives of a trip to Disney World or Universal Studios with kids, here are some tips:
- Plan Ahead: Research and plan your visit. Use apps and maps to familiarize yourself with the parks and to keep track of parade times, showtimes, and character meet-and-greets.
- Budget Wisely: Take advantage of package deals, off-peak season discounts, and meal plans to manage costs.
- FastPass and Express Pass: Utilize Disney's FastPass+ and Universal's Express Pass systems to skip lines and reduce wait times.
- Stay on Site: Consider staying at a park resort. This offers early access to the parks and a convenient place to rest during the day.
- Hydrate and Rest: Take breaks, stay hydrated, and find quiet places in the parks for downtime to avoid overstimulation.
- Prepare for Weather: Pack for all weather possibilities—sunscreen, hats, rain ponchos, and cooling towels are essentials.
A Tale of Two Parks
While both DisneyWorld and Universal Studios offer a treasure trove of attractions, they cater to different age groups and interests. Disney World is generally more suited to younger children and families who are drawn to the classic Disney characters and fairy tales. In contrast, Universal Studios often appeals to older children and teens with its thrilling rides and attractions based on popular movies and franchises.
The Final Chapter
Visiting Disney World and Universal Studios with kids is an adventure that promises laughter, joy, and a touch of magic. It's a plot that includes both moments of exhilaration and trials of patience. By being prepared and maintaining a flexible attitude, parents can craft an experience that's as enchanting as the fairy tales that inspire these parks. Whether it's the smile of a child meeting their hero or the shared thrill of a family ride, the stories created are often worth every challenge encountered along the way.
DisneyWorld tickets from just £39 per day!
Angey x