Cute Halloween Costumes from Etsy
October 5th, 2022
418 Views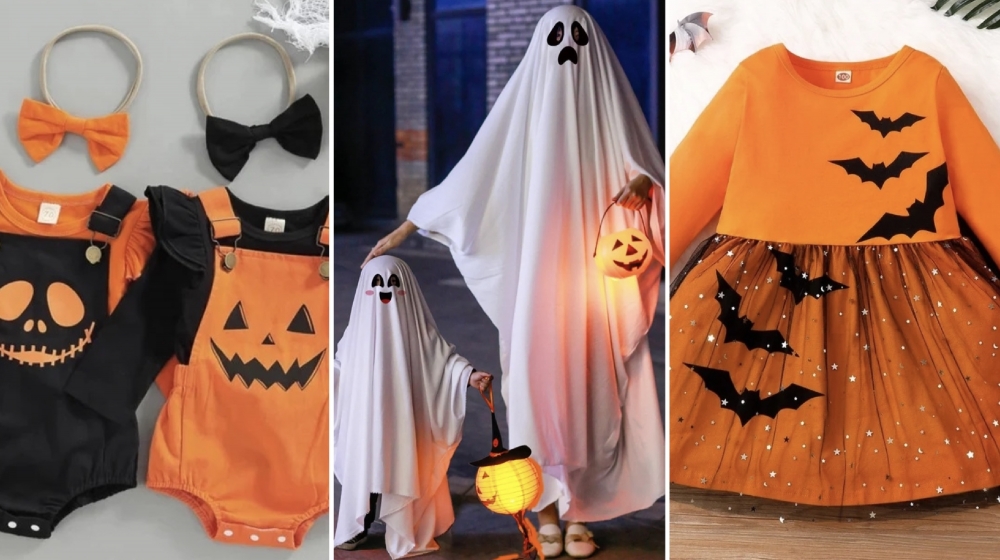 Halloween is now just a few week away (31 October) and is a celebration that is becoming increasingly popular in the UK and other European countries. For many years, children have enjoyed dressing up and going out 'Trick or Treating' but Halloween is now becoming a big fun event for all the family. Preparations still traditionally begin with carving a pumpkin lantern, although the trending and speedier idea is to paint the face on the pumpkin!

Family games with a Halloween theme – such as a Murder Mystery - are popular and children love to dress up in spooky costumes whether they are going out Trick or Treating or not! Halloween cookies and S'mores (toasted marshmallows) are obligatory but can be cooked successfully in an air fryer if you don't have an open fire!

As you begin to make your Halloween preparations, we bring you 10 great Halloween costumes that your children will love from this year's selection on Etsy.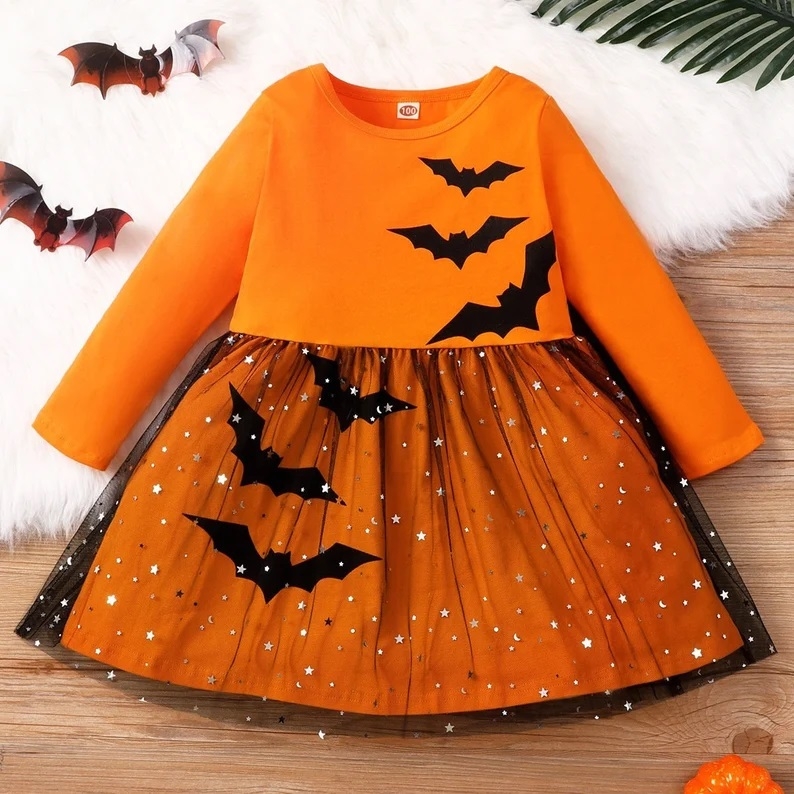 1. Pumpkin Halloween Dress for little girls Click Here to Buy
Your little girl will love dressing up in this stylish pumpkin-coloured long sleeved dress. The dress a black mesh over skirt that is sprinkled with silver stars and both the mesh skirt and bodice are decorated with bats. The dress is available in sizes from 2-3 years – 6-7 years and with the current 20% discount costs £16.79.
2. Children's all-in-one full skeleton suit Click Here to Buy
Available for toddlers as a romper suit or as a one piece for 18-24 months- 4-5 years. This skeleton suit is available with 'glowing bones' or in black with white printed bones - either will make your child the 'star of the show'. If you have older children, they can choose one of the sweatshirts which are available in sizes 12-13 years. The romper suits and one-pieces are made in soft cotton that will be comfortable for your toddler to wear and the design will not crack or fade. Prices start at £23.19 for the romper suit (3/6 months, 6/12 months and 12/18 months).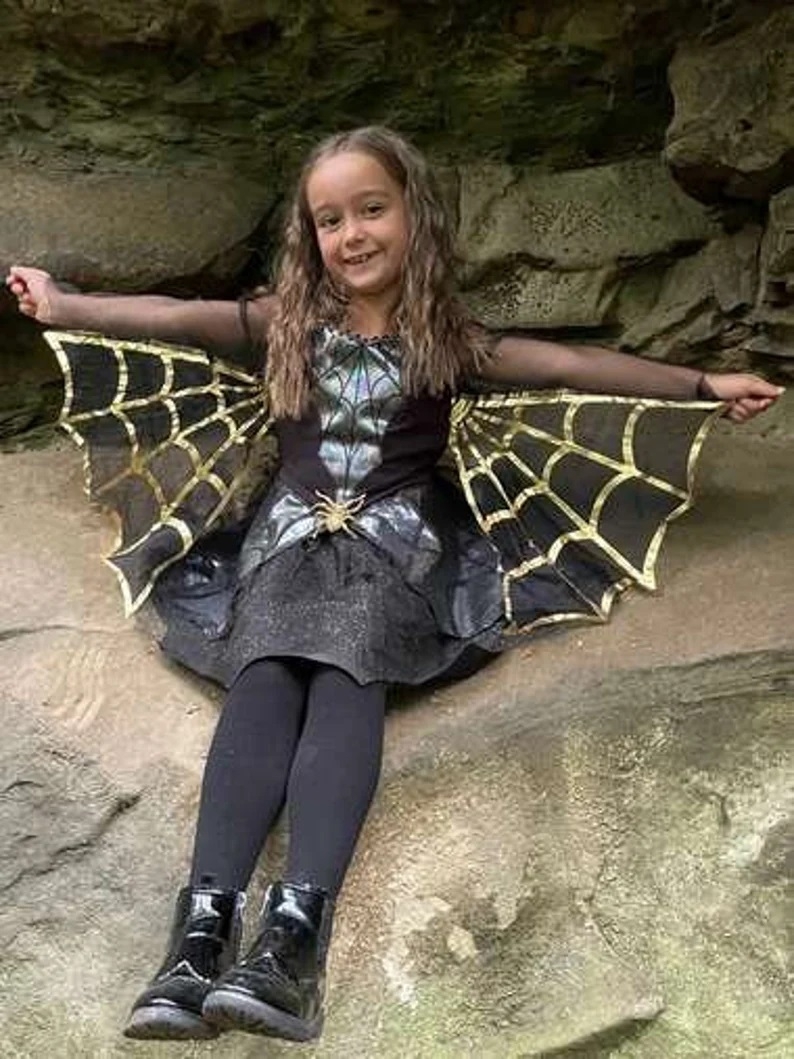 3. Spider witch Halloween costume Click Here to Buy
Your little girl will love this Halloween costume with its layered dress, sheer black sleeves and sparkly spiders web – plus a large golden spider too! The costume is handmade and is wrapped in tissue paper, personalised with your child's name. The costume is available in sizes from 3/ 4 years- 10/12 years. The price is £21.99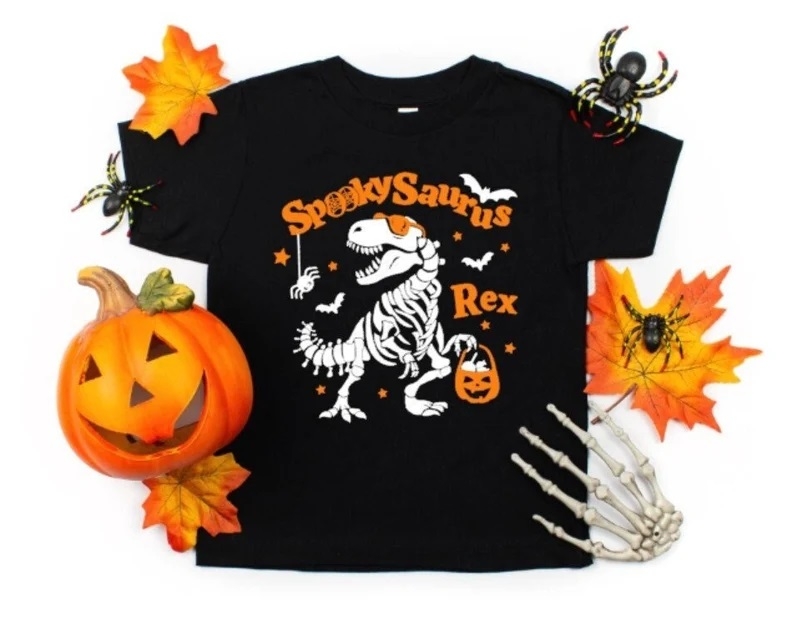 4. Spookysaurus Rex Dinosaur T-shirt Click Here to Buy
The design on this fun Halloween tee-shirt will definitely make your children laugh! The Spookysaurus is carrying a basket carved from a pumpkin and is surrounded by bats. You can choose this design either in white and orange or white with neon green. The children's size range is 1/2 years – 12/13 years and the price is £12.87. Adult sizes are available too.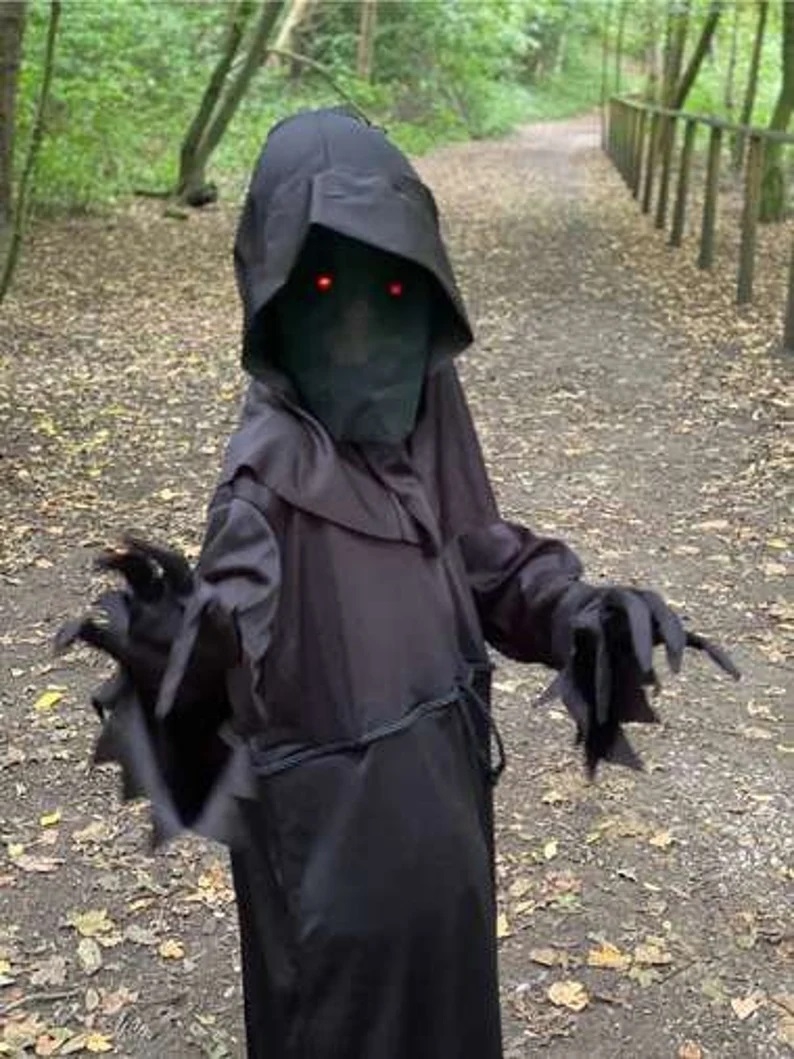 5. Red -Eyed Reaper Costume Click Here to Buy
This homemade costume really is quite scary! It has a long black robe, rope belt, black hood and face( made from breathable material) with red LED lights and gloves with incredibly long fingers. The costume is wrapped in tissue that can be personalised with your child's name. The costume is available in sizes 6/8 years, 8/10 years and 10/12 years and is priced £21.99.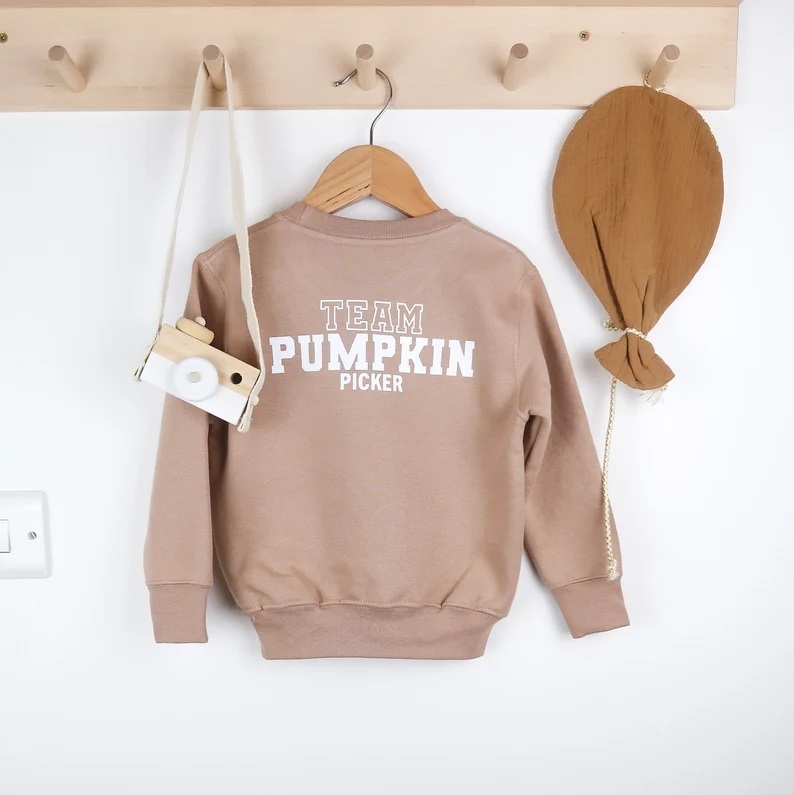 6. Team pumpkin picker sweater Click Here to Buy
Fun sweatshirt for younger children that is ideal for a cool Halloween night! Available in grey, beige or a pretty dusky pink and sizes 6/12 months- 5/6 years priced £16.95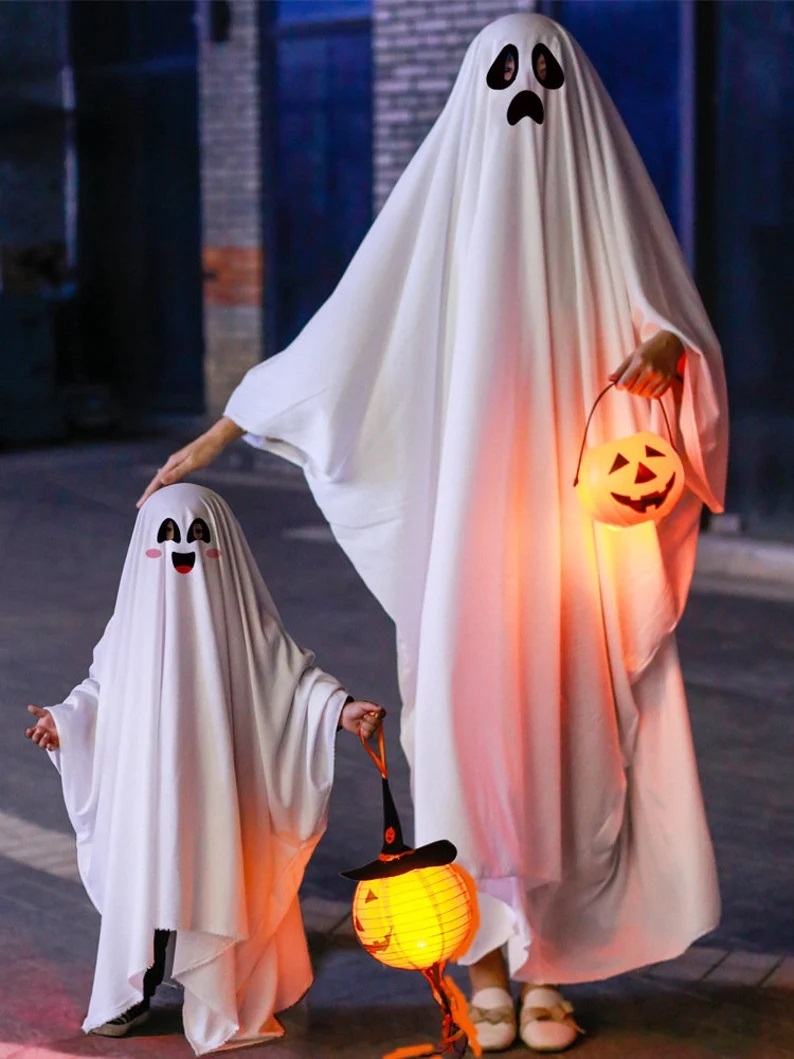 7. Great Ghosts! Click Here to Buy
Children love dressing up as ghosts and these great fancy dress outfits will make you laugh rather than scare you! Prices start at £29.91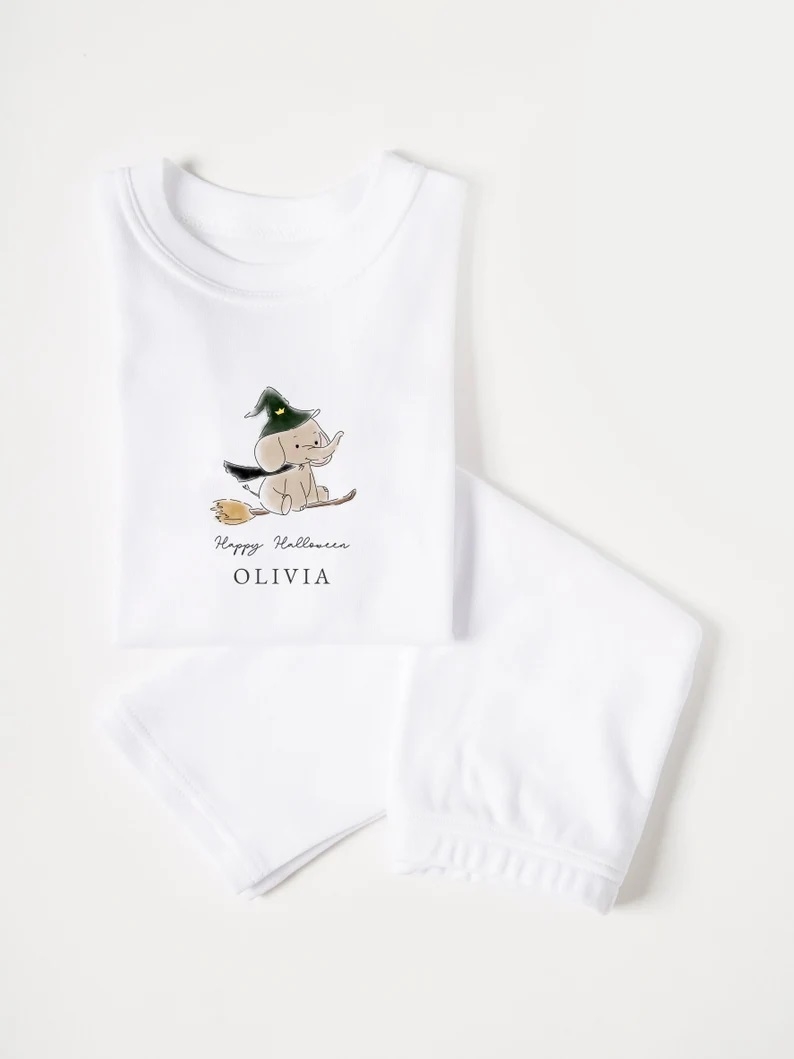 8. Happy Halloween pyjamas Click Here to Buy
These cute pyjamas with a witchy elephant flying on his broomstick can be personalised with your child's name. Available in the size range 9/12 months – 9/10 years. These pyjamas are currently discounted by 20% and cost £14.40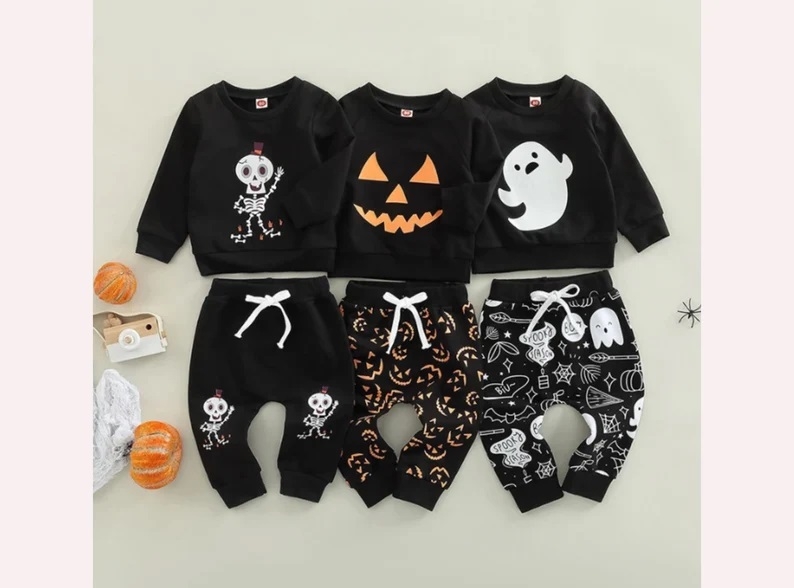 9. Spooky toddler outfits! Click Here to Buy
There are three fun designs to choose – pumpkin, skeleton or ghost. This sweatsuit is comfy to wear with cuffs at the wrist and ankles to help keep your toddler snug. The size range available is 0/ 6 months – 2/ 3 years and the price is £15.00.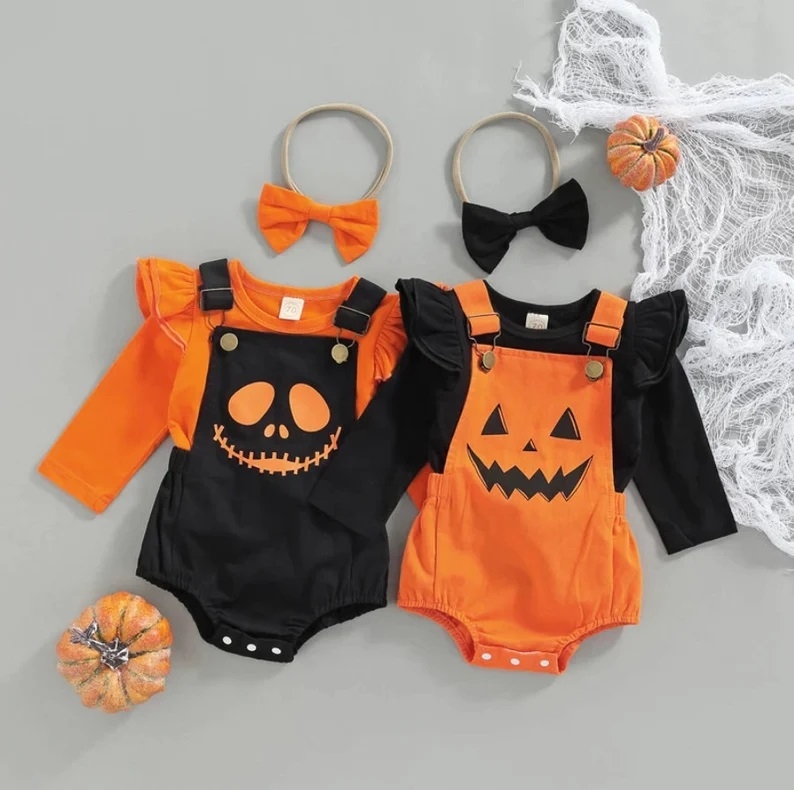 10. Gorgeous outfits for baby girls Click Here to Buy
Beautiful little dungarees for your baby girl to wear this Halloween, with a contrasting long sleeved tee-shirt with frills on the shoulder and a snazzy headband with huge bow. Sizes available are 3month ,6 month ,12 months and 18 months. Price £16.99
Etsy is a great hunting ground for all types of Halloween costumes for your children and includes fun ideas even for babies celebrating their first Halloween. The best news is that shopping with Etsy can be done from the comfort of your home at a time to suit you – all your need is a relaxing cuppa as an accompaniment!
Enjoy Halloween this year!
Chrissie x