Get Stylishly Pregnant with Maternity at Boohoo
April 4th, 2022
469 Views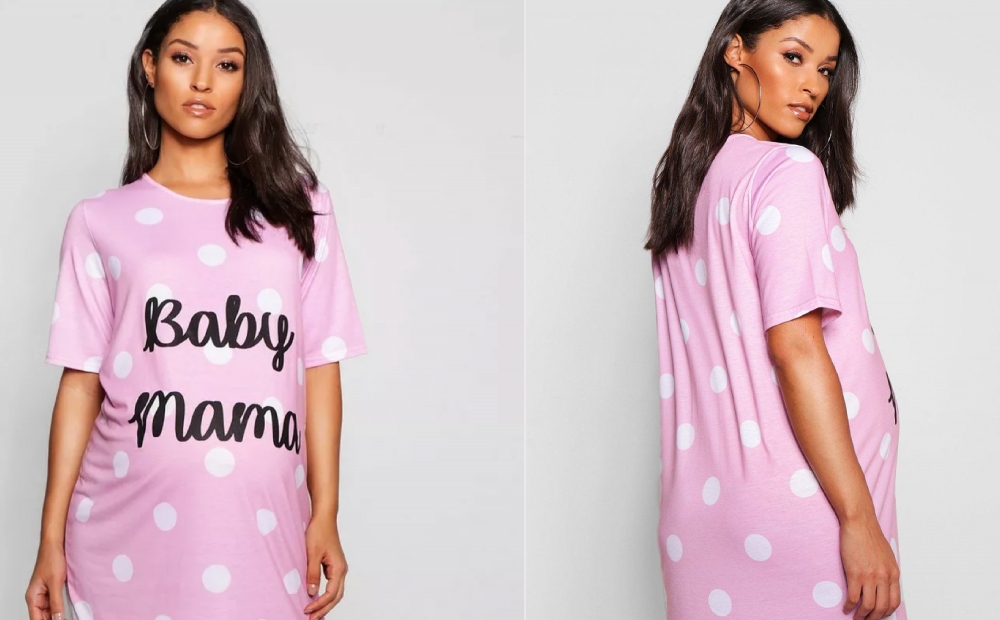 When you are pregnant you want to be super comfortable and not have restrictive clothing. Clothes have to be practical for everyday needs but stylish and fun too, especially after the first few months when you are looking and feeling radiant.

Boohoo UK has some really great outfits including dresses for every occasion, dungarees, joggers and wonderfully comfortable tights! The whole range is well priced and you can shop in the comfort of your home, order online and look forward to the arrival of your parcel. If you suddenly need something new to wear, place your order by 11am for next day delivery otherwise all goods are sent standard delivery. There are different ways of paying to help spread the financial burden and free returns on all items.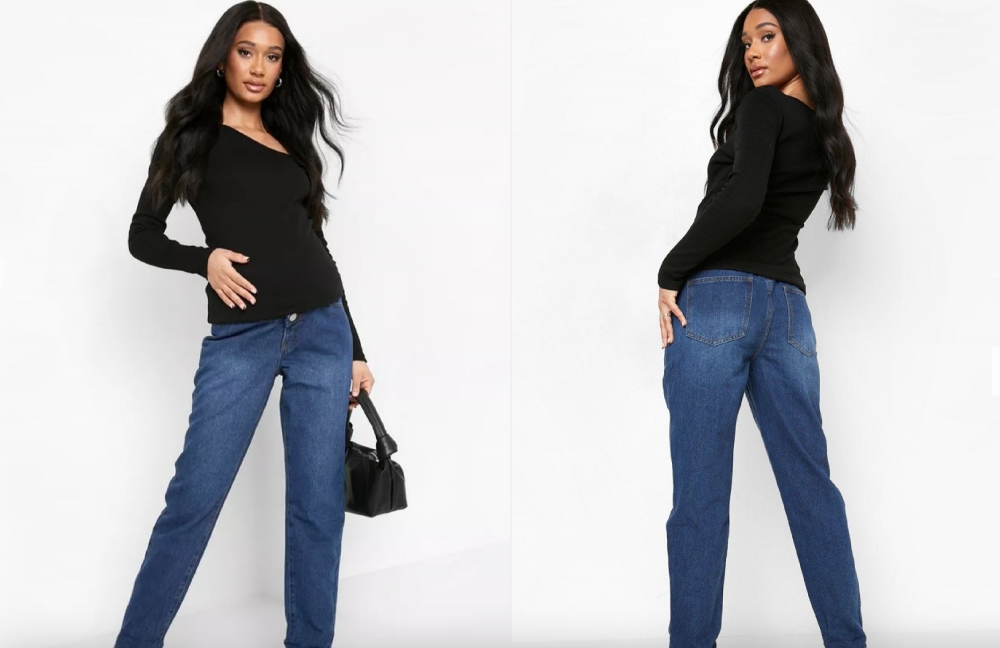 Jeans are always a 'must have' even when pregnant!
These smart jeans have been cleverly designed to complement your changing shape and are lovely and comfortable to wear. They are mid-denim in colour and can be worn casually with a tee-shirt or smartened up with a smart top and blazer The jeans are 51% Cotton 29% Polyester 18% Viscose and 2% Nylon and are machine washable. The size range is 8-16 and the price - on SALE at £10.80.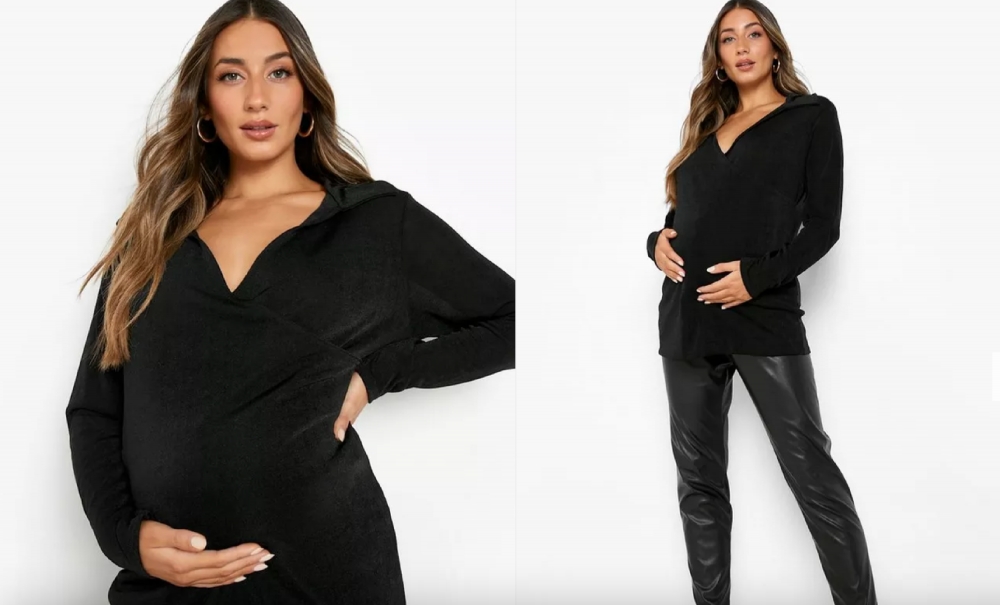 Stylish comfy wrap over shirts are a must have staple!
This smart wrapover shirt is perfect if you need to look a little smarter but still yearn to be comfortable. Styled to enhance your bump, this smart black top looks simply stylish and is perfect to go with jeans or a pair of Boohoo leggings. The shirt is longline and has long sleeves, it is available in sizes 8- 16 and comes in Black or Pink. Priced in the SALE at just £8.00.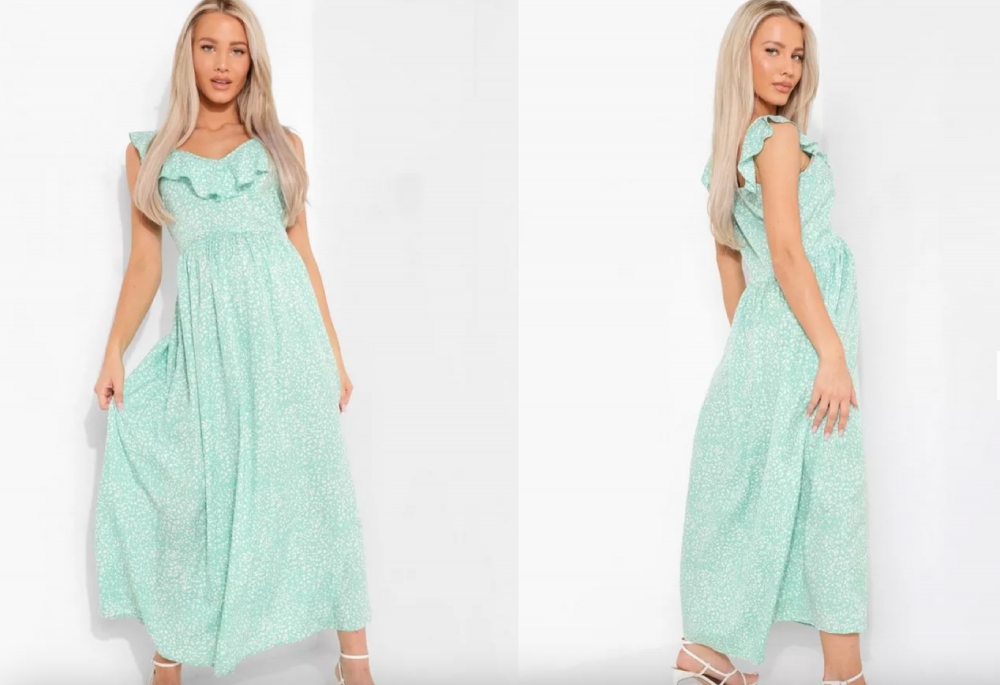 A special dress for special occasions!
This gorgeous dress features this season's trending style of frilled 'v' shaped neckline and is sleeveless. Cute, floaty and very comfortable. This dress has been made with a little more room around the waist for that growing bump. It is midi-length and looks perfect with flat comfortable sandals or dazzling white trainers. The dress is available in sizes 8-16 and either is softest green or stylish black and is priced in the SALE at £14.40.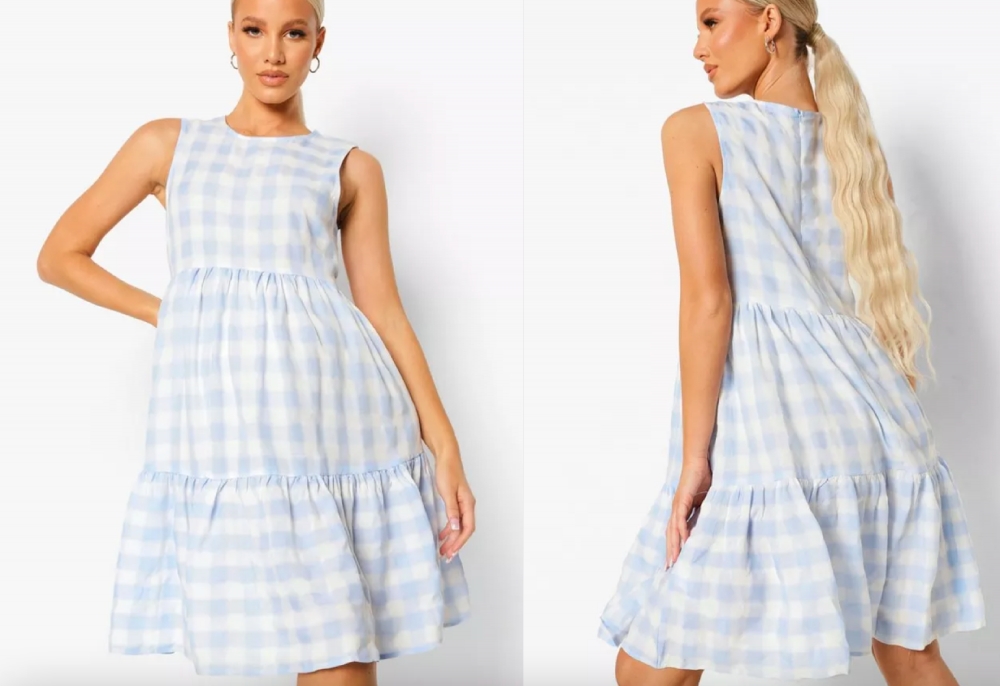 The perfect dress for a warm sunny day.
This comfortable, easy wear dress is sleeveless with a round neck and is in tiered gingham. This practical and casual dress sits just above the knee and looks really good with trainers. Available in three smart colours – black and white, pale blue and white and pale green and cream, this dress is refreshingly cool as it is 50% cotton, 50% polyester. The dress is available in sizes 8-16 and costs £14.40 in the SALE.
Comfy bras are a must!
This fuss-free feeding bra makes life so easy! It is super soft and very comfortable. The bra is in a seamless style that is ideal for wearing under summer tops and has comfortable straps that are fully adjustable. Available in beige and black and in sizes Small up to X Large and priced at £12.75 in the SALE.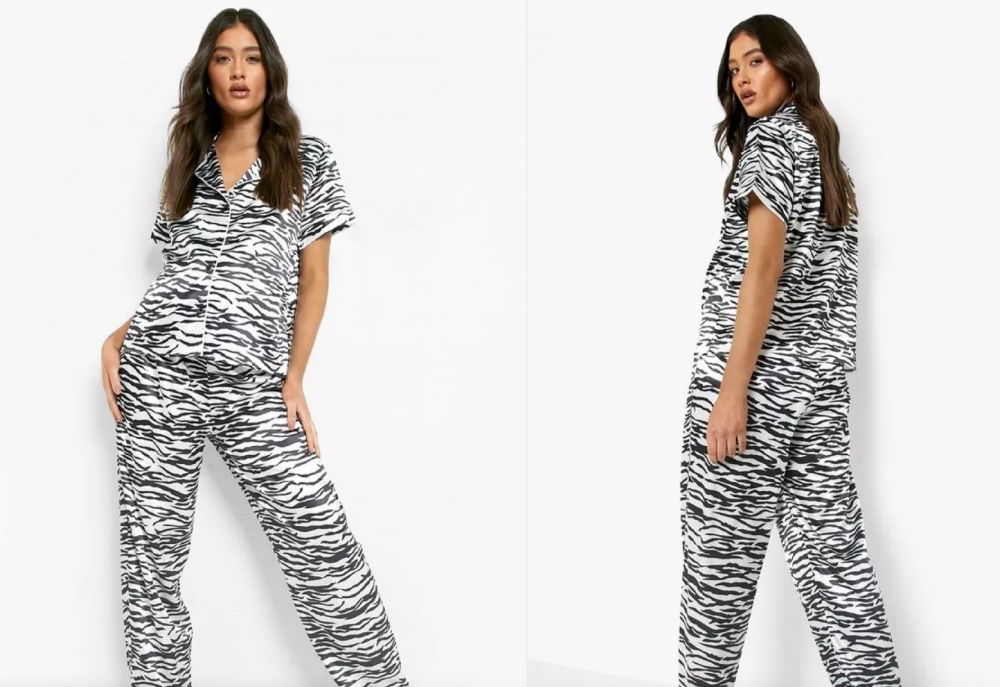 And so to bed….
Comfort is definitely key to a good night's sleep during pregnancy. Boohoo have a great selection of nightwear to choose from including pyjamas and nighties. These pyjamas are so stylish you can wear them as leisure wear at any time. In smart black and white zebra print, these silky pyjamas are in 100% polyester. They feature a collar, short sleeves and button front so they are ideal if you are breastfeeding. Size 8-16 and price £17.70.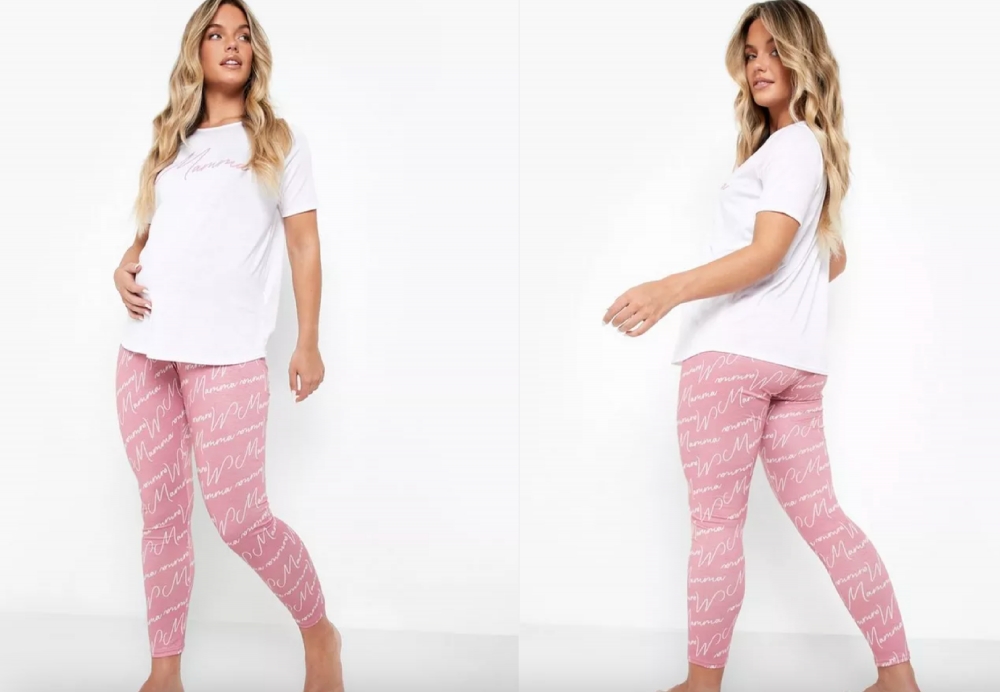 Legging and T-shirt Pyjamas are a great option, this Mamma script set is a lovely option priced at £17.60 in the SALE.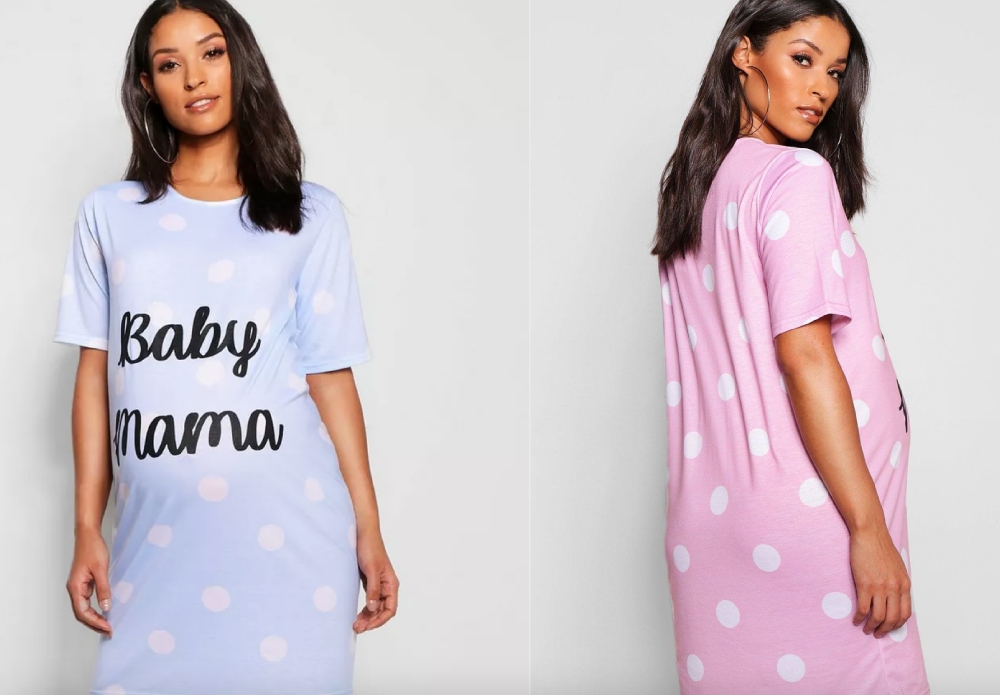 The baby mama nightshirt at the top of this article it is another comfortable option, especially for your overnight stay after having giving birth as it is light and short and comes in sizes 8-20 and priced at £10.20, it comes in a cute blue colour too!

Chrissie x