UK Holidaying on a Budget
March 4th, 2022
554 Views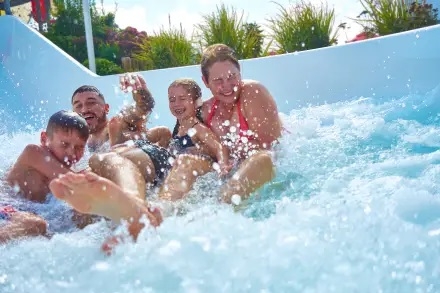 Are you thinking about a family holiday this year? After the difficult Covid times, many families are keen to get away in 2022. The beauty of living in the UK is that in just a few hours you can be by the sea. The UK has a spectacular coastline, stunning countryside and so many beautiful places to discover. Forget your worries about keeping your children happy sitting in an airport, why not choose a British holiday this year? Driving to your holiday destination is much less stressful as you can make refreshment breaks whenever you want or make a detour to explore somewhere along the way.

2022 Is a very special year for the UK as H.M Queen Elizabeth II celebrates her Platinum Jubilee on the throne, so why not consider UK holiday this year? We bring you some great ideas….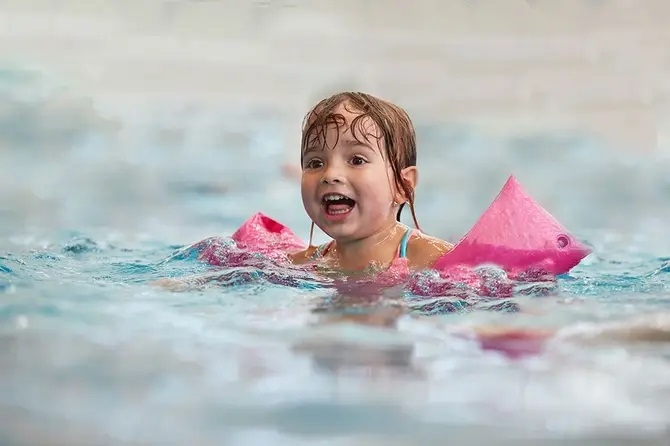 Go camping, glamping or relax in a Haven lodge
Haven Holidays has 37 holiday parked in various coastal locations stretching from Devon and Cornwall to the rugged shores of Scotland. Haven Holidays has been offering great family holidays for many years – and the great news is that you can tailor the holiday to your budget.
There are comfortable static caravans on each site plus a variety of other types of accommodation including chalets, apartments, lodges and some fun glamping options including Yurts, safari tents, Geo Domes, pods and super tents - and it gets better – all of these are readily assembled in your own private space!
The sites are perfect for children as there are so many activities for them ranging from swimming and water sports to craft sessions and ranger activities where they will learn all about nature and conservation. Many of the sites have jump towers and climbing walls for older children. There are food and drink options and night time entertainment. Bookings are made online and the company has totally revamped its booking system to make it really user friendly. If you are worrying about not being able to take your pooch, dogs are welcome at many of the sites which offer easy access to wheelchair users too.
●
Click Here to Buy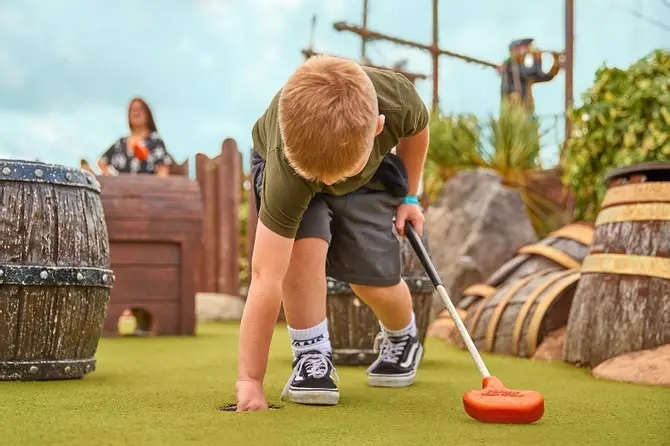 Butlins has a long history for family fun!
Butlins opened its first resort in Skegness in Lincolnshire in 1936 and today, the resort is still one of its most popular as it boasts many great activities including a huge swimming pool measuring 3,000 square metres. Today, Butlins also has resorts in Bogner Regis (close to the South Downs National Park) and Minehead near Exmoor, which is its largest resort. Butlins has accommodation to suit everyone ranging from rooms, apartments and hotels ( the three hotels Butlins hotels are at the Bogner Regis resort) to premium accommodation. All the units have been carefully designed with children in mind and are spacious and practical There are pastel-coloured chalets in the range of accommodation available at Minehead and at Skegness there are both seaside and fairground apartments.
There are great dining options that include pre-booked meals and there are various different dining options on each site. The fun begins the moment you arrive, with plenty of of daytime activities and entertainment including  looping water slides, unlimited fairground rides and exclusive live shows. Other activities include bowling, go-karts, mini golf and making music sessions (these activities carry an additional charge). All of the resorts have a lovely beach right on the doorstep. Butlins regularly has special offers and can offer late availability bookings too. All resorts have wheelchair-friendly accommodation.
●
Click Here to Buy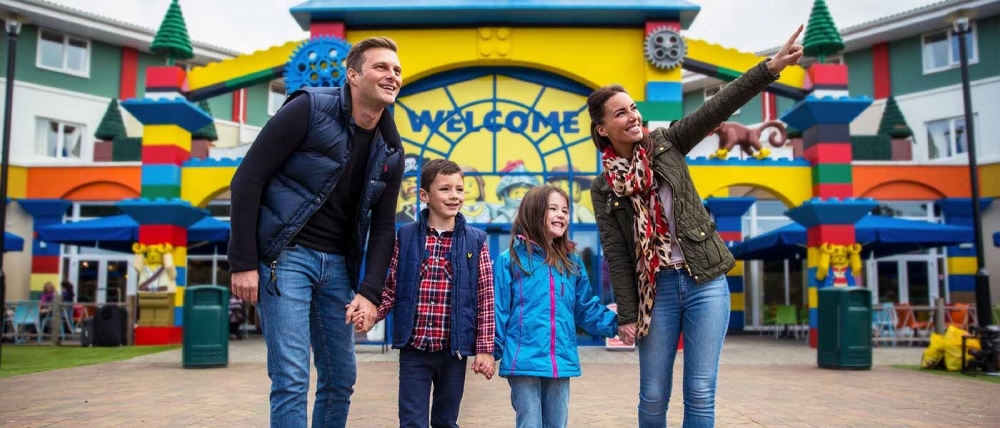 Immerse your family in Legoland®
For many children this idea of staying at Legoland Windsor for a mini- holiday filled with Lego bricks and adventure will be a dream come true! The Legoland® Resort Hotel has themed rooms – Pirate, Kingdom or Adventure rooms which are bright, colourful and fun. The Legoland® Castle Hotel has colourful Knight's and Wizard's rooms.
There is a Legoland gift waiting in your room for your arrival at the Resort Hotel and children love playing in the Lego-themed indoor water play area and pool. Meals can be enjoyed in the Bricks family restaurant or the Skyline Bar. The Castle Hotel has the Tournament Tavern – a grill restaurant and guests can use the facilities of both hotels. As well as staying at the Legoland® Hotels, the website offers the chance to stay at nearby hotels- including budget-friendly ones.
●
Click Here to Buy
Family fun at Alton Towers
There is so many things for your family to enjoy at Alton Towers, the UK's largest theme park that it is the perfect choice for a short holiday rather than trying to squeeze everything into a single day! Alton Towers Resort offers a fun variety of themed accommodations to choose from. Fairy Tale Woodland Lodges, Cbeebies Land Hotel, the Splash Landings Hotel that would have you believe you are in the Caribbean or why not opt for a luxury tree house or stargazing pod? There are different money-saving deals available including mid-week breaks and as well as plenty of places to eat, there is a water park and Spa – promising fun for all the family!
●.
Click Here to Buy

Enjoy the outdoors at Center parc
If you are considering a midweek getaway or family weekend in the forest Center Parc offers great holidays for children in six different locations, whether they are 'crawling, toddling or running'. Locations include Sherwood and Longleat Forests. There are plenty of fun activities for children of all ages to try including the subtropical swimming paradise, pottery painting and archery. The aerial adventure is ideal for older children as it is a tree-top adventure complete with zip wire. Some of the activities require participants to have an accompanying adult.
Accommodation is in a variety of different lodges, or you can opt for a tree house, apartment or hotel and some of them are dog-friendly. If you think that holiday for your wide family would be great, there are also six-bedroomed lodges available.
●
Click Here to Buy
Next week we will be bringing you some more great ideas for your family holiday 2022...
Chrissie x