Cutest Baby Gifts for a newborn from Etsy
December 12th, 2021
713 Views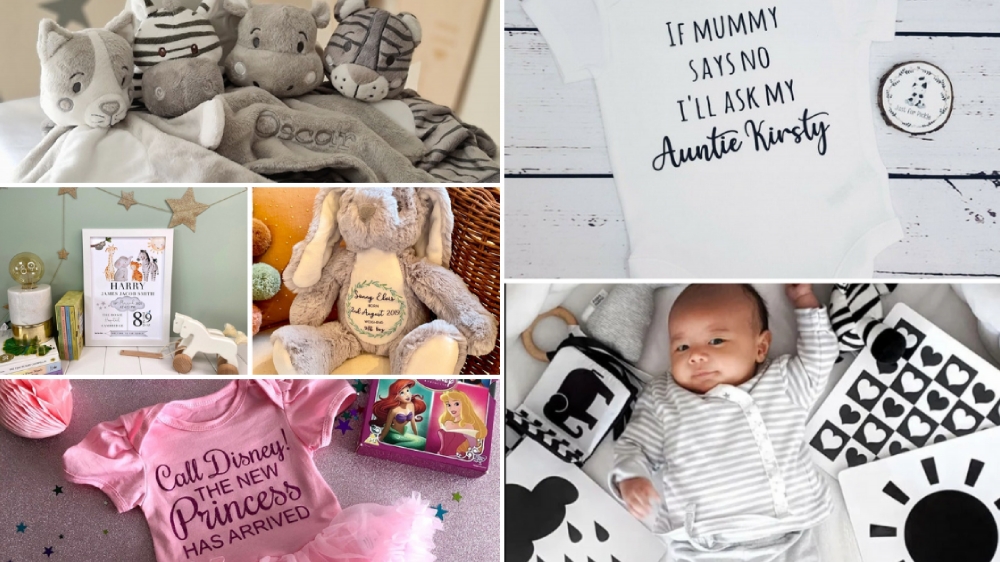 The arrival of a new baby is always very special whether they are a new addition to your family or being welcomed by friends. Choosing a special gift for a newborn is great fun, but can be challenging if you are searching for something cute and very different. While all the big stores have great selections of baby items, if you are looking for something that is extra appealing, why not relax in the comfort of your home, make your favourite cuppa and look at these amazing gifts from etsy?
You will be surprised and delighted by the cute baby gifts etsy has for newborns and also the prices as there is something for every budget. The website is easy to navigate and the transaction can be completed in moments making it a great shopping experience – enjoy!
See our full Cute Baby Buys Collection
Click Here to Buy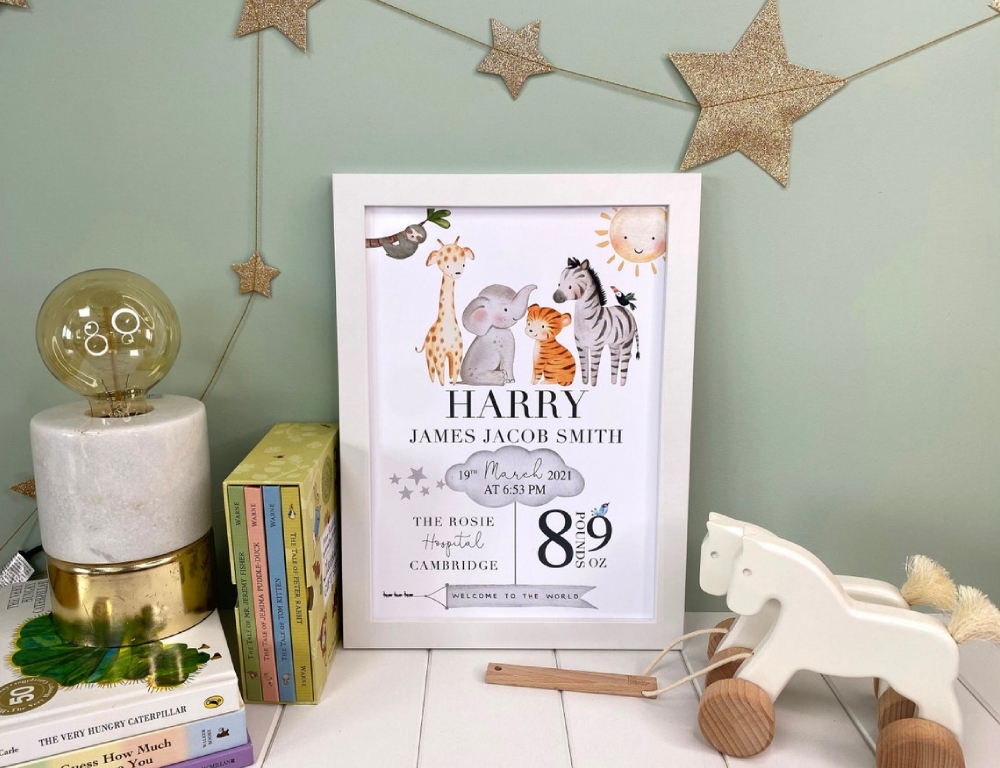 1. New baby personalised print ● Click Here to Buy
What an extra present to give the proud new parents! This gorgeous personalised print is decorated with an array of cute wild animals and contains all the important details including the baby's name, date and time of birth, place of birth and the birth weight. Available in three sizes, with prices starting at £6.99 for a PDF print but also available as A3, A4 and A5 prints both framed and unframed (including postage). This seller offers a variety of designs and whichever you choose, the print will be treasured for many years to come.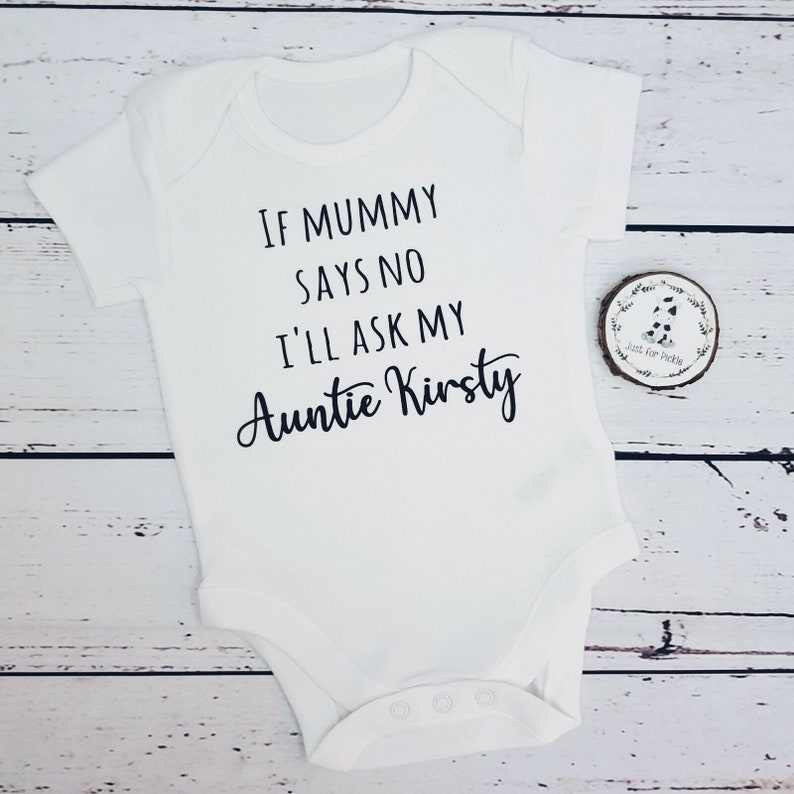 2. A cheeky personalised vest ● Click Here to Buy
This little vest is both cute and fun as there is black writing on the front that reads ' If mummy says no, I will ask my Auntie Kirsty!'. The vest is 100% cotton and is available in sizes from newborn to 18 months and with
both short or long sleeves. Prices start at £6.99 including postage.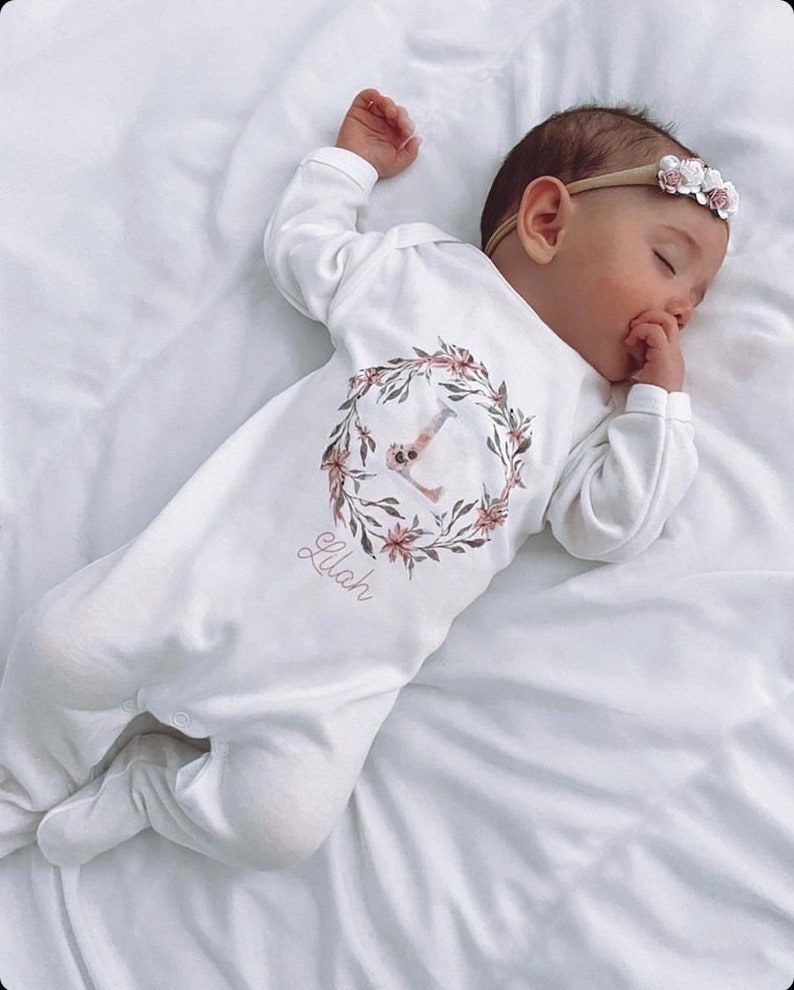 3. Gorgeous baby girls babygrow ● Click Here to Buy
If you feel that you would prefer to combine practicality with cuteness, this gorgeous personalised babygrow is perfect! In soft white cotton, the babygrow has a circle of pretty flowers with the baby's initial in the centre and name underneath. The babygrow is in a variety of sizes including newborn and 0-3 months. The price is from £12.99 + £1.75 postage and packing.
4. Newborn sensory gift box ● Click Here to Buy
If you would like something rather different to give as a gift, this dramatic black and white gift is perfect. It will awaken a newborn baby's senses and includes some really cute elements such as the little zebra rattle and teether bear plus the pretty sensory ribbon. The little soft bunny squeaks when cuddled too! The standard box costs £24.99 +£3.50 postage.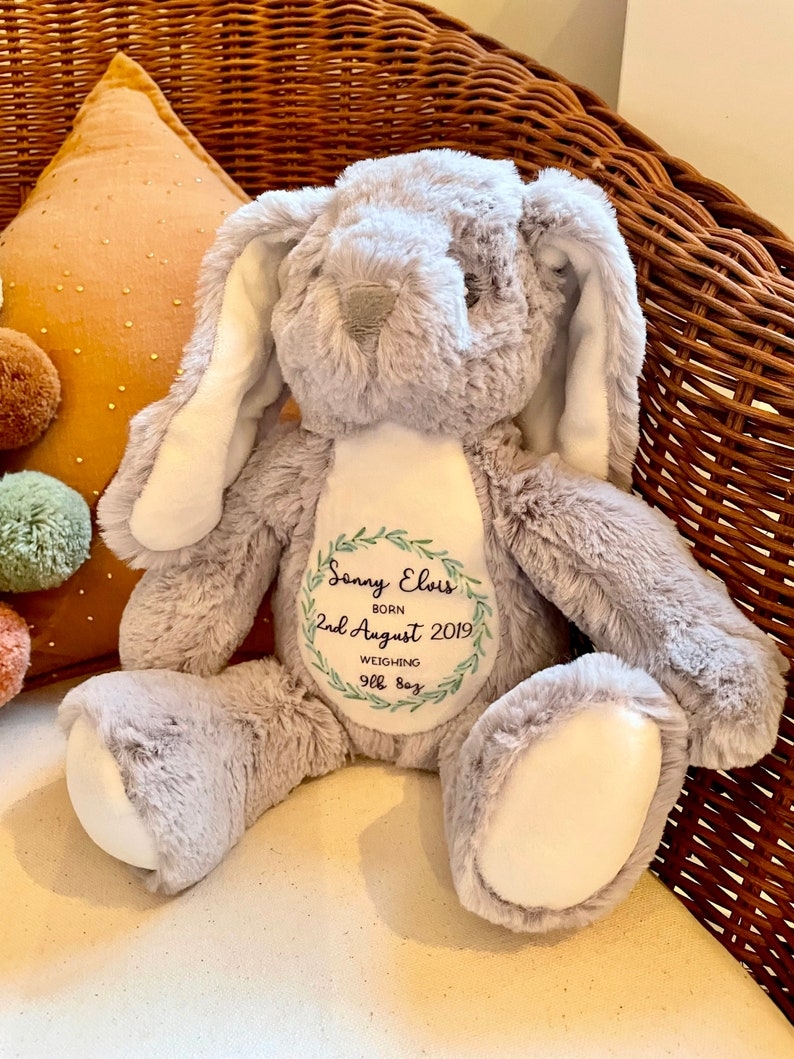 5. Personalised soft toy ● Click Here to Buy
A soft plush toy is always a lovely gift for a newborn baby and what better than a soft cute grey bunny with all the important birth details including name, date and weight embroidered on their tummy! These cuddly animals are 30cm in height. There are nine different animals to choose from including elephant, giraffe and owl. The price is £13.99 plus £3.95 postage.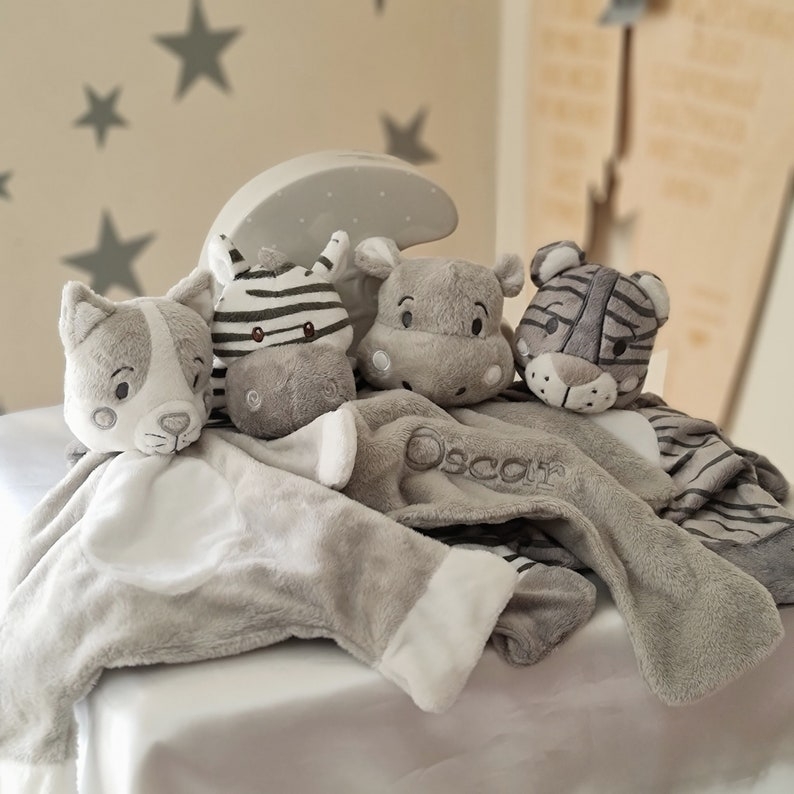 6. Personalised baby comforter blanket ● Click Here to Buy
This soft and sensual baby comforter has a cute little animals for a newborn to snuggle into. The comforter can be personalised with the baby's initials or full name plus birthdate. Price £16.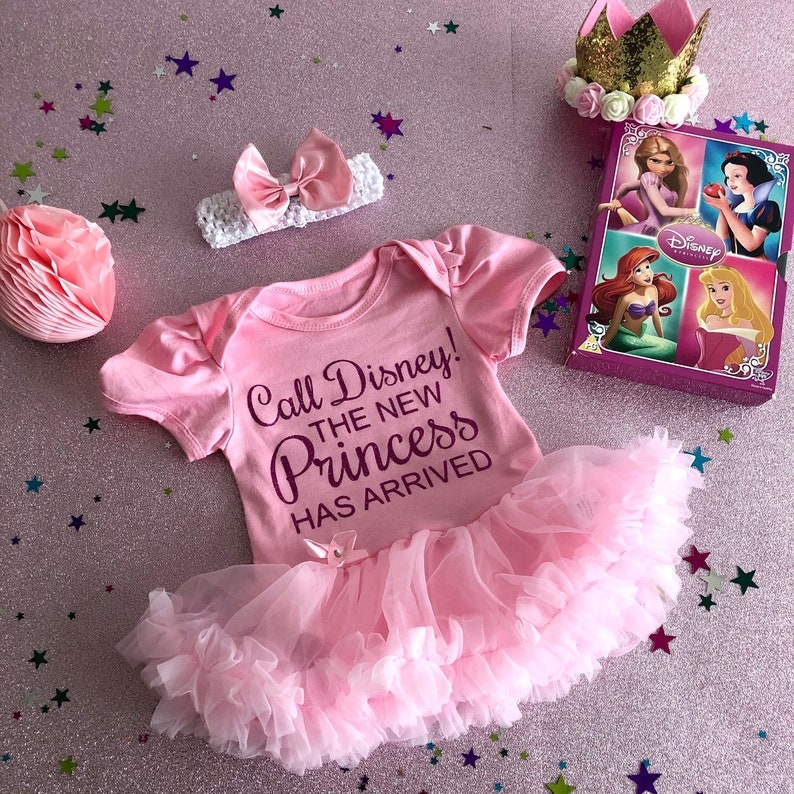 7. Baby girl's pink tutu ● Click Here to Buy
This is such a cute little outfit and is available for newborn babies up to 7lb in weight (plus larger sizes up to 18 months) This short sleeved tutu has the wording 'Call Disney, the new princess has arrived' and comes with a matching headband with silky pink bow. This garment is good quality and handmade. Priced £19.99 + free postage.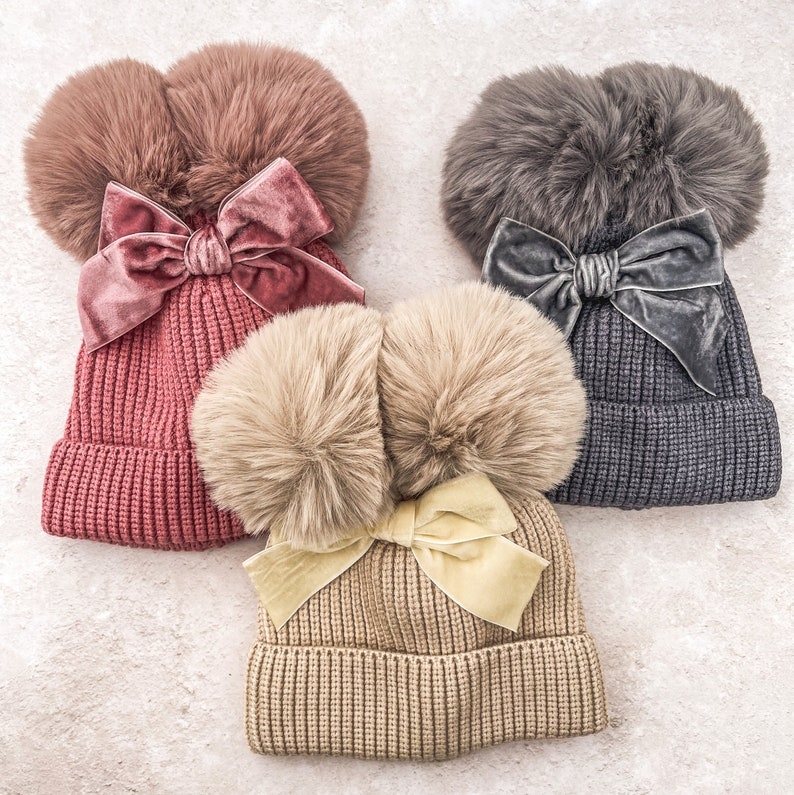 8. Double Pom Pom baby beanie ● Click Here to Buy
It is very important to keep the head of a newborn baby warm during the winter months and this gorgeous beanie is perfect for the job! The hat is comfortable and super soft and will keep the baby beautifully warm and snug on chilly days whilst also being uber cute. Priced £12 + £2.99 postage.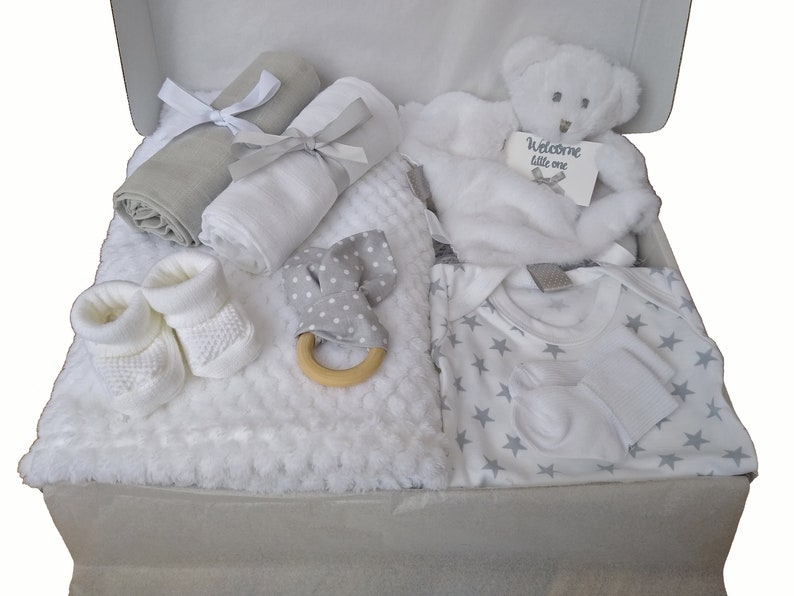 9. Unisex baby hamper ● Click Here to Buy
This beautiful hamper of first size clothes is certainly a very acceptable gift and definitely has a cutie element as it has a plush white bear comforter. The hamper comprises of a super soft white waffle blanket measuring 75 x 90cm, white cotton muslin square (70cm x 70cm), grey cotton muslin square (70cm x 70cm) star print cotton vest 0-3 months, white cotton turnover socks 0-3 months, White booties and a wooden teething ring with grey fabric ears and white polka dot design. This gift has a definite wow factor as it is beautifully presented in tissue paper with a 'welcome little one' gift card. Priced £29.50 plus £2.99 postage.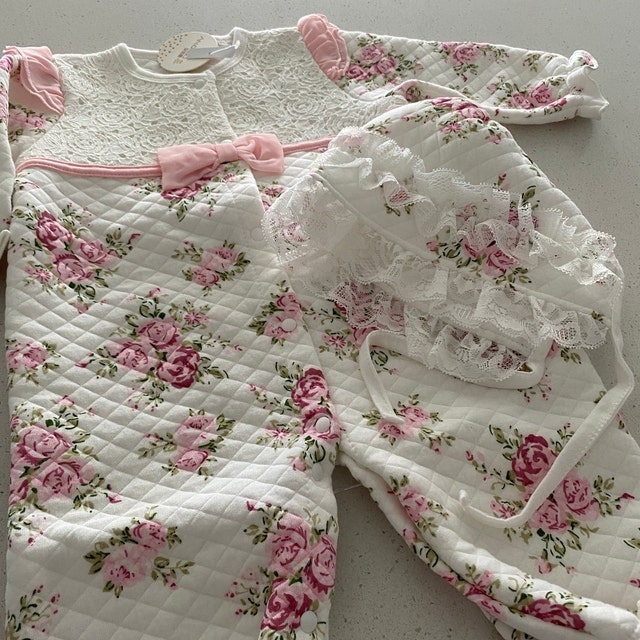 10. New born girls baby pram suit ● Click Here to Buy
If you are looking for a very cute present for a baby due this winter, this pretty snowsuit is an absolute winner! In a soft cream colour with pretty pink rose design and lace, ruffles and bows, this is the perfect gift for any princess! If you prefer, this cosy suit which has a hood, is also available in pink with deeper pink roses and creamy bodice. The smallest size fits up to three months. Priced £28.00, postage is free.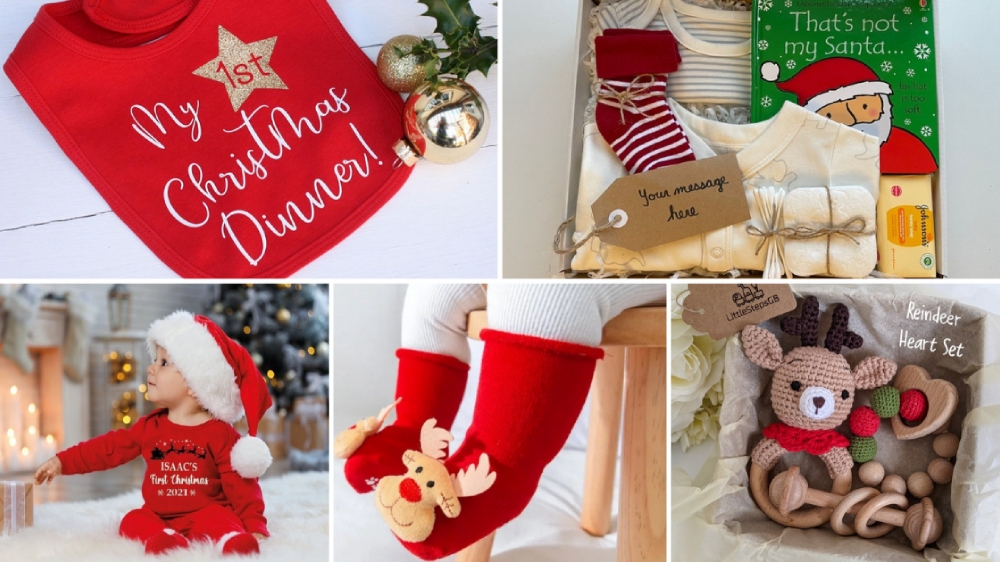 Choosing these cute baby gifts has been incredibly difficult! Best to promise yourself plenty of time to browse the Etsy website because the problem is not finding the perfect gift, it is choosing which one! See the full holiday ranges
Click Here to Buy
Check out these beautiful Christmas themed gifts we found!
Click Here to Buy
We have also put together a collection of baby stocking fillers
Click Here to Buy
Happy Shopping for that cute little bundle of joy!
Chrissie x