Maternity Wear - How to be stylish not frumpy!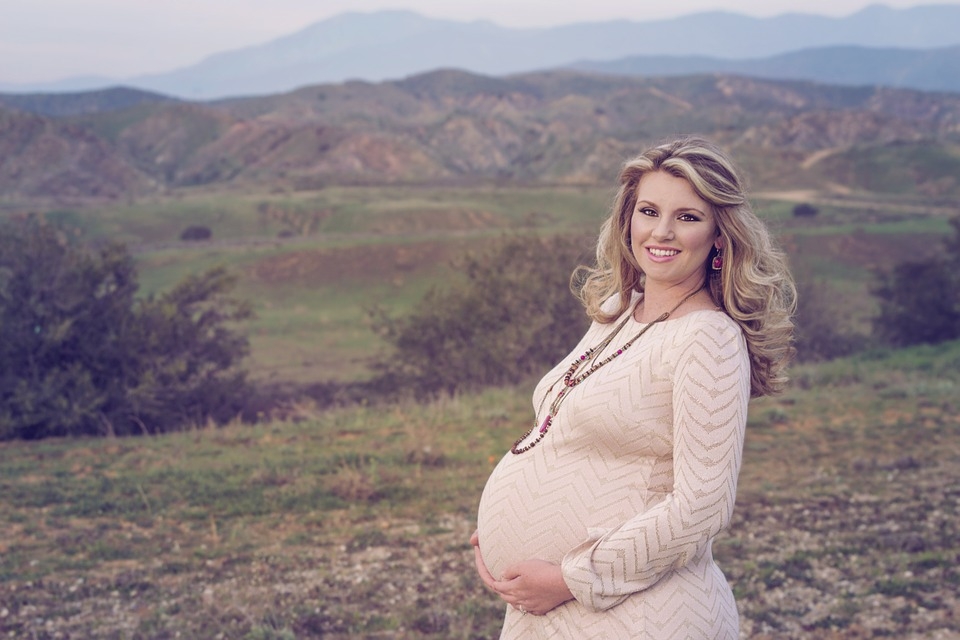 Being pregnant is certainly when you need to dress for comfort, but it is not a time most women want to look frumpy – heavens no! Finding comfortable, easy wear outfits can be more than challenging, but we show you how to be stylish not frumpy without spending a fortune on maternity wear.

During the first trimester, life on the clothing front continues pretty well as normal, although waistbands will start to feel uncomfortably tight. Some women find that their breast develop quickly and it is a good idea to splash out on a couple of new bras with plenty of support – and don't worry if you need a larger size later on as bra extensions are inexpensive and the quick and easy solution!
Buy wisely
Most women do not want to invest in maternity clothes as these are expensive and only for a short time, far better to invest in a few basic items that can be worn long after your baby has arrived. Always look for items that are made in natural breathable fabrics such as cotton and linen for the summer and cotton and wool for the winter.
Wearing clothes that are tight on the waistline can be very uncomfortable so buy skirts and trousers with elastic waistlines.
If you need smart clothes for work, opt for plain dark colours such as navy or a neutral like beige so that you can mix and match to give them different looks.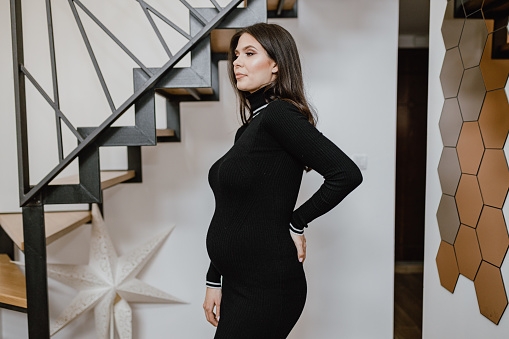 Invest in key items.

* Black leggings

A perennial fashion favourite, black leggings are comfortable to wear and look great both by day and night, worn with a long line top. For a relaxed day time look, 'borrow' one of your partner's shirts or rugby shirts! The great thing about leggings is that you can enjoy wearing them long after your baby is born. Whilst black leggings are the staple of a maternity wardrobe, navy blue and grey are good alternative colours and white or cream lightweight leggings are perfect during the summer. Leggings are really versatile as they look good with colourful tee-shirts, shirts, sweatshirts and jumpers.

* Jogger bottoms

If you are pregnant during cooler weather, jogger bottoms are snug and comfy to wear. Team them with a colourful coordinating sweatshirt and trainers for the perfect casual wear.

* Invest in a trouser maternity band

This clever gadget ensures that you can continue wearing your favourite jeans (and other trousers) throughout your pregnancy. You simply slip on the trousers, but leave the buttons unfastened and attach the maternity band to keep the trousers snugly in place.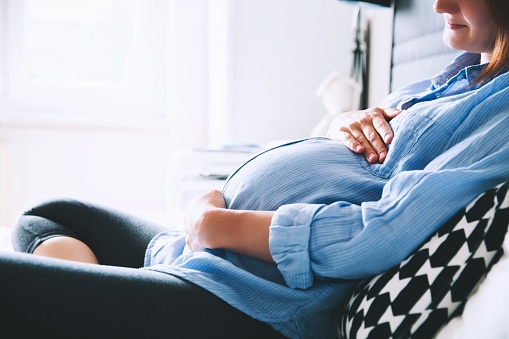 * loose fitting dresses

Many women find that dresses are very comfortable to wear during pregnancy. If you are opting for the frumpy look buy a dress that is huge and equivalent to 'rent-a-tent'- but if want to look stylish, choose a knee-length shift dress as you can wear this all through your pregnancy. Wrap around dresses can look smart and the added advantage is that they make breastfeeding easy afterwards. Dresses that are gently fitting look far better than large voluminous shapeless styles and you can 'draw the eye away' from your bump by adding colourful detail to your neckline.

If you want something colourful and very loose for when you are at home, the perennially popular kaftan is a fun option.

* Long tops

If you buy some new hip-length tee-shirts in jewel bright colours, you will find these easy and practical to wear. There is still plenty of discussion about whether pregnant women should bare their blossoming stomachs, but most mum-to-bes feel more comfortable if they hide their bump under longer styled tops.

* Treat your feet well

Wearing comfortable shoes with a low heel is important during your pregnancy and if you usually choose high heels, you may well find that you will need one lower pair of shoes. If you are buying a new pair, ensure they are leather to let your feet breathe and choose a smart neutral colour that will go with everything so that you look smart. If you are pregnant during the winter months, a pair of ankle boots or knee boots will be ideal.

When you are at home, you can relax and pop on flip flops or slippers and even if they look frumpy, no one will see anyway!
Use the 'tricks of the trade'!
Trying to look stylish, even when you are not feeling brilliant, can be a challenge. Spend a few extra minutes each day getting dressed so that you look stylish. Don't worry that people will be looking at your blossoming tum but be proud to be pregnant!
Once you have begun your second trimester and are no longer suffering from morning sickness you should be looking and feeling tons better. Your skin should be looking radiant and to ensure that it does, drink plenty of water and nourish your skin with moisturiser.
Apply some make up every morning and apply some nail polish – you will be amazed how much better you look.
Use accessories to 'ring the changes' to your maternity outfits and to make them stylish. Scarves can add interest and colour easily and so can fashion jewellery such as a necklace or bangles. Change your handbag to suit your outfit and the occasion – a colour coordinated scarf tied to a shoulder bag will give you the Parisian look!
The most important thing is to be comfortable during your pregnancy and certainly our suggestions will ensure that you are! With a couple of well planned purchases you will have a versatile wardrobe that will ensure that you look stylish every day. If you have a special occasion on the calendar such as a family wedding, it may be more economical to rent a stylish outfit.
Enjoy your pregnancy...
Chrissie x