Simple and Easy Meal ideas for your toddler
January 17th, 2020
1234 Views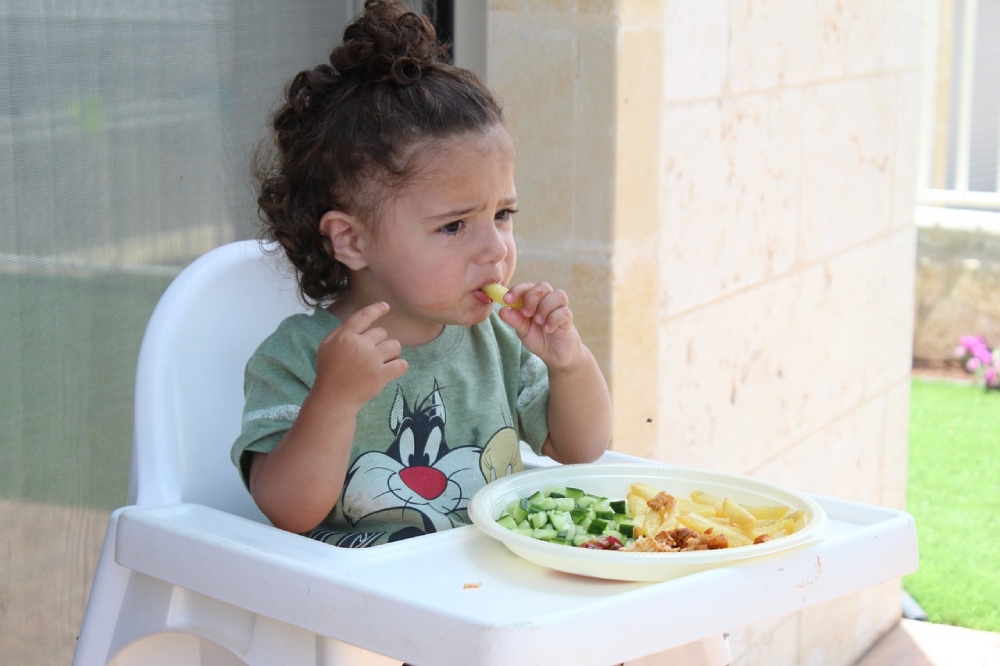 Feeding your toddler can be great fun, but it can also be quite a challenge! Toddlers need simple well balanced meals that are loaded with veggie and have plenty of colour and texture. Try to feed your toddler as many different tastes as possible because they are learning about various foods and experimenting – so that they can form their own opinions! Don't shy away from giving your toddler more sophisticated flavours either – mild spices, hummus and avocado are all popular with the under threes!

It is very unlikely that your toddler will eat and enjoy all the meals that you serve him which is why it is essential that you keep preparation and cooking time to a minimum – if the meal is discarded, you must not feel despondent and that your time has been wasted and even if you do, try not to show it! It is easy for meals to become an emotional battle ground between you both. Many toddlers lead busy lives and feel that meal times disturb their adventures, so best to have everything well prepared in advance so that the mealtime itself is short.
Make meal times special
Make meal times a special occasion and always lay a place setting for your toddler – either at the table with a large children's place mat to catch the inevitable spillages or on their high chair tray. Your toddler will soon recognise their bowl, plate and cutlery! He will love trying to feed himself so be warned – you may feel it appropriate to don a wetsuit! Make sure that your toddler has a drink to accompany the meal – water is good or pure unsweetened fruit juice, diluted 50-50 with water.

Fruit and raw vegetables are ideal for toddlers both as snacks and at every meal. Make sure you wash them first and cut them into small pieces – be particularly carefully about grapes and strawberries, nuts and raisins as they can all cause a child to choke. Cut grapes, strawberries, mandarin segments and olives into small pieces and always stay close to your child whilst they are eating. Mashed avocado can be served as a dip with some cucumber and carrot chips for dipping.
Finger foods are always popular!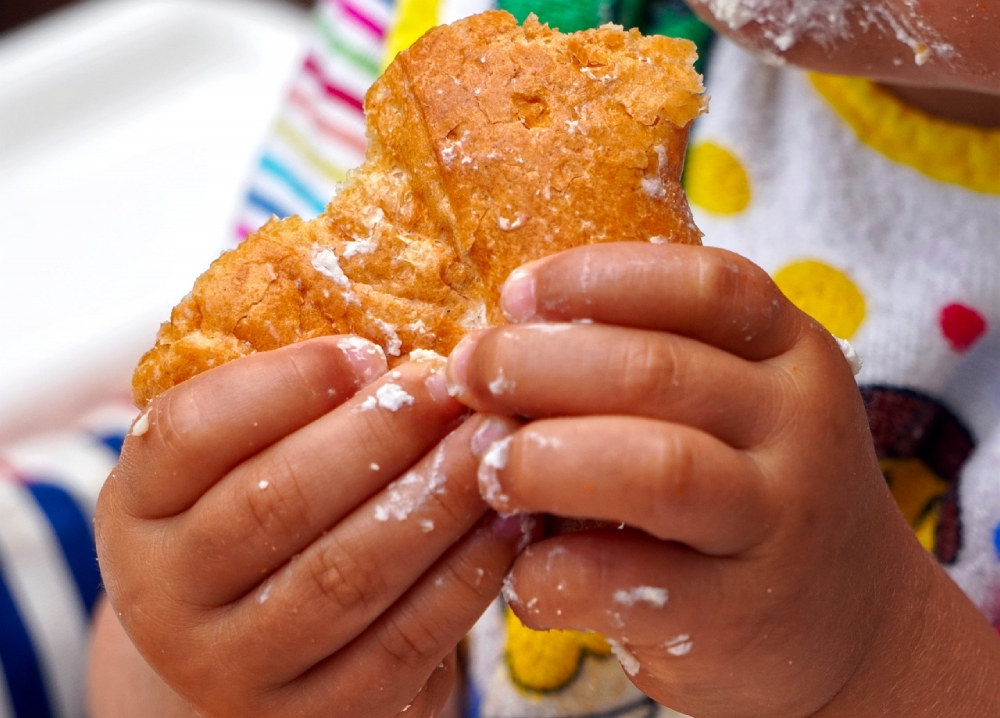 Toddlers love texture and thoroughly enjoy finger foods so small pieces of chicken, ham breaded fish and sausage can all be successfully eaten without cutlery! Small sandwiches are popular and can be made with brown bread, sliced finger rolls or small pieces of pitta bread. Having a supply of muffins in the freezer is perfect for using for mini servings of scrambled eggs or fun sized pizzas. These are made by lightly toasting each muffin and then spreading with pizza sauce and topping with grated cheese before popping under the grill until the cheese is golden brown. There are plenty of extra toppings that can be added including small pieces of ham and small pieces of pineapple.

EASY TO PREP VEGGIES

Roast vegetable are usually popular with toddlers and as well as potatoes, try them with sweet potatoes that have been coated with maple syrup and dusted with cinnamon. Peppers that have been roasted tasted much sweeter and appealing to toddlers and
roasted parsnips, cauliflower and broccoli (nicknamed by my daughter as 'little trees') can all prove winners! If your toddler likes soup, what better way for them to enjoy different vegetables? Soups are cheap to make and a fun element can be added by letting your toddler sprinkle grated cheese on his bowl or by adding some pasta shapes to the soup. If you have a choice, it is best to steam rather than boil vegetables as none of their goodness is lost.

A baked apple is a straight forward pudding to give your toddler and bananas are always popular -either cut in pieces, mashed with custard or cut into small pieces and stirred into some vanilla ice cream. Toddlers love all the different berries too and these can be mixed with custard or yoghurt for a quick and tasty pudding. Of course, there will be times when you will need to use tinned fruit which is absolutely fine, but it is best to opt for fruit in its natural juice rather than a sugar syrup.

MEAT, FISH OR VEGETARIAN?

Where meat is concerned, chicken seems to be a very popular choice with toddlers and can be made into a wide variety of different dishes. Meat cooked with fruit tends to have a naturally sweeter taste that makes it more appealing. Sausages are also a popular choice, but it is best to buy a brand that is 100% meat. Give your toddler different types of fish to try, but do make sure that you have removed all the bones. A tuna dip with some small crackers can make a fun lunch dish.

Limiting the amount of meat you give your toddler is not a bad idea as long as you ensure that their diet includes plenty of vegetables and pulses. Pasta is a popular choice too and what better dish for hungry toddlers than macaroni cheese which is packed with goodness from the milk and cheese.
What about chocolate?
Toddlers need to have a well balanced diet and it is at this age that the foundations are laid for good sensible eating habits in the future. Children of this age ideally should not be given chocolates and sweets, but this is hard to avoid. The best option is to give them a few small pieces of chocolate on a set day every week – this avoids them demanding chocolates all week through. Remember to encourage your child to brush their teeth afterwards. Your toddler will need to have a snack mid morning and mid afternoon and some carefully prepared pieces of fruit are ideal. If teething is a problem, pieces of fruit that have been frozen can ease a sore gum or a piece of carrot or bread stick to chew on.
And if a meal is rejected?
If you do find that your toddler resists eating a particular food, just try them with it again in a few week's time, as their tastes and preferences will be changing daily! There are plenty of great recipes available online that are geared to toddlers and your friends will have ideas too. You may well find that having some of their friends round for tea will encourage them to eat well. If you have any worries about feeding your toddler, your mum will soon put your mind at rest by telling you all the strange dishes she made for you all those years ago!….
If all else fails mums you could get them a Dinner Winner Plate - they are AWESOME
Click Here to Buy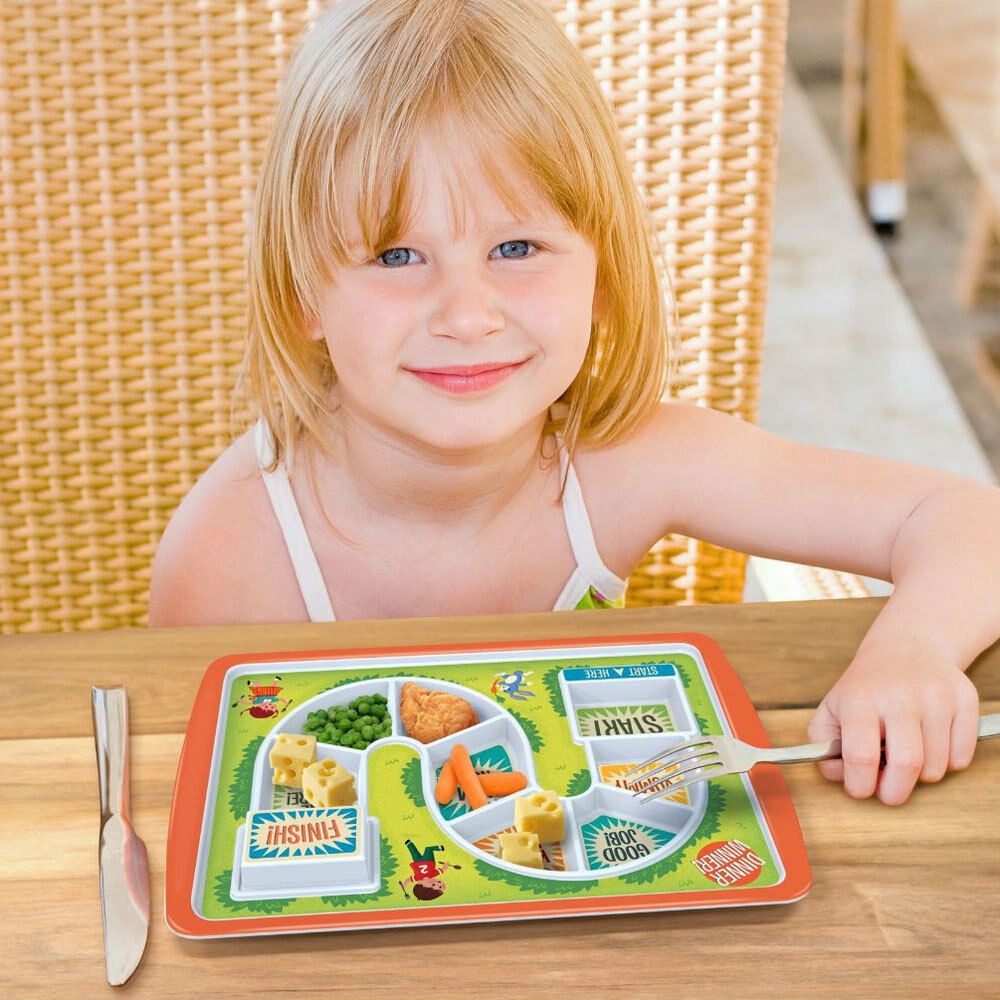 Chrissie x