There's an Argos MEGA BABY AND CHILD CLEARANCE
July 19th, 2019
1144 Views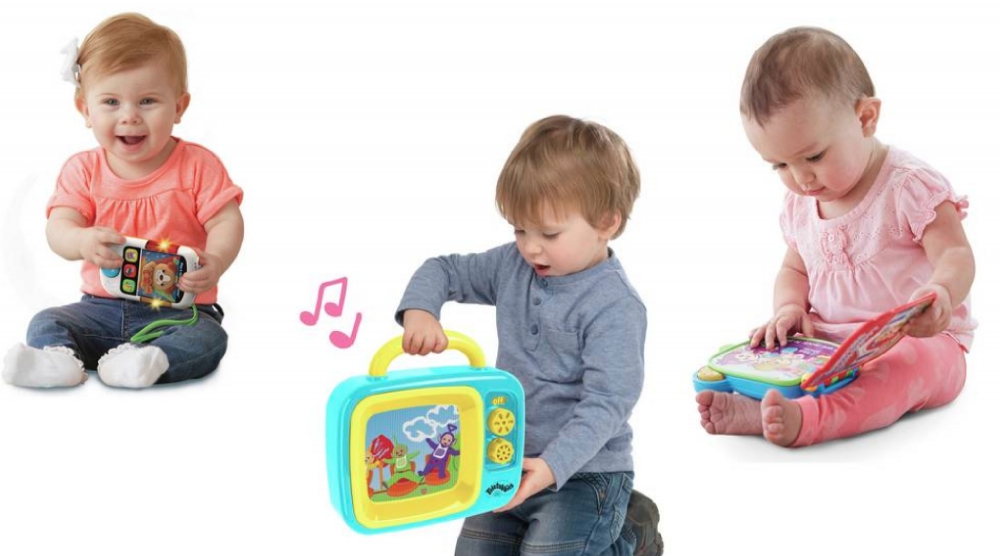 Everyone loves a bargain and Argos certainly has many tempting ones right now! The clearance sale features 82 products for babies and toddlers and 34 of these are now priced under a tenner! Although it seems strange to talk about Christmas when most of us haven't had our summer holidays yet, savvy mums are already thinking about parcels under the Christmas tree as there are some great bargains to be had right now! Christmas shopping in August means fewer crowds, less pressure and saving pounds, so why not have a browse online today?
Click Here to Buy
Another major bonus for being a savvy shopper now is that you will not have to try and stagger home with all your clearance bargains as delivery can be arranged with Argos.

There are some great toys in the clearance range that will amuse your baby/ toddler such as the V Tech Play & Move Puppy Tunes (http://www.proudmummy.com/go/PpgH) and the Teletubbies My First TV (http://www.proudmummy.com/go/VBbT) - both are colourful, fun and priced £4.99 and £5.99 respectively, they won't dent your budget too badly! Another eye-catching toy that will definitely prove a winner is the Fisher Price Laugh & Learn Counting With Puppy Book (http://www.proudmummy.com/go/hWgY). This is a very cleverly designed toy because it is so much fun yet it is really educational too and turning the pages will help develop your baby's motor skills. The book tells the story of Puppy's day and on each page there is the chance for your baby to help Puppy count and there are plenty of objects and colours for you to chat about too – what a great way to learn how to count to ten!
Shape sorters have long been a popular educational toy and the Fisher Price Sort & Spill Learning Truck is a colourful fun sorter that has been reduced in price from £19.99 to just
£6.00 (http://www.proudmummy.com/go/j4PK). There is the Chad Valley fun skittles set (http://www.proudmummy.com/go/6qQV) with each of the six skittles depicting a popular wild animal including a zebra, lion, giraffe and crocodile. For babies of six months and over, there is the tactile Ladybird activity toy with sliding rings, rattle beads and clicking wheel – as this will prove a winner with your little one it is good that it is easily popped into the buggy! There are some really lovely dolls – including beautiful baby dolls – in the clearance sale that will certainly make lovely Christmas gifts.
If you need some baby equipment for your new baby (or you will be welcoming your baby in the next few months) there are some good bargains in the current clearance including two Bright Starts baby bouncers that have been reduced from £44.99 down to £19.95 and £34.99 and an Ingenuity Hamilton bouncer that has been reduced in price by 50% from £69.99 (http://www.proudmummy.com/go/hBsd). There are several playmats including the large Chad Valley Ocean and Dreamland Dolls designs (http://www.proudmummy.com/go/JGFw). The Argos clearance features a selection of different bedding sets including five for toddler beds with such popular designs as Thomas the Tank, Peppa Pig and Paw Patrol.

As bedtime approaches, there is one item in the Argos Baby & Toddler Clearance that is perfect and that is the V Tech Sleepy Bear Sweet Dreams (http://www.proudmummy.com/go/PjpZ) which plays a selection of soothing sounds from nature, calming melodies and relaxing songs and features a timer setting. There is also a soft light show that projects coloured images onto the ceiling that will also help your baby to sleep. The unit has a cute polar bear motif and fits onto the side of the cot and can be used for all babies aged one month plus. This is such a lovely idea that can really help soothe your baby at bedtime....I definitely would not keep this one for Christmas but start using it right away with the promises of tranquil evenings from now on....
Angey x