Baby yoga - Get fit and feel happy with your baby's help!
July 15th, 2019
880 Views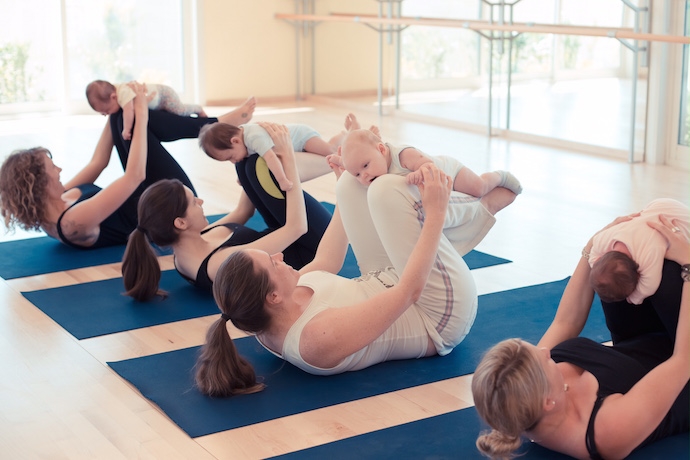 Are you feeling like you need to escape from the humdrum of your baby routine? Do you long for some grown up conversation and the chance to get fit again? The popularity of baby yoga is gathering momentum and it is easy to see why!
Why go to baby yoga?
Baby yoga is simply great fun! If you go along to a session you will meet plenty of other mums in a similar situation which is a real bonus - especially as you have probably not had much time to see anyone socially since the birth! The classes are relaxed so there is absolutely no problem if you do have to stop for a feed or a nappy change. The yoga movements you are taught have been especially adapted to be done with babies and you will be taught how to massage your baby too, which can be beneficial for both his digestion and sleep pattern – which has to be good news!
Who can go along?
There is absolutely nothing to worry about if you have never ever done yoga before – no one will mind at all! Equally, if you are a yoga enthusiast that is good too because you will be starting at a new beginner's level because it is not just you now! Mums and dads can both take part and even Grandma – the only requisite of course, is that you have a baby! For mums, the huge bonus is that the classes can really help with their emotional and mental well being, as well as getting them back into gentle exercise.
What age must your baby be?
You can start going to baby yoga once you have had your six week post-natal check up and can continue until your baby is toddling and definitely cannot be contained on the yoga mat! You just need to wear something comfortable and stretchy like a pair of leggings and baggy tee-shirt – and don't worry because all new mums have unwanted wobbly bits! The most important thing is to check that the class is being run by a qualified yoga teacher.
What does a session involve?
There is lovely background music of Zen which is a soothing combination of chanting and baby songs and you will be designated a yoga mat. The session usually begins with some rhythmic breathing exercises which are lovely and soothing. The session continues with gentle movements that have been specially adapted for babies and include plenty of touch which can really help to soothe your baby and of course can be used at any time at home.

The movements are nice and gentle and the breathing techniques you are taught definitely help you and your baby have a good night's sleep and they are easy to practise when you are doing the household chores! The instructors are very relaxed and only want you to do what you feel is right for you and your baby on that particular day and are very aware that this can change each week!

An important bonus is that the movements lead to the release of endorphins – the hormone that helps to make us feel happy and relaxed and this can help prevent post-

natal depression. Many mums find that they enjoy baby yoga because they can forget everything else and just focus on their baby and really enjoy them which is very special for
bonding.
Can yoga be beneficial for your baby?
Yoga and massage are known to be really good for your baby and medical tests have proved that the different stretches and movements can help ease your baby's indigestion, wind problems, colic and even constipation as well as help them sleep - so it really gets my vote!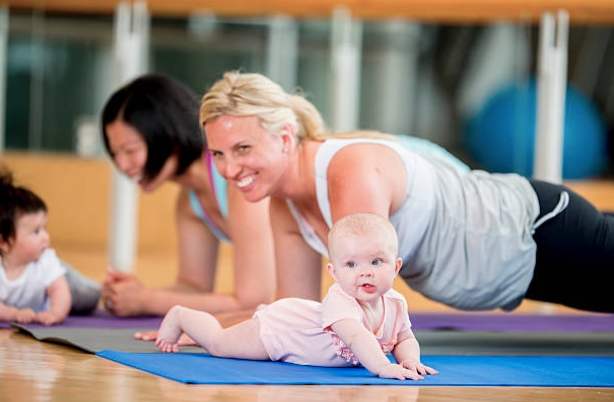 How did the first session go?
Going somewhere new is always tricky and awkward, but there was a warm welcome and the instructor soon put everyone at ease. It was fun to laugh with other new mums about how we were all running on 'flat batteries' and just wanted to sleep on the yoga mats! I enjoyed doing some of the traditional yoga movements that you do without your baby and it was lovely to get my body going again! Lara, my eight week old, enjoyed all the stroking and touching and it was a special time just for us without her brother and sister. She definitely found baby yoga very relaxing because within 20 minutes she was sound asleep on my mat – help!
Angey x