Fun Easter Eggs and Gift Ideas
February 20th, 2022
466 Views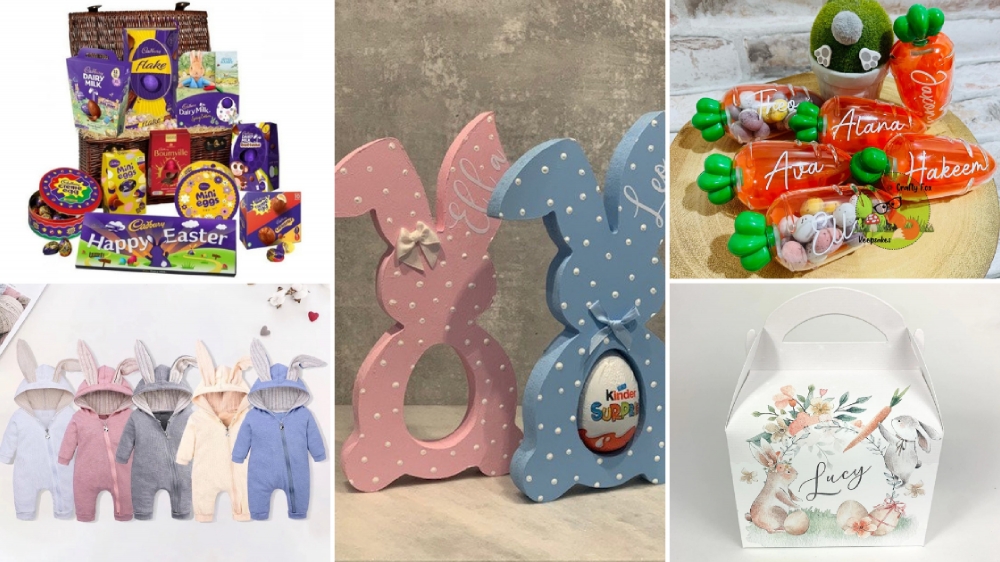 With Easter firmly on the horizon, now is the time to get planning and shopping for extra special treats for all the family. Easter is always a special family time, marking the start of spring and for many is a day filled with chocolate!
Check out the Cadbury Easter Egg selection
If you would like to shop in the comfort of your home, without having to try and manoeuvre a buggy around busy shops, the perfect place to start is with Cadbury Gifts Direct!
Easter hampers are the current popular gift idea and there is a great selection to choose from with a price to suit everyone. The Easter Treasure Box is good value at £10 and is filled with a variety of mini eggs plus other chocolate treats. Mini Eggs Gift Box also £10 as is the Easter Little Ones Treasure. The Ultimate Easter Basket looks totally irresistible and costs a whopping £75.00 but perfect for chocoholics!! The chocolates are presented in an attractive wicker hamper ●
Click Here to Buy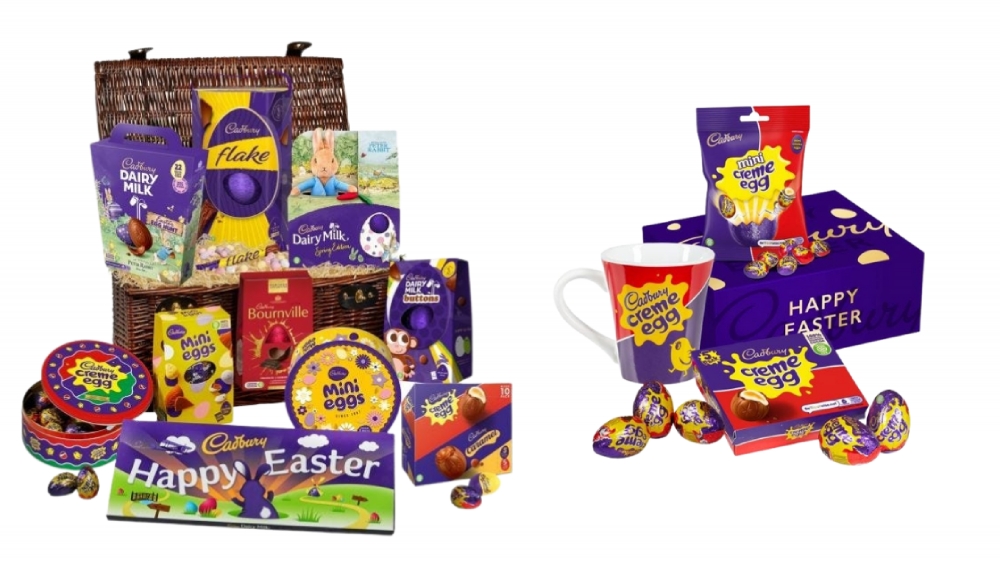 If you know someone who is a great crème egg fan what better than a gift set containing one box of five Cadbury Creme Eggs plus a bag of Creme Eggs mini and a smart Cadbury Creme Egg mug to enjoy all year round? Priced at just £10.00 ●
Click Here to Buy
It is extra special to give a personalised Easter gift and on the Cadbury website there is a great choice  such as Milk Tray and Dairy Milk bars, which you can then personalise with your own Easter message and images. A bonus for buying your Easter chocolates on this website is that you are rewarded with chocolate chunk rewards to save up towards some free chocolate – fantastic!
Tesco have Easter Eggs for everyone – including milk-free and vegan!
You can buy the Easter Eggs in-store or add them to your online grocery order and have them delivered to your door – which could be easier and safer ●
Click Here to Buy
There are plenty of Easter Eggs priced from £1.00 and these include such favourites as Milky Bar, Aero, Maltesers and Smarties as well as some beautifully presented Easter Eggs for adults including Lindt and Ferrero Rocher. If you have a child or other family member who is milk-free, Tesco has a lovely selection of eggs and bunnies in the 'Free From' range. There are also several vegan alternatives.

Save money with Iceland's multi buys!
Iceland definitely wants you to find buying Easter treats easy and not too expensive and is offering 4 LARGE Easter Eggs for just £10 and giant Easter Eggs for £6.00 ●
Click Here to Buy
Etsy has some fun gift ideas!
Cute personalised Easter egg holders – they come personalised with any name and message to hold a creme egg or surprise egg – no wonder they are a best seller! They are perfect for grandchildren ●
Click Here to Buy
If you have a newborn in the family or an older baby enjoying their first Easter why not dress them smartly in a gorgeous bunny romper? Not only will they feel warm and cosy, they will look so cute! The romper is available in blue, pink, cream or grey and has a contrasting contrasting striped lining and of course some large bunny ears! Sizes up to 18 months soft fabric really cute £14.50 ●
Click Here to Buy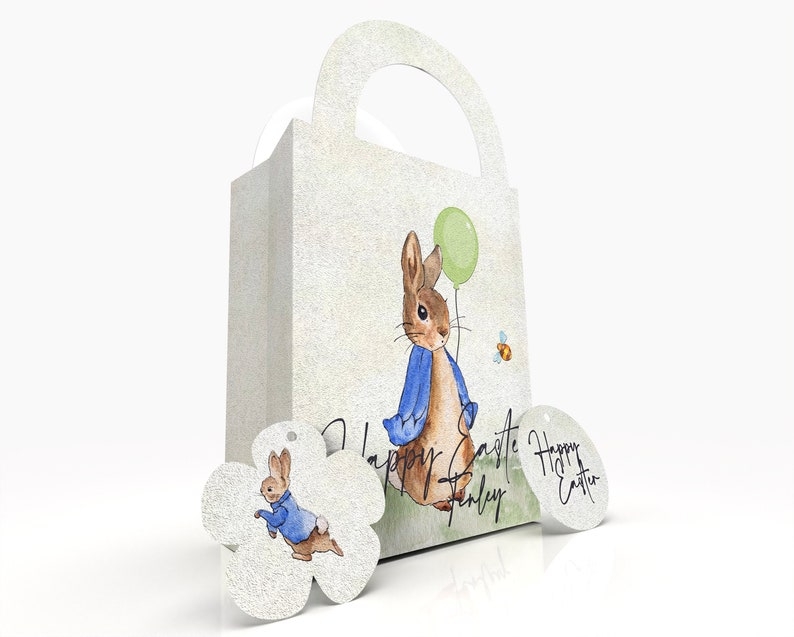 A small smart bag is perfect for holding Easter treats or for going on an Easter egg hunt and what better than a bag featuring the most famous rabbit of all - Beatrix Potter's Peter Rabbit! Both the bag and gift tag can be personalised and cost just £1.25 ●
Click Here to Buy
What a wonderful surprise to wake up to on Easter morning – your child will love their very own personalised Easter Treat Box. These are just £1.25 and so very cute ●
Click Here to Buy
These cute personalised carrot treat holders look sweet ●
Click Here to Buy
And clever ideas for you to prepare for a great Easter...
If you don't want to give your child too many chocolates, you can combine their gift with a small gift such as some new paints or books. Get a wooden crate from your local craft store and paint it a fun colour, line it with coloured shredded paper to match and place the presents inside with a small Easter egg and scatter with mini eggs. The Works have them starting at just £2 ● Click Here to Buy
Make an 'Easter Tree' for your table. Find a suitably sized branch. Half fill a flowerpot with stone. Fix the branch into the stones and then completely fill the flower pot with more stones. Decorate with coloured mini eggs attached to pieces of ribbon or look out for miniature faux eggs and miniature bunnies in a variety of colours.
If you are having a special family lunch, why not prepare a very special decoration for each place setting? Buy the cheapest chocolate eggs – one for each person and using icing, personalise each one with the person's name. Small sugar decorations can be bought in most supermarkets and these can be attached with a blob of icing.
Make some Easter nest cakes by baking some small sponge cakes in paper cases and when they have cooled, pipe chocolate buttercream into 'nests' and fill them with 2- 3 mini eggs.
Happy Easter!
Chrissie x