Fathers Day Ideas from Etsy
June 11th, 2020
767 Views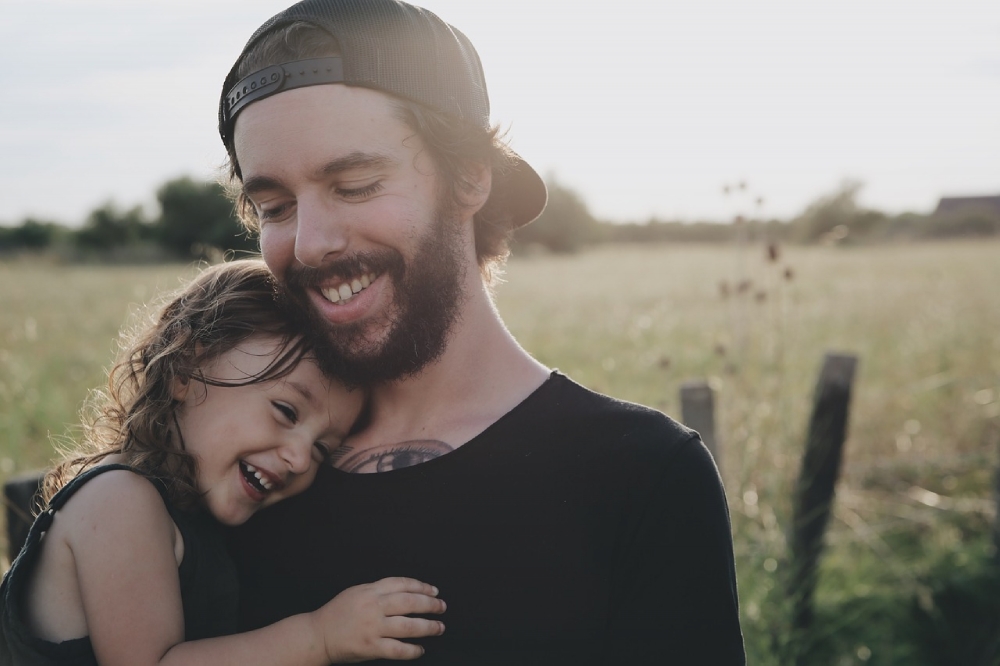 Father's Day in the UK and US is on Sunday 21st June this year – coinciding with Midsummer's Night, so hopefully you will be able to rely on some good summer weather and be able to plan a celebration picnic! If you are looking for something special to give your Dad, Etsy has a great selection of gifts which can be ordered online and these will be speedily delivered to your door – especially suitable in these days of lockdown.
If you haven't discovered Etsy, do take a look at the website as Etsy supports unique independent sellers so you will definitely find some really fun and truly unusual gift ideas. The price range is really good too – especially when you consider how much has been involved in making such a special gift.
Click Here to Buy
This selection of Father's Day gifts definitely contains great ideas to suit all budgets.
Of course, to go with your gift you will need a special card and wrapping paper. To show your Dad just how special he is, why not make your own? All you need is some stiff white card for your Father's day card and some large pieces of plain white paper that will fit around your gift. These will both look really great if you decorate them with hand prints made either using your Dad's favourite colour of paint or several contrasting colours such as yellow and blue as the parts of the hand prints that overlap will turn green and look really cool! If you don't want to decorate the card and paper with hand prints, you can try leaf printing or cutting a potato to use for printing!
Here are six great gift ideas from Etsy...
PERSONALISED LEATHER WALLET
Have you looked at his wallet recently? Is it starting to look like it has seen better days? Although this is a very classic gift idea, it is a very acceptable one, especially when the leather is made in soft leather and the wallet has been personalised either with Dad's name or initials. There is a choice of black or brown too.
Click Here to Buy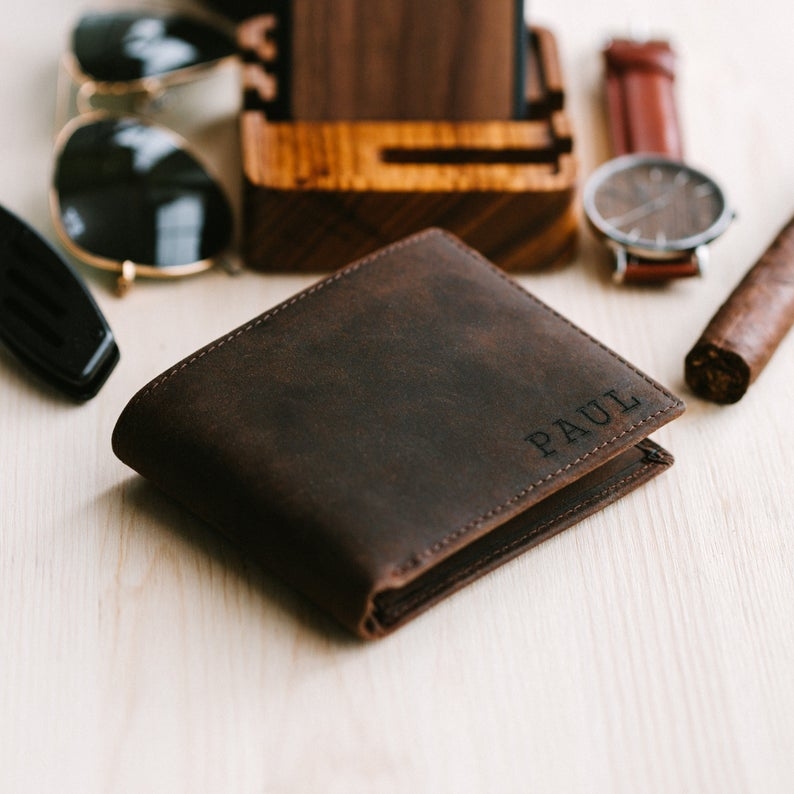 FOOTBALL FAN DAD
If the answer is yes, he will love the personalised print depicting 'his team'! You can choose the colour of the football shirts – and their numbers! They are further personalised with his partner's and children's names – and there is room underneath for a special message too!
Click Here to Buy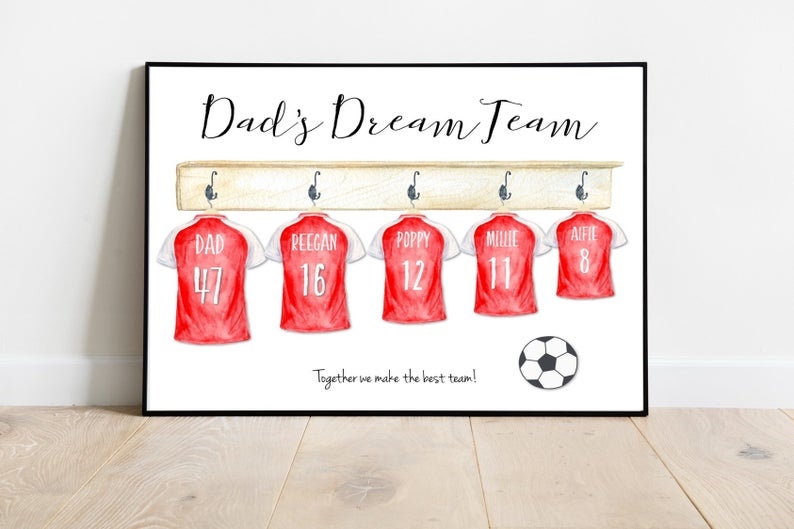 SPECIAL FAMILY PORTRAITS
This gift certainly has a 'wow' factor as the photograph that you have chosen to send to the company is mounted on a slice of real wood which looks really smart! The gift is supplied with a small wooden easel for easy display.
Click Here to Buy
SUPERHERO TEE
This is definitely a fun and very apt tee-shirt as Dads are cool and really good at sorting things! This fun tee-shirt is in black with all your favourite superheroes such as Spiderman, the Incredible Hulk and Captain America emblazoned across the front in bright yellow and red.
Click Here to Buy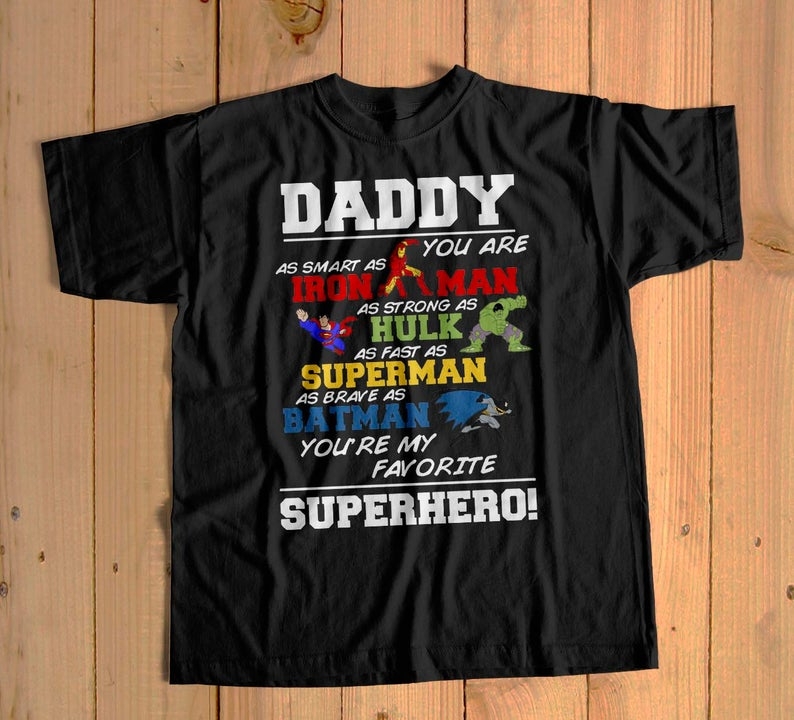 TOOL ORGANISER
Do you have a Dad with a 'man cave' with all his various tools scattered across a workbench? He definitely needs organising! This smart three tier cabinet it will definitely do the trick! The organiser can sit on the workbench. On the lower tier there are ten compartments, on the middle tier there are three larger compartments and the top shelf is spacious and perfect for storing drills, chargers and grinders. With a bigger price tag, this is a great gift solution to club together to buy.
Click Here to Buy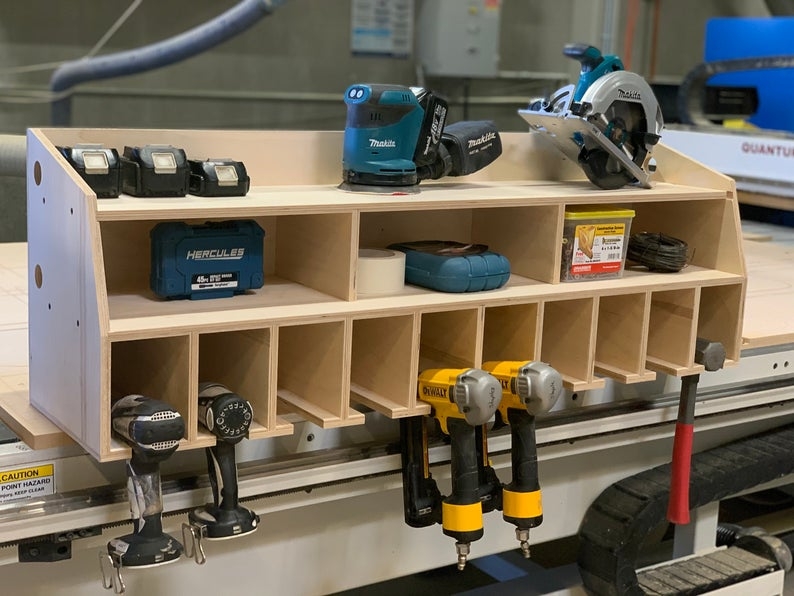 WORLDS BEST DAD COASTER
What is great about Etsy is that it has great gift ideas for all budgets. If your Dad enjoys a relaxing drink in the evening, why not treat him to his own personalised dad coaster - these slate ones are something special!
Click Here to Buy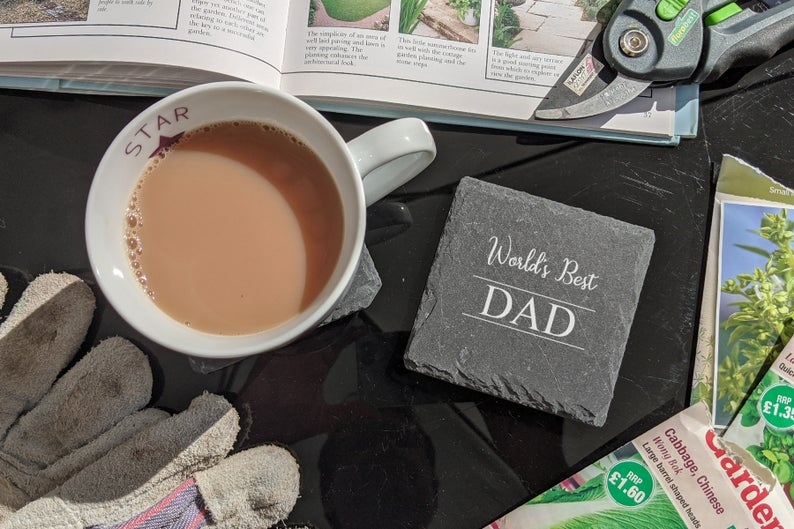 Chrissie x