Great messy play ideas for lockdown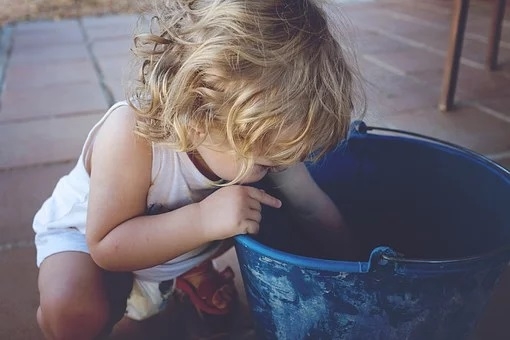 You could well think that encouraging messy play is the idea of manufacturers of biological washing products, but you would be wrong! Messy play is really good for children of all ages as it promotes their physical development- especially their tactile and sensory experiences and building and strengthening their nerve connections and developing hand/eye coordination and the dexterity of their fingers. As well as this, messy play is really good fun, relaxing and the perfect way to liven up a dull day in lockdown!
Messy play is just that, so it is good to prepare yourself for the worst! Make sure your child is wearing old clothes. If you can have messy play out in the garden or on the balcony that's great, but if not, ensure that your kitchen table is well protected with old newspaper or similar or use the floor in the bathroom if it can be easily cleaned.
It is essential that you supervise your child whilst having messy play and he will love it if you join in too!
Water fun
Children just love water and can get an amazing amount of fun from a washing up bowl half filled with water and a variety of plastic scoops, spoons and pots for measuring the water and for pouring it. Stand the bowl on an old towel as this should absorb most of the spillage. Items that float like corks are fun to add and so are a few drops of food colouring so that your child can learn how the colour disperses.
AQ different type of water fun that is just as appealing is to g outside after it has been raining so your child can enjoy some serious puddle jumping!
Piles of bubbles!
To ring the changes, you can half fill the washing up bowl with water and add enough shampoo or washing up liquid to produce plenty of bubbles. Your child will love playing with so many bubbles and trying to shape them into pyramids and balls. A few plastic pots and wooden spoons will add to the fun as they try to fill the pots with spoonfuls of bubbles.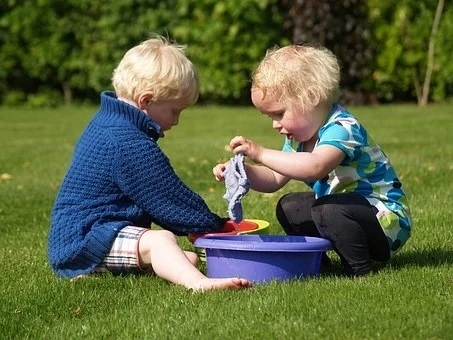 Pasta magic
Dried pasta shapes can be fun as they can be scooped into different containers and into small plastic bottles with screw caps to make musical instruments. Show your child how your kitchen scales work so they can enjoy pouring different quantities into the bowl to see how much they weigh.
Finger and hand painting
Lovely and messy, painting is so appealing to children! A lovely tactile experience for your children is finger and hand painting. Show them how to paint the palm of their hand and then make a print on some paper. They can soon make a colourful design that will be perfect to give to grandparents when you next see them and to show them on your next video call. Whilst you are doing this, don't forget to get a handprint for the baby book too!
Finger painting is just as much fun as your child simply dips his index fingers in a little dish of paint and then press them on a sheet of paper. They can make patterns or you can draw shapes on the paper for them t fill. Older children can be shown how to mix all different colours from the primary shades, for example blue+yellow= green and blue+red= purple.
Creating a junk monster
Children usually have a vivid imagination and will certainly enjoy using empty cereal boxes, tea bag boxes, empty washing up bottles etc. to build a monster. Have some pieces of different coloured paper that can be used for decoration or to add eyes and a mouth – and don't forget a photo of the finished beast!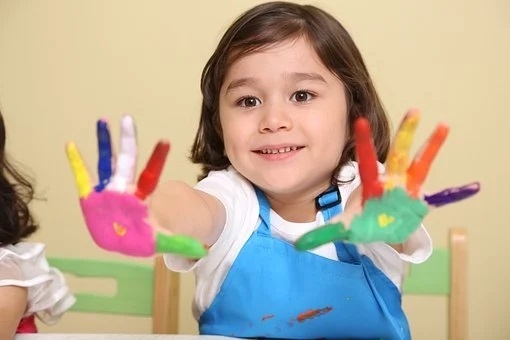 Sand for two types of fun!
Sand is another perennial favourite with children. If you have room, an old baby bath makes a good sandpit for outside, but children can still have lots of fun with half an old washing up bowl filled with sand. If the sand is dry, they will enjoy pouring it from one container to another, but show them what happens when water is added. When the sand is wet enough, they can have even more fun making mini sandcastles using yogurt pots and many other shapes. Faces can be decorated with small shells or washed pebbles from the garden.
Once your child has finished with the sand, carefully place the washing up bowl in a large bin bag to preserve it for the next session. If you have a sandpit outside, cover it securely otherwise all the cats in the neighbourhood will use it as a loo!
Squelchy mud!
This is definitely one for the garden! Pour some water in the corner of a flower bed and mix it well to make thick gooey mud! Your child will thoroughly enjoy scooping the mud into small plastic tubs and it is the perfect moment to encourage him to describe how the mud feels. Suggest some fun words to add to his as this is a fun way to lean. If the muddy patch is near a paving slab, your child can try painting a picture on the paving slab with a large paint brush. When the painting is complete, take a photograph and then watch your child's delight as they wash it away with some water.
Once messy play is over, it is probably the ideal time to start teaching your child how to clear up and once this is done they can have a much needed bath and a story book.
Chrissie x