Check out the My 1st Years Baby Range
April 11th, 2020
911 Views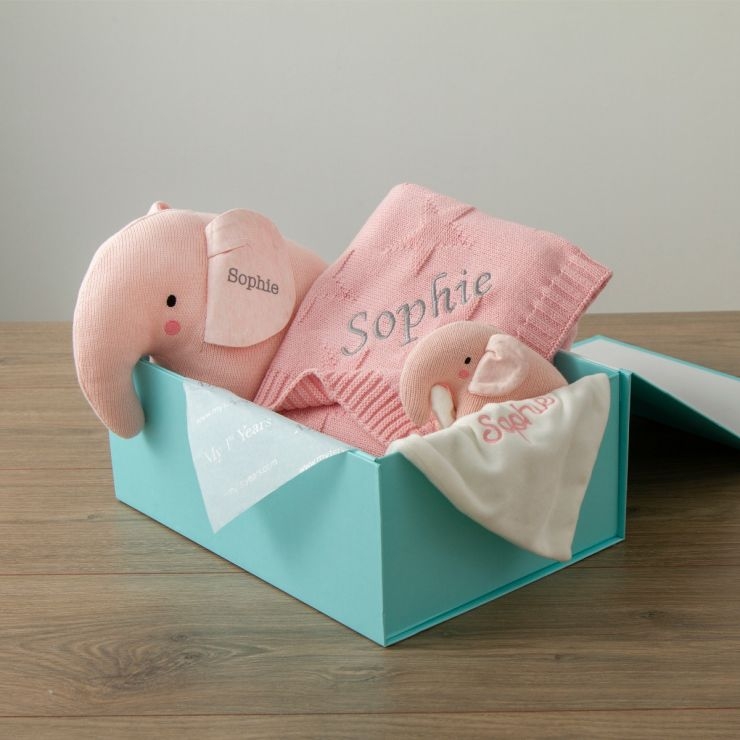 Looking for a special gift for a baby or young child can often be both time-consuming and frustrating and sometimes you find yourself settling for a less than ideal gift. The 'My 1st Years' Baby site is the perfect answer to the problem, as you can buy all types of gorgeous gifts, without leaving the comfort of your home!
My 1st Years Baby Range was created five years ago by two friends searching for a gift for their friend's new baby. They had failed in their hunt and ended up making their own special gift – which so impressed all their friends, that the orders for the tiny shoes started to roll in! Today, the website is like a treasure chest filled with wonderful gifts to suit all the special occasions celebrated during the early years of childhood. There are great gift ideas for baby showers, to welcome a new baby, for your baby's first Christmas and birthdays too. What makes so many of the gift ideas extra special is that they can be personalised with your chosen name - at no extra cost.
EVEN THE ROYALS WEAR THEIR PRODUCTS, CHECK OUT THESE CUTE PRINCESS TRAINERS Click Here to Buy

The range of clothes, toys and equipment has been carefully selected and made with top quality materials. There is an attractive selection and many items are available in a choice of soft pastel colours. Many of the gift ideas are classic in style and character and this gives them extra appeal and a timeless charm. There are gift ideas and clothing for children up to five years old and plenty of cute 'must buys' including personalised dressing gowns and bath towels.
Shopping with My 1st Years is lovely and easy. The website is easy to navigate and you can streamline your search by naming the occasion, choosing whether your gift will be for a girl or boy and selecting your budget. Once you have chosen your gift, you can choose from four different types of delivery including international.
All the items are carefully packaged in a beautifully prepared gift box, which is provided at no extra cost.. You can be confident that your gift will be a joy to open and receive.
Young children love soft toys and there is an appealing selection to choose from including monkeys, mice, grey or pink bunnies and gorgeous traditional teddy bears – including several wearing jumpers! Many of the soft toys can be personalised which makes them an extra special gift as you know they will be treasured for years.
They even have the 'BEST' ever toy baskets that are a little different to your standard toy boxes, they are made of a thick blanket type material and are personalised in some really cute designs, great for placing in the lounge or living room.
WE ALL SHOULD OWN A 'BORN IN' BEAR, THEY CREATE GREAT MEMORIES Click Here to Buy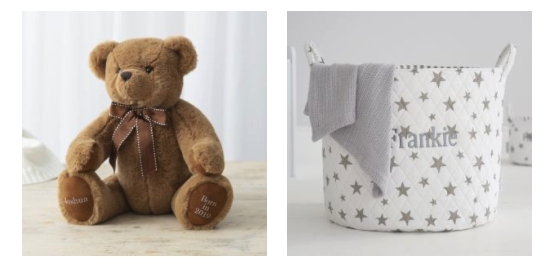 THE LARGE WHITE STAR TOY BASKET HOLDS LARGE CARS, TRUCKS OR STUFFED ANIMALS Click Here to Buy
If you would like to buy something special, but practical, for the nursery there is a great selection of beautiful traditional wooden toy boxes that can be personalised too.
The range of playtime gifts is very attractive and perfect for young children as the toys will appeal to their imagination as they learn to read and draw. There are toys including colourful xylophones that will encourage them to play a musical instrument and a marvellous ride on fire engine that will definitely be a winner!. You can buy the toys with confidence, knowing that they have been designed with care and made to the highest quality. There are a number of toys crafted in wooden including fun jigsaw puzzles for the different ages.
Scrolling through My 1st years website, it is difficult not to get suddenly nostalgic and remember how excited you would have felt if you had been given such a special gift as a child. Next time you need a present for a young child and would like one with a dusting of magic, why not log on to My 1st Years Baby Range?
Click Here to Buy
Chrissie x