ARENT YOU THANKFUL THAT YOUR CHILDHOOD HAPPENED BEFORE TECH
September 9th, 2017
259 Views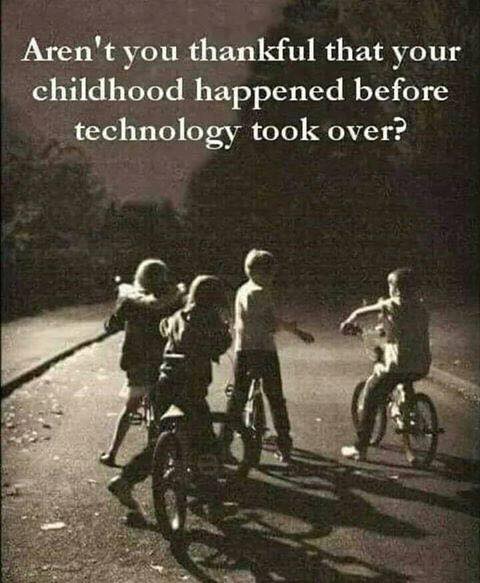 AREN'T YOU THANKFUL THAT YOUR CHILDHOOD HAPPENED BEFORE TECHNOLOGY TOOK OVER?
Fan Comments
Janine Williams

My son said to me only the other day. "Mum I bet your childhood was boring" I said "no way son, I had adventures, always out all day when I could, building camps, climbing trees, on my bike, skates and around friends houses. More than you ever do son" Rather my childhood than on a gadget.

Hayley Wallace

This is a load of rubbish. Kids do want to play outside but it's ruined by selfish, horrible adults out screaming at them if they dare set foot outside their house. No laughing, fun, bikes etc. God forbid. Give yourself a shake, I don't know one kid who wants to spend all their time on a computer.

Tracy Williams

yeah we were always outside or in the back garden with our mates and playing on our swing, in the summer paddling pool, we were always out at the beach and canoe lake my nan lived near the beach, we went on picnics and treasure hunts, loads of outdoor things to do, wish my kids would but all electronic gadgets these days , technology has a lot to answer for

Carol Newman

Yep sad world now to much technology it's all computers no fun in trying to work things out and play outside like we used to have fun that's all disappeared now never see many kids playing outside anymore inside on phones x boxes watching Tele that's there growing up

Deb Chamings

Would not change my childhood for anything! I loved being out all day with all the neighborhood kids getting into mischief (good mischief ) going to buy hot chips when we got hungry and sharing a coke....ahhhhh they were the days 😍😍😍

Rita Teesdale

Yes most definitely,when I was young we played out all the time rolling skates , bikes ,swimming in lakes beaches best ever did not cost a penny few sandwiches and bottle of. Crona off you went for the day. Best childhood ever in Wales. Xxx still miss its .💋

Caroline Knight

Yes to right more safer to do things and play, them days could even leave front doors unlocked,.can't now during the blimin day

Patricia Keating

I wish this world wasn't so dangerous and that my gran children could of had this kind of childhood memories .unfortunately the world has changed and not for the better Im thankful for technologhy at least I can keep them safe online

Sarah Guidoum

My child hood was shit and board going on holidays that only thing that was fun all my friends always hanging out in the parks I was in home doing homework let say nothing changed from now I have my own kids they stay in home playing on there ps3 all day on line

Thomas Satterthwaite

Yes,I am.As a young boy I could identify wild birds,fish, and most wild native animals.i was never in the house.The time spent out and in conversational meetings with my mates was educating.When I look back,I wouldn't swap that for all the technology and gadgets of today.

Diane Hirst

Would have my childhood all over again definitely ( early 60's/70's ).👍

Paula Carroll

Yep. Feel sorry for youngsters now. They'll never have what we had 😥

Louise Jewell-Fewings

Yes but it was a lot safer to play out in the street

Rosa Dillon

Too damn right. There are good things about technology but it can also be intrusive.

Julia Anne Ball

Bloody right I am shit at technology and my kids take the rip..Dan Pearson, Debs Pearson and Chris Pearson...true or not??? X x

Jo Cain

We had great fun in the open air having adventures and it did not cost anything, just imagination.

Christine Cole

Oh yes,think we were much happier,than the kids today.

Colette Nicholas

Stephanie Nutter we had to be in when the streets light came on.

Mel King

Strike a balance use technology for learning, but outside comes first .... there is a world to explore

Pete Harriman

Yep sure did Hels!!...Hope your working hard inthe city lol Xx

Pauline Willis

Yeah had a lot of friends and out all the time. Kids now are always in with their gadgets

Sally Clare

Absolutely! No mobile phones so our parents had no idea what we were up to all day. We just "dropped" in for food!!

Sarah Crookes

Yes I am cuz all social media is is socially X mentally bullieing X other stuff goes on aswell with snap chat X other apps that you can talk X take pics but socially media should ave been invented so many children out there getting bullied X then doin my hem selfs in cuz they Carnt deal with nasty stuff that they get sent xx

Janet Armagan

Yes.... The comments say it all!!!!!!!!!!

Gemma Kedzior

Yes! Hence why my kids play out as much as possible!

Rosemary MCcarville

Oh yes!! So much more to do and the freedom to do it! 💝

Susan Scott

Most definatley

Jennie Dale

That's for sure

Sarah Jane Sheffield

Yep sure am

Debbie Mullett

Without a doubt

Jolene Collier

Yerp 👌🏼

Michelle Field

Definately yes!!!

Toni Louise Thorpe

Yep 👍 xx

Nicola Cuthbert

To right

Glenys Neal

and my childrens

Bec Holder

Yep to right

Jason Seymour

God yes

Charlotte Fenn

Hell yes

Michelle Ashford

Yep x

Patricia Deer

Absolutely

Gaynor Hitchcock

Absolutely

Julie Chambers

Oh yeah

Tania Jane Needs

So glad xx

Tracy Crichton

Yes

Nicola Hamilton

Yes

Liane Hinsley

2 rite. X

Angela Arthur

Oh yes x

Sharron Clarke

YES.

Maureen Kenmuir

Definitely

Shirley Horne

Oh yeah

Kirsti Koch

Yes!

Lisa Bonny

100%

Soozie Treece

Yep!

Jacqueline Sweeney

100%

Dawn Hawkins

Most definitely

Dorothy Lazenby

To true !!!

Birgit Berry

Yes

Pauline Odonoghue

Kevin O'Donoghue this is soooo u xxx

Anna Louise Lockwood

Deborah Larder-Shaw Paul Redfern Craig Shaw WWW 😜

Stacey Fry

Lynsey ✌🏻😳😜

Vikki Lou

Alan Walker this was us

Amelia Shouler

Eli Shouler Stef Shouler Zach Shouler-Jones

Emma Yerolemou

Keeley Barrow xxx

Lizzy Gilders

Emily Moore x

Sharon Henson

Sian Hinkley

Sharon Busby

Shane Busby

Ann Wilkinson

Oh yes for certain.