IM A TEEN MOM OF TWO. I HAVE MY OWN PLACE, I HAVE A FULL TI
December 3rd, 2017
1462 Views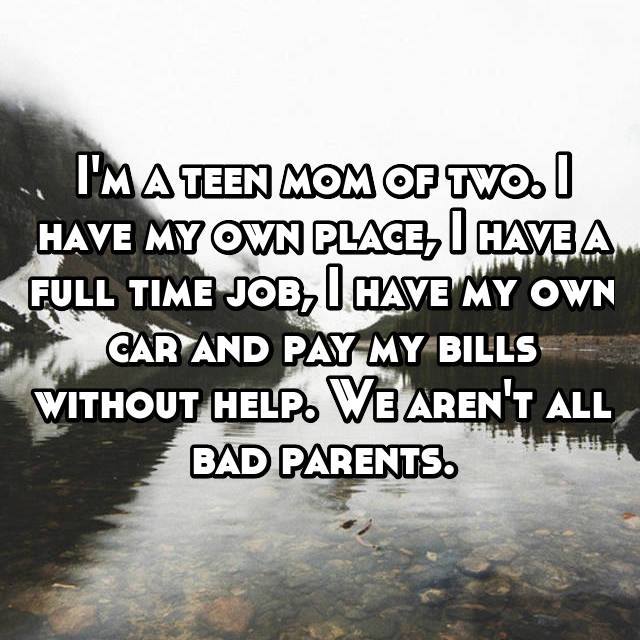 I'M A TEEN MOM OF TWO. I HAVE MY OWN PLACE, I HAVE A FULL TIME JOB, I HAVE MY OWN CAR AND PAY MY BILLS WITHOUT HELP. WE AREN'T ALL BAD PARENTS.
Fan Comments
Louise Allen

Hang on so your automatically a bad parent if life has made it hard to get your own place pay bills rtc because of age. The above also doesn't automatically make you a good parent either there's a lot more to it then that. Just saying.

Dawn Taylor

You must make a pretty penny or two in order to provide childcare for both children when you're working, single working mother's get tax credits for that which is classified as help is it not, unless your parents do it....again, help....not sure how you're doing it without help unless theyre home alone which is pretty bad parenting just to earn a few quid.....just saying

Sue Kelly

I dont drive and have a child does that make me not perfect parent i dont want be pefect once my child everyting he needs and happy thats all that matters

Carrie Coles

The post is just there to challenge the stereotype of young mums - not belittle anyone else. :*

Sharon Macafee

Wish some would pay there bills and not waste there money

Emmalene Dyer Sim

What a load of crap.