POUR YOUR KID A BOWL OF CEREAL AND THEYLL BE FED; TEACH YOU
November 26th, 2017
1327 Views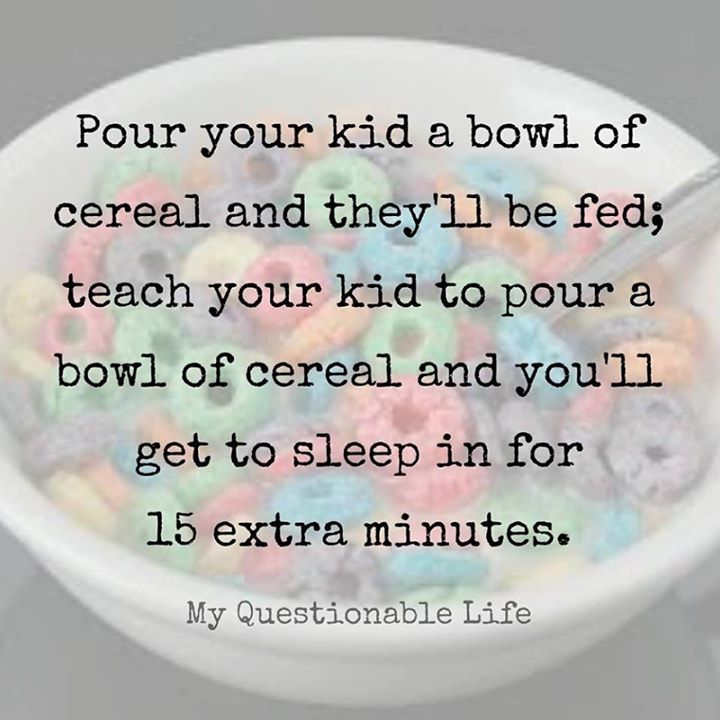 POUR YOUR KID A BOWL OF CEREAL AND THEY'LL BE FED; TEACH YOUR KID TO POUR A BOWL OF CEREAL AND YOU'LL GET TO SLEEP IN FOR 15 EXTRA MINUTES.
Fan Comments
Amy Jones

But will spend a while clearing up the mess they've made

Sarah Locking

Phil Locking next step with Joshua

Elly Lambert

Yeah good idea.......in theory 😝👍🏻

Donna McEvoy

Emilie McEvoy Katie McEvoy I taught you well 😂😂😂😂😂😂😂

Vikki Cameron

Charly Stobbart-Brown 😂😂 xx

Rose Newton

Alexis Newton

Holly Woods

Aaron Woods

Clare Jackson

Tanya Delaney

Caz Brotherton

Ellie Davies

Lauren Marshall

Georgia Brooke Archer

Ali Weeks

Linda Austin

Paula Evelyn Lockwood

Susan Ireland.....made me think of you!

Soozie Treece

As long as you can cope with the aftermath!