THE AWKWARD MOMENT WHEN A 3 YEAR OLD TELLS YOU YOUR PANTS AR
November 26th, 2017
613 Views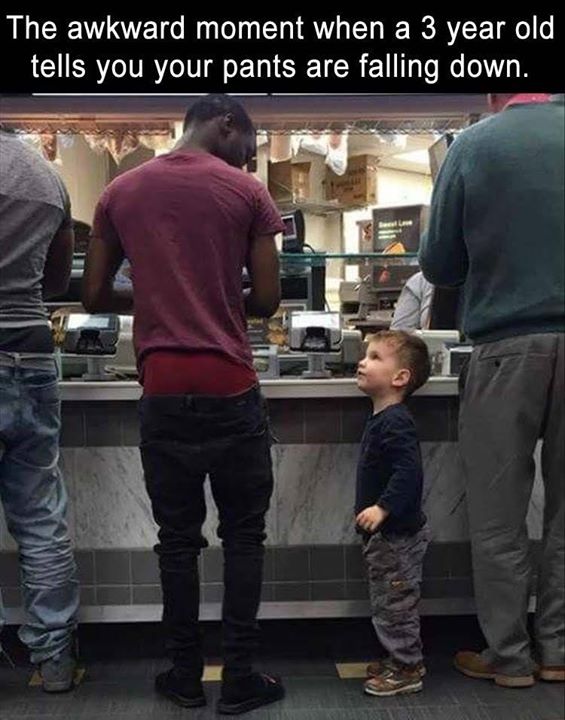 THE AWKWARD MOMENT WHEN A 3 YEAR OLD TELLS YOU YOUR PANTS ARE FALLING DOWN.
Fan Comments
Kerry Theobald

My 6 years old daughter did this on the way to school .. a boy walked in front of us with his jeans hanging past his bum with all his boxers showing before I could say shhhhh to my daughter because I know what she's like she had already ran up to him and said ... "hey Mr are you a rapper? because your trousers are hanging down and all your boxers are showing" I was totally embarrassed but the young man took it in a really good way and laughed ... although he never pulled them up she was so confused why he was still walking down the street like it ... Kids! 😂😂

Janet Bennett

Well done that young man. He will go far. What I want to know is what the reply from droopy draws was.

Sarah Payne

Hahaha, Amanda Smith this little one looks like one of yours :D

Mark Scouler

I wouldn't bother telling him, I'd just pull them up for him . 😂

Amanda Turnbull

Lewis Weeks this is what Khloe is going to do one day 😂

Mike Calver

That dude will have a natural hook keeping them up. Part of the reason old people need braces ;)

Lucy Bass

Id love to give them all wedgies show them how to pull them up properly 😂

Alison Bridges

When I see them, I want to go up to them and pull them up 😂

Kelly Perrett

Dee Robinson, not just Zack then hahaha x

Claire Smith

Omg that would be carter Keisa 😂😂😂

Laura Loveridge

Nothing more unattractive

Shona Brown

😂😂😂 see even a 3 year old knows better MatMatthew Turner

Emma Anne

Samantha Taylor-O'sullivan

Alison Saleem

Glad its not only my kids who says it lol

Julia Donoghue

Lol love it

Marcella Kiernan McCann

Why bother putting them on at all ??

Dianne Marie Peck

Jayden Lee Riley this made me think of you! 🤦‍♀️😂😂

Sue Harman

What a good chap he is......

Tracy Emanuel-Pearson

Thats it lad tell him x

Christine Wisniewska

Never did and never will understand this ugly fashion.

Rachael James

Callum Davis!!!!!! Ha ha x

Carla Griffiths

Nicky Griffiths both the kids!

Katherine Mellor

Edilson Camará Conduz. Nando bala

Kerrie James

Barney Mc Gee 😂😂

Emma Shallcross

Jay Goldsmith 😂 xx

Dilia Michael Scott

Jordan Batchelor Dan Batchelor 😂😂

Rachel Elizabeth Fitzsimmons

Daniel Claridge Paige Claridge😂😂

Tanya Louise Finn

Declan Finn 😂😂😂

Canasta Neville

Tino Bobby...

Lora Palmer

George Rogers

Tracy Williamson

Aaron Johnstone

Melissa Tedbury

Nora Zemlenyi

Anna Carr

Alan

Heidi Burrows

Joe BurrowsJacob Burrows

Tami Bell

Ben Stanley

Zainab Zaheer

Mudassar Raja

Gracjana Grace Lewinska

Samantha J Marston

Anita Cooper

Danny Sinclair

Corinna Byrne

Luke!!