TEXT FROM CHILDLESS FRIEND: WE NEED TO CATCH UP! LETS MEET F
November 19th, 2017
846 Views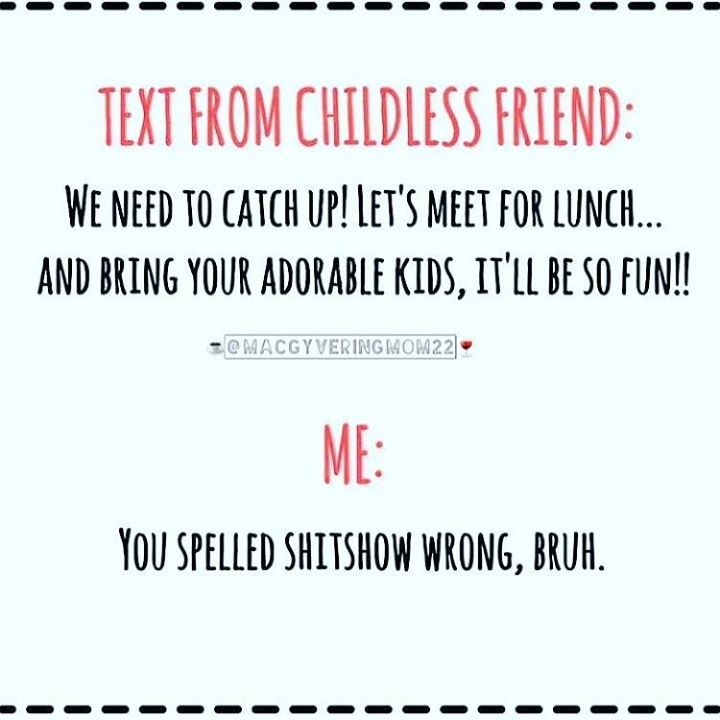 TEXT FROM CHILDLESS FRIEND: WE NEED TO CATCH UP! LETS MEET FOR LUNCH... .AND BRING YOUR ADORABLE KIDS, IT'LL BE SO FUN!! ME: SPELLED SHITSHOW WRONG, BRUH.
Fan Comments
Michelle Diamond

Stephanie Sykes 😂😂

Kate McManus

Beth Murphy 😂

Louise Ravenhill

Rachel Egan 🤣

Valerie Cusack

Rachael Power 😂😂😂

Bethany Mcgann

Hayley McGann

Caoílfhíónn Kennedy

Clare McCrudden 😂😂😂

Belinda Trusgnach-Dupont

Noa Dubois Dupont 😄😂

Tara Wilson

Beck Devonish

Amy McKim

Omg lol hahaha Maureen Congerton Peter McKim

Nicky Matjas

Vicky Lefebvre 😂👌🏻

Kirbie Barra Reeve

Kayla McVea 😂😂

Lucie Bennett

Kerris Moseley 🤣🤣

Alexandra Davies

Kelsey Jones 😂😂😂😂

Zoe Thompson

Lauren Redfield Dean haha

Demi Kelly

Kirsty Swain 😂

Zoe Thompson

Jade Hart-Franklin Robyn Coulton Sophie Rumney Becca Webster Laura Docherty

Fran Hayward

James 😂😂😂

Monica Redden

Amanda Schuppan omg, lunch haha haha!