DONT TOUCH YOUR PENIS, PLEASE. A SAYING THAT I NEVER THO
November 19th, 2017
1721 Views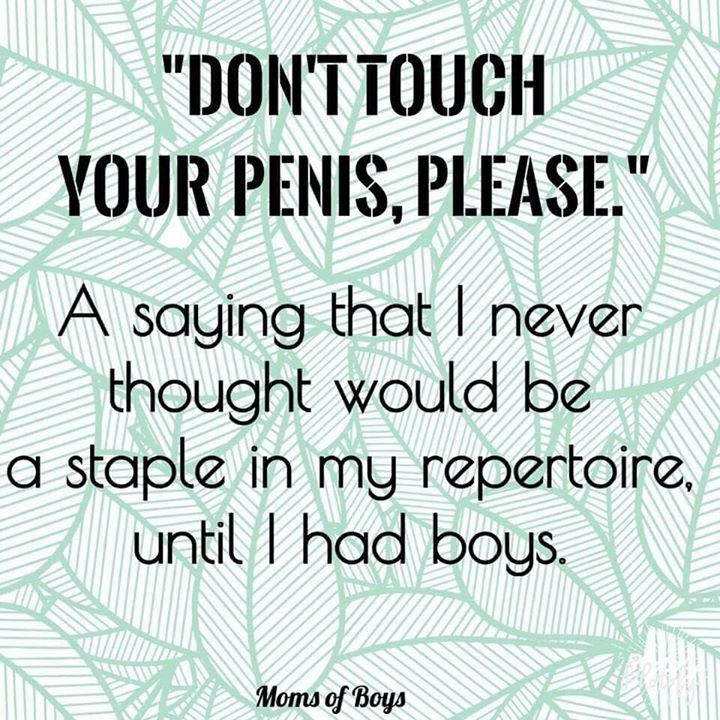 "DON'T TOUCH YOUR PENIS, PLEASE." A SAYING THAT I NEVER THOUGHT WOULD BE A STAPLE IN MY REPERTOIRE, UNTIL I HAD BOYS.
Fan Comments
Louise Pallister

My 7yo son was in the shower last night in fits of giggles - obviously curious as to what was going on I asked him - his response was that when he sprays the shower on his penis it makes home feel all funny - errr I don't think so son just wash and get out please 😂😂😂

Michelle Brennan

When my kids were still young enough for baths together I heard them laughing and went in when my daughter said "look, if I flick it it gets bigger, wow" and that was the end of them bathing together 😂 my son is 8 now and I am constantly telling him to leave it alone lol

Katie Caldicott

Lol the amount of times I've said " oi, not in front of your mother!!" And my boy is only 21 months yet lol

Subrina Halferty-Tinney

3 boys now 15,8 & 7 and I've spent years saying "stop playing with your Willy it will fall off" 😂😂

Sarah Jane McGrath-Carter

Haha my 18 month old has just discovered he likes to pull on his 🙈 not on my watch Son!!

Alicia Hill

Clare James 😂😂 think this will be your most used phrase with a certain little boy 😜😂 xxxx

Kelly Mulcahy

Jade Cook Claire Booth 🤔🤔 work Friday and today ?? 🤣🤣 oh and every day lol x

Alana Wirtanen

Something for you to look forward to as Elliot gets a bit bigger Shaina Brown 😂😂

Nisha Marsh

'Stop fiddling with your diddling!'....have said it a lot through the years 😂

Danielle Galea

Lol Jessica Curphey thought of u straight away with john!! 😂😂😂😂😂

Stephanie Burns

Mines seems to be 'leave your Willy alone'

Kimberly Rees

Leighton Rees what I was saying last night 😂😂

Nathalie Lawless

Gemma Downey 😂😂😂 get your hands out

Christine Mckay

Susan Birkmyre Laura Gilmour bet you can't wait to say that one on a daily basis 😂

Tiffany Patmore

Shannon Patmore 🤦🏻‍♀️😂 he thinks it so funny

Lisa Davidson

Nicola Jordan not sure why this made me think of you

Maureen Reidy

Katy Carlton

Levi Clements-Pearce the joy of boys 🤣👍🏻

Hayley Moore

Alana Moore wait for it 😂 x

Becky Lewis

Liz Jeffries...Aimee Kate Griffiths you wait!! 😂

Olivia Saunders

Lauren Watson - yay for us! 😂

Libby Burden

Kerry Pearson get practicing 🙈😂

Valerie Cusack

Alison WhelanOrlaith Whelan 🙄😂😂😂

Michelle Chelle Mcdonald

😂😂😂 Tanya Dalton xz

Katie Lewis

Stuart Tolley 😂😂 liam

Niamh Haverty

Amanda Maebh 😂😂😂😂

Michelle Keane

Claire Keane max to a t

Linzi 'mags' Cox

Summer Appleby this is u 😂

Leighanne Banks

Jenny McHale 😂😂😂😂

Tracy Carter

Danielle Louise 😂😂😂😂

Ashleigh Rodgers

Ashley Green !!!

Jessica Berry

Chantel Austin Lana Hazell 🤦🏼‍♀️😂

Vicky Doy

😂😂 yep Sara Frankel

Colleen Anderson

James Noblett 😂😂😂

Kate Woodberry-Stevens

Steph Stevens 👌🏼😂

Gail Lang

Dawn Moore 🤣🤣🤣

Mikayla Shanahan

Emma Shanahan lol

Catherine Love

Emma Jane Williams 😂 😂 😂

Becca Roberts

Emma Louise Roberts tirion 🙈🙈🙈

Natasha Hyman

Kim Kelly 😓

Nät Märië Bürkë

Kerry Connolly Goodman 😂😂 boys!!!

Marilyn Mooibroek

Diane Dell..lol

Jen McCourt

Gillian Hayes Nina Robinson 🤣🤣🤣

Zoe Clayton

Keeley Twigger Rob Clayton 😂😂

Amii TeiganHolly Gracie Bishop

Abii Bishop'x 😂😂

Bethany Ann

Rachel Gething 😂😂

Kelly Stewart

Haha Annelise Moherndl Sarah Crawford Joelle Goasdoue Sara Fallaize

Melanie Garside

Nicola Brook 😂

Gill Hogg

Louise Hogg Steven Marsh xx

Sarah Louise Oneill

Lucie Wellfair 😂

Sara Pennington

Jayjay-mariee Pennington 😂😂😂

Elaine Rawlinson

Cassie Crane 🤣🤣🤣

Hayley Coburn

Becky Treharne-Jones

Emma Rogers

Lowri

Amy Ashmead

Jordon Cox

Victoria Williams

Daryl Clarke Steven Williams 😂😂

Nichola Ackroyd

Ashli Ackroyd 😂😂

Tracey Adams

Billie-Jo Lingley

Alex Hart Gonçalves

Ines Silva Micas Ataide Carapinha😂

Carly Mandry

Rebecca Mandry 😂😂

Sarah Roberts

Steven Roberts

Claire Robertson

Maureen Reidy 😱😱

Amy Lee Bean

Emma Isom 😂

Anne-Marrie Mason

Logan Baxter

Lisa Griffiths

Matthew Griffiths 😂😂

Maxine Wooster

Bernard Wooster 😂

Natalie Donaldson

Greg Gibson😂

Sally Maynard

Jack Vaughan Tom Vaughan David Vaughan

Emma-Louise Attwell

Wanda Lyons Oneill Sarah-jane Ferguson

Lauren-Leigh Smith

Chloe-louise Morton

Margaret Rhodes

Fiona Hamill

Rebecca Freer

Michael Olive

Deli Townley

Kerri Wilson

Magda Moore

Quare Temper

Beckie Ughanze

Lilli Rose Janneh

Jasmine Poole

Danièle Gill

Jenny Barnett

Siobhan Bickerstaffe

Ryelle Ford

Kirstie Mcconnell Laura Brown Maria McVeigh 😂😂

Christine Hilton

John Hilton

Chloe Roberts-Brown

Sam Brown

Claire Swanson

Louise Macaulay 😂😂😂

Danni Yeoman

Adam Yeoman....