IM STARTING TO THINK MY KIDS PRIMARY GOAL IN LIFE IS TO FO
November 12th, 2017
773 Views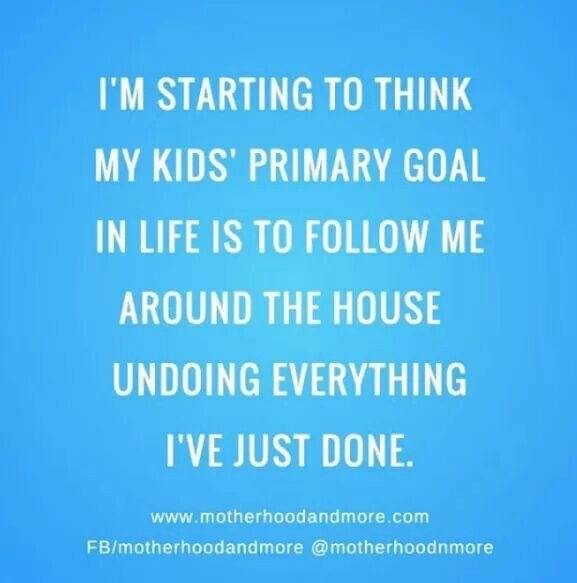 I'M STARTING TO THINK MY KIDS' PRIMARY GOAL IN LIFE IS TO FOLLOW ME AROUND THE HOUSE UNDOING EVERYTHING I'VE JUST DONE.
Fan Comments
Eric Farrand

Elaine Docherty, this sound familiar?? 😂😂xx

Debs Nott

So true that. Kayleigh Marie Pincott Kimberley Anne Nott

Heidi Leten

Leten Wendy 🤔domi 👻😒

Kirsty Buchanan

Georgina - Frazer with the washing 🙈😂

Vanessa Jordon

Ashlea Haas

Kate Muffett

Very true but one day we will miss the little fingerprints everywhere and the mess/noise. X

Kerryann MacKinnon

Vikki Stokes this is how I feel today!

Tracey Walerzak

Saw this and thought of u Stacey Taylor 😂😂😂 xxx

Ellie Minns

Lauren Jesson chloe and Lexie!!!

Sam Morse Mckechnie

Leanne Daniels saphy 😂

Victoria Williams

Daryl Clarke x

Sarah McDonnell

Niamh Mc Conville 🙈😂

Sharon Morgan

Jade Dragoonis

Sue Bulmer

Emily Bulmer

Sharon Lowe

I am beginning to think my nameis Obama and their's is Trump!