DAD: SEE MATH ISNT SO BAD! SON: DAD, WILL I EVER USE THIS S
August 11th, 2017
861 Views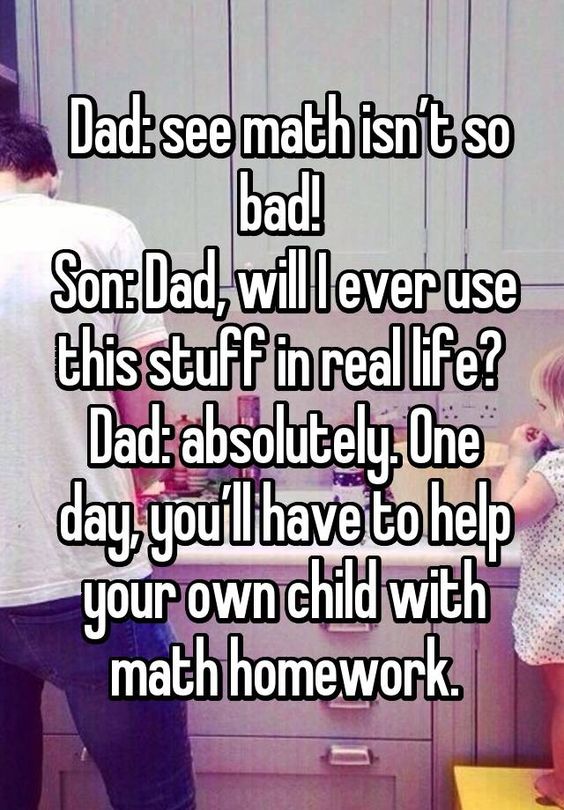 DAD: SEE MATH ISN'T SO BAD! SON: DAD, WILL I EVER USE THIS STUFF IN REAL LIFE? DAD: ABSOLUTELY. ONE DAY, YOU'LL HAVE TO HELP YOUR OWN CHILD WITH MATH HOMEWORK.
Fan Comments
Tracy Spotswood

Sharon Adderley haha what were we talking about today xx

Leanne Kelleher

Hayden Kelleher see that's what it's all about hahaha! X

Karen Clissold

Colin Trevorrow what we were saying yesterday! See that's why we had to do maths!😂😂

Nikki Jane Sullivan

Nic Jane. What were we saying the other day!! X

Lynn Martin

lol x

Laura Finney

Carol !!!!!!!!!

Ciara Maughan

Mel Bonner this was us helping Riley 😂

Oilibhía Ní Labhraí

Feardhia Mac Carsún division with remainders now 😂

Lucy Hubbard

Joe we are screwed! Hahah

Megan Baird

Katie Baird, see that's why you've got exams. 😍

Ele Hunt

Will Flack / Joe Flack show dad ;-)

Adele Robertson

Eddie Robertson haha 😂😂

Chantel Short

David Short 😂 😂

Fiona Harkins

Alex Bolton 😂😂😂

Lauren Victoria Collins

Lynn Martin 😂😂 xx

Sammi-Jay Aldridge

Karl Szabo haha

Chelsey Pryce

Sarah Milburn Emma Howe 😂😂

Gayle Warner

Ian Ian Warner

Jill Boschmans

Anisa Goyvaerts 😂

Sam Bloomfield

Ean Bloomfield

Natalie Newman

Aaron Newman

Bex West

Nici

Ashleigh Bellamy

Racheal Harley

Sarah Walsh

Chris Walsh 😂

Ally Denston

Phillip Denston 😂

Andrea Thorpe

Lucy Thorpe😂

Wim Sabrina Dreessen-Verbeeck

Amber Dreessen

Lisa Theodoulou

Joe Theodoulou!!!!