NEVER DO FOR A CHILD WHAT HE CAN DO FOR HIMSELF. A DEPENDE
October 22nd, 2017
1207 Views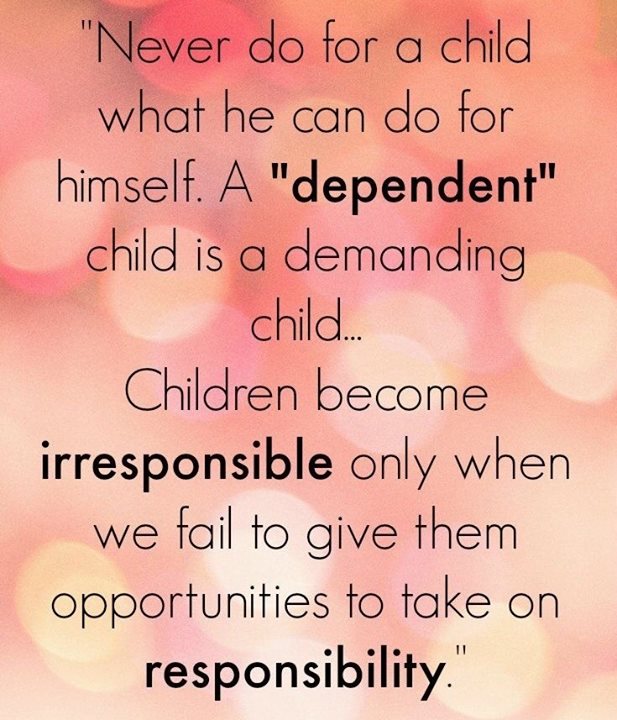 "NEVER DO FOR A CHILD WHAT HE CAN DO FOR HIMSELF. A "DEPENDENT" CHILD IS A DEMANDING CHILD... CHILDREN BECOME IRRESPONSIBLE ONLY WHEN WE FAIL TO GIVE THEM OPPORTUNITIES TO TAKE ON RESPONSIBILITY."
Fan Comments
Mandy Pattison

Jo Ward and Donna Suzanne Pywell we will live by this from now on xxxxx

Jo Ward

So true Mandy Pattison & Donna Suzanne Pywell I will show this to my boys 🙈xxx

Jenna Ahern

Where do they get this bullshit

Viki Howells

So true

Julie-ann Findlay

Defo agree

Joshua McArdle

Jojo Mcardle 😅

Colleen Gordon

Tammy Gordon

Kerrie Mcloone

Natalie Kingston Ellis this isn't true for Freddie he is independent and demanding 😂😂

Victoria Williams

Daryl Clarke 100% x

Lynne Chiswell

Neil Chiswell 😂😂😂

Kyaleigh Crysta

Tyler Elliott

Joanne Hopkins-Samways

Ross Samways Kara Samways Kian Samways

Tara Kedward

Jodie Finlay Chloe Finlay

Camilla Bates

👏👏

Ruth Wright

Paul John Wright 👍🏻

Richard Hawcroft

Exclusively only Boys I see.