DAUGHTER: MOM, WHERE DO BABIES COME FROM? MOM: OH HEY, PICK
October 22nd, 2017
657 Views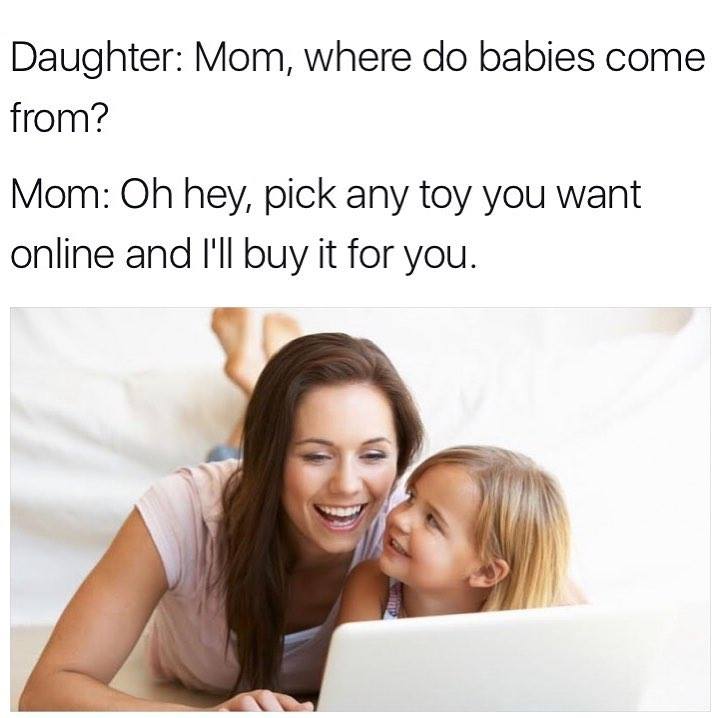 DAUGHTER: MOM, WHERE DO BABIES COME FROM? MOM: OH HEY, PICK ANY TOY YOU WANT ONLINE AND I'LL BUY IT FOR YOU.
Fan Comments
Alexandra Stasia Podgorski

Amba Grace - this is a good idea when Ava starts asking us questions 😂

Gemma Adams

Dan Corber 🤦🏼‍♀️🙈 anything to not have to answer this 😂

Lorraine Louise Donnelly

Best to be honest

Jessica Thumpston

Belinda this is how you should of handled it 😂 kidding

Emma Louise Brackenbury

Jo Reynolds this may have been a good idea for that awkward conversation with Holly 😂

Sarah Dedgjonaj

My daughter since she was about 2 years old knew where she came from but never asked how...even my 12 year old boy never asked that question. They find out eventually in their own time.