DEAR STRANGERS, MY CHOICES AS A MOTHER ARE NOT OPEN FOR DEB
October 21st, 2017
690 Views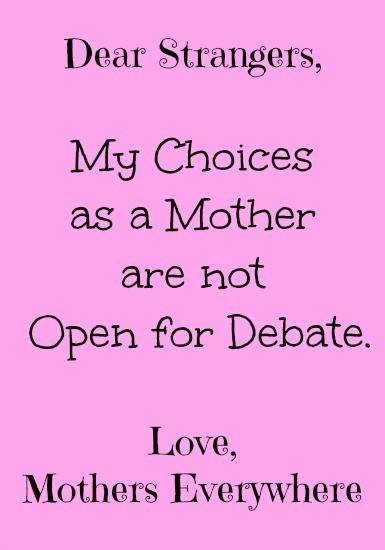 DEAR STRANGERS, MY CHOICES AS A MOTHER ARE NOT OPEN FOR DEBATE. LOVE, MOTHERS EVERYWHERE
Fan Comments
Hope Conway

Kate 😂

Ben-Wendy Brossé-de Boeck

Assunta This!! ☝️

Julie Harding

Elizabeth-Jane Rainsley😘😘😘😀

Lynsey Kennedy

You seeing this David

Maddie McAndrew

CL Chance -following on from your post! :-)

Naomi Hussain

Few need to take note 😆

Karen Goodall

Saffron Evelyn-Adrianna Walker

Annmarie Denny

God forbid a dad might have a valid opinion . . .