NICK AND I TOLD SOPHIA THAT AFTER 1 WHOLE MONTH OF GOING POO
October 5th, 2017
486 Views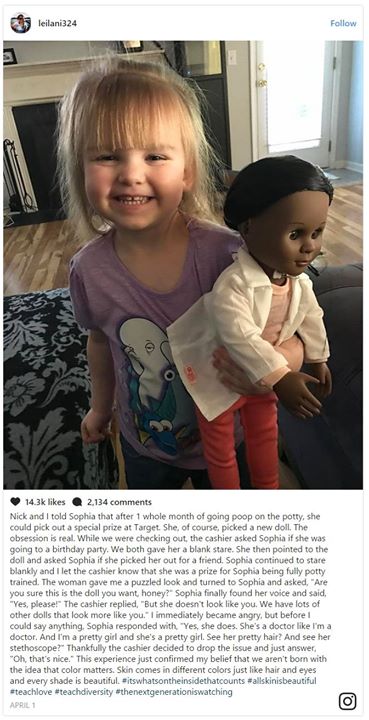 NICK AND I TOLD SOPHIA THAT AFTER 1 WHOLE MONTH OF GOING POOP ON THE POTTY, SHE COULD PICK OUT A SPECIAL PRIZE AT TARGET. SHE, OF COURSE, PICKED A NEW DOLL. THE OBSESSION IS REAL. WHILE WE WERE CHECKING OUT, THE CASHIER ASKED SOPHIA IF SHE WAS GOING TO A BIRTHDAY PARTY. WE BOTH GAVE HER A BLANK STARE. SHE THEN POINTED TO THE DOLL AND ASKED SOPHIA IF SHE PICKED HER OUT FOR A FRIEND. SOPHIA CONTINUED TO STARE BLANKLY AND I LET THE CASHIER KNOW THAT SHE WAS THE PRIZE FOR SOPHIA BEING FULLY POTTY TRAINED. THE WOMAN GAVE ME A PUZZLED LOOK AND TURNED TO SOPHIA AND ASKED, "ARE YOU SURE THIS IS THE DOLL YOU WANT, HONEY?" SOPHIA FINALLY FOUND HER VOICE AND SAID, "YES, PLEASE!" THE CASHIER REPLIED, "BUT SHE DOESN'T LOOK LIKE YOU." I IMMEDIATELY BECAME ANGRY, BUT BEFORE COULD SAY ANYTHING, SOPHIA RESPONDED WITH, "YES, SHE DOES. SHE'S A DOCTOR LIKE I'M A DOCTOR. AND I'M A PRETTY GIRL AND SHE'S A PRETTY GIRL. SEE HER PRETTY HAIR? AND SEE HER STETHOSCOPE?" THANKFULLY THE CASHIER DECIDED TO DROP THE ISSUE AND JUST ANSWER, "OH, THAT'S NICE." THIS EXPERIENCE JUST CONFIRMED MY BELIEF THAT WE AREN'T BORN WITH THE IDEA THAT COLOR MATTERS. SKIN COMES IN DIFFERENT COLORS JUST LIKE HAIR AND EYES AND EVERY SHADE IS BEAUTIFUL.
Fan Comments
Catherine Jayaram

Proof that nobody is born racist, recently saw a programme on TV asking children what made them different to their friends - the children they asked where all from different ethnicities and had different physical abilities yet not one child mentioned colour or disability. Instead their answers ranged from their favourite foods, to their favourite super heroes! It was really refreshing to see!

Kelly Dunks

I wanted to send you a pic of my 2yr old daughter and i with my old doll Kizzie but it won't let me. She is basically a black doll who I adored as a child and my mum kept it for me.

Charlotte Robinson

I chose a doll like this when I were 2 for a treat, my mum said I kept asking for a chocolate doll but didn't understand what I meant till we walked past and I pointed, I had that doll till I were in my teens. Pauline Clawson do you still have my Charlie doll or has she gone over the years lol xxx

Nikki L'Oréal Corsini

great doll...I've had to zoom in on my little Samsung mobile to see the stethoscope round the neck. Loved to been a Dr but I'm not great with blood lol or taking pulses especially my own using my thumb.

Kim Causton

Shows nobody is born racist just other people's ignorance - sweet innocent little girl didn't even see the colour of the doll

Charlotte Beresford

I use to have a black doll with Afro hair and a red knitted outfit! I loved this doll! This doll was brilliant and I didn't think anything of it being black. It was normal

Francesca Frogley

I love this story gorgeous little girl who has being brought up by gorgeous parents. We need so much more of this in the world today. Xx

Maureen O' Mahony

Had a similar experience when I was a kid with a doll not unsimilar to this. Sad that people haven't fully changed yet...or that they dont think before they speak.

Emma Smith

Love this :) i read a quote in my childrens school the other day "all children smile in different languages" loved it and stuck in my mind x

Laura Harvey

This is exactly what I love about children! (And what angers me about adults!) Well done to Sophie's parents!

Margaret Marie Morris

You should be Proud! My daughters chose a black doll too, & my sins first crush was a black girl... good job mom! 💞

Christina Ann McGee

Credit to her parents. Children aren't born with hate or an indifference to others, that's something they learn.

Jacqueline Marston

Well done Sophia , your parents should be very proud of you .Proof no one is born racist xx

Jennifer Burns

Looks like Doc Mcstuffin doll. My daughter loved her :)

Catherine Bartolo

What an ignorant racist and narrow minded person!! You go little one 😊

Sharon Scarfe

Bless her heart and yours . I still have my coloured doll. Will never part with her and I am in my 40ies 😂😂

Debby Justin Mansell

My son choose a Barbie doll the other week to buy. I wonder what the cashiers thoughts would be on that?

Christina Earley

Stacy Apps I actually thought this was Daisy lol xx

Cath Major

Love this ❤️

Gillie Laywood

What an amazing smile, it tells it all xx

Maureen Moy

What a beautiful young lady xx

Lee Harbio Harbert

Fantastic and so touching! :)

Margaret Spillane

If only adults could see through the eyes of a child

Brenda Maynard

Used to love what is now called.golly dolls

Maxine Wilson

Beautiful little girl and a fantastic doll

Hayley Fordham

How lovely!

Pauline Clawson

Sadly she got lost over the years.