DEAR FUTURE ME, YOU BETTER BE THE COOL PARENT WHO PUTS A SLI
September 27th, 2017
1230 Views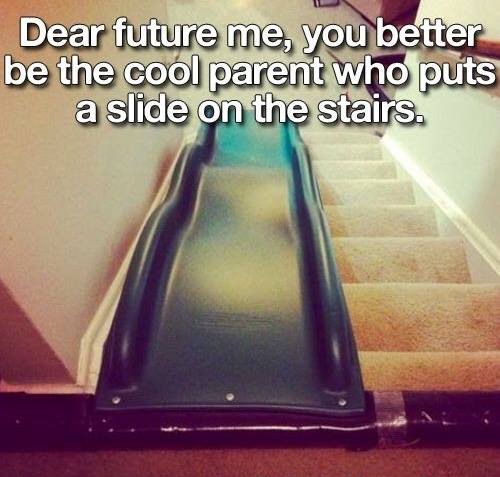 DEAR FUTURE ME, YOU BETTER BE THE COOL PARENT WHO PUTS A SLIDE ON THE STAIRS.
Fan Comments
Katie Dixon

Can you put one on John Pike Kautzner and maybe a kid flap on door so can go straight through door instead of hitting it 😂😂😂😂😂😂

Kirsty Piggott

Nicola Sobol, Jackie Greener - this so made me think of you guys and your mattress stories 🤣

Chloe McKinney

Raymond Glenn Sam I think this would be a great idea for us never mind Ashton lol 🙈 x

Nikita Burton

Amanda Newman this is y I slipped down the stairs I bought we had a slide haha xxx

Juli Wilde

Parent??? i'm 55 i NEED one of these to get down stairs quicker !!!

Rebecca Shelton

Troy the kids would love this ( meaning me )😜

Leanne McBride

Jonny McBride our children would be at the bottom ready for school on no time... maybe we should?!

Charis Hyde

Marie for all the grandkids and of course for yourself x

Carole O'Kane

Lisa u should get this lol

Samantha McManus

Kimmy Mc you must do this in the future your stairs would be awesome!!!! 😃👍🏻

Tasha Baldwin

Jemma Johnson how cool would this be no using duvets to slide down stairs 😂😂

Joanne Welsh

Will Welsh think we need one 😁 for the boys of course 😉xx

Heather Birkett

when we gettin ours Pete

Briony Velleman

Liam we're cool so why haven't we got this 😂

Sarah Dean

Jack Tucker we could do this.... We just need to put padding on the wall!!

Bethan Harrison

Lisa Ward maybe this will stop Kal from falling down the stairs

Susie Laws

Graham Laws a modification for the new house? X

Gemma Louise Colling

Jeff Windsor I want to be this kind of parent x

Rebecca Shadwell

Chris can we buy a 2story so we can do this? Or Lesley can we do this to your stairs?

Danielle Holdem

We need this Sandra & Stan lol

Ryan Battersby

David Phillips will use it more than he baby lol

Vicky Henriksen

Jonathan Platt that spiral at the bottom would be ace 😂x

Lesley Wright

Ours had a foam seat from the caravan. Loved it!

Gemma Moore

Lee Moore this would be a quicker way to get Evie down for breakfast in the morning

Jo O'Donnell

My Dad use to put a door on the stairs it was great!!

Donna Collins

We just used a sleeping bag when we were younger!

Lisa Frame

Just get them to use sleeping bag to slide down x

Amie Forman

Carl Forman we could do with one of these as we have 2 sets of stairs 😂

Wilma Crockett

When I plan our house this is a must Jason Crockett lol

Chloe Cummins

Paul surprised you haven't don e this.

Jemma Geary

Will Baker me and Pen and Rory want this please 😉

Kayleigh May Foster

Or the parent who keeps falling down the stairs! 😉😘 Tina Morbey xx

Chantelle Walker

Mike Leslie fan we eventually move!!!

Deana Pethtel

If i had steps i would so do it

Kelly Corpse

I would so have a slide if there was room hehe!😂

Emma Bowes

Jan Bowes Paul Bowes can you do this for Ella cos our stairs are 💩 xx

Beckie Hughes

Joey... find me this in Ikea 😂

Kate Pitt

Tracey Pitt think you would enjoy having one of these at home 😍

Sue Dodson Kent

Natalie Kent remember when You Paul and Sammy used to make slides on the stairs. Lol.x

Charlene Mc Guigan

Alison Cullen imagine ur pair with one of these 😂😂😂😱

Martha Rees

Dan Cope this would be great!

Lynda Bage

Sort of a junior stair lift! Ok for Nanna going down 👍

Letisha Jade Lancaster

Sam Squires this is what we need when we get a house 😆👏🏻👏🏻

Charlotte Emma

Craig Fox can we please do this 🙊

Megan Macgregor

Aaron Shearer if we had stairs in our house

Amy Prime

Chris Prime the kids futures ruined 😭😭😭😭 why would u do this!!!!

Lorraine Clarke

Tracey Shipton I need this Bit of baby oil on it and zooooommmm!!!

Vicki Fraser

Craig MacIver one for the future please 😘🖒

Janie Stewart

Charles you would do this

Rebecca Ellen Richards

Yosef Brudzinski who needs a slide when you have a duvet!!!! 😂😂

Davinia Amill

Hannah Middleton! If anyone would do this, you would 😊

Natalie Ashfield

Simon Carroll please please can weeeeeeeee

Siobhan Maher

Valerie Maher Kevin Moran it's not too late to add this to the house 😂😂😂

Amy Arrowsmith

Steve McCambridge this looks like a great idea!

Stephanie Rooney

OMG Tony Murphy we have to do this

Zara Leah Collings

Reece Raymond Collings i could imagine having one in our house

Stacey Riddex

Jessica Riddex kids would love this👌🏽

Heather Bannister

Gary Bannister how fun would this be!

Jemma 'Ewing' Jordan

James Warren can we do this? Xx

Tiffany Hornett

Alex Hornett we need this!!!!!

Jackie OGrady

Natalie Marshall & Aden O'Grady!!!!!! Wonder why this reminds me of you two!!!!!!

Tricia Keyes

Garrett Mccarthy our kids would love coming down this every morning 👌

Ineke Boddington

Jacksen Connor I would if we had stairs 😂😂 tell Dad to build up 👍🏼👍🏼

Sandra Dee Storm

Detta hade kanske oxå varit en lösning för trappor Lizzy Johansson 😂😂😂

Emily Reynolds

Blake Le Cornu future child is giving us some pretty clear signs here

Samantha Davis

Lewis Smith can we do this when we get stairs lol

Hannah Wale

Ash Wale can you make this happen?? Xx

Claire Paling

Jonathon Paling I wish we had more room at the bottom of the stairs! X

Amy Louise Doyle

Zoe K Brian if my stairs were wider n straight lol

Kathleen Lenney

Pearl Maureen Lenney , Think i might take the slide from out side and bring it in haha x

Vanessa Jayne Dodd

Grant Dodd an absolute need for the new house?!

Becky Wood

Kim Wood Alfie would love this!!

Amanda Moynihan

Ellesse Clinton-Smith I think you should do this for the kids 🤣🤣 xx

Tami Bell

Ben Stanley Hunter would be in heaven!

Marie Edwards

Michael Murphy if we buy a house with stairs🙂

Kathryn Ethy Keegs Harrybo

Paul Richards its for the Boys.. not me honest haha xxx

Nikki Jayne Carr

Nat Kiara NTyra we need this on your stairs 😂😂😊

Michelle Rogan

Chloè Burns I should do this lol x😂😂

Katie Sonja

DanielAshworth can we????

Sarah Fry

Shaun Knowles jorja would love this xx

Claire 'windle' Howe

Oli Howe this is amazing!!

Natalie Anne Taylor

Jessica Chloe-Louise Taylor why does this remind me of something you would do 😂

Carly Gardner

Claire Gardner I'm gonna need to purchase this 😂

Ruth Gray

Stephen Gray the kids would I've it x

Natalia Wallace

Antoinette Mitchell I should have thought of this with Patrick

Pamela Patterson

Alan Patterson I'm so getting one of these

Mandy Rosich

Tina Cerone this would be you

Shannagh McMorrow

Paul Mcmorrow kids would love this🤣

Jo Goody Harbord

Daniel Harbord how cool...imagine Aura

Abbey Henderson

Bethany Linton i need this at the min lol

Ami Westwood

Aidan Booth kids would love this 😂

Terri Lou Collings

Darren Chester konnor would love this x

Emma Hancock

Cara Jane Pool-Senior install it now for maximum fun before baby arrives. Xx

Jo Wood

When can we do this Ryan Rigden

Natalie Cunnington

Tristan Kipling they would love this 👍

Samantha Bassett

Mark West can we do this in our house pleeeease? 🙏🏼🙏🏼 xxxxxxxxxxxxxxxxxxxxx

Yvonne Moran

Brendan Harris the boys would love this.

Jess Spearman

Ian Spearman we shud so do this xx

Sandra Simpson

Stephen Simpson we should hav done this

Kerry Oakman

Michelle de la Nougerede we need this from yours to mine lol

Natasha Spinner

Ian Spinner can you do this pls??? Xxxx

Lisa Pollock

Gary for the close xx

Sarah White

Stephanie you NEED to do this 😬😬

Emma Taylor

Michael can we do this

Emely Maes

Nico Ceusters dit gaan wij doen als ams groter is😂

Hannah McNally

Scott Kear can we do this please 😁

Rebekah Marston

John Marston ... can we fit one on?! 😁x

Lizzie Barlow

Russell Flint can we please do this?????? 😆😆

Lura Brooks

Matty Cloke we should do this

Shelly Ponsford-chambers

We gotta do it xxxx

Marilyn Legg

Love it

Angie Minkowski

Amy Davies for Charlie 😃

Alan Patterson

Susan Maria Varney

I used to use a tray

Bridget West

How cool is this

Jane Amor

Oh no !!!

Cheryl Coe

Omg I want one 😀😀

Annie Thompson-Bowen

Can we????? Mark xxxxxx

Angela Ferguson

Adele Greig OMG you need this 😂 😂

Kia Frame

Louise Grant u need this in ur house xx

Suzanne Lynam

Jay Dempsey slides every where

Joanna Weaver

Tom Weaver can we??? Can we????

Clare McDonald

I want one pleeeese James Gill 😜

Katie N Kiera Mcbride

Ellie Mcbride need one these lol xx

Lisa Quin

Jason Quin can we pweeze 😘

Holly Reid

Colin Jeffers can we have this? Xxxx

Chelsea Mcdonald

Lenin Moore can we get this 🙈😍😍

Jo Lafferty

Iona Adams u shud do this xx

Lisa Marie Healey

Dan Bates pleaseeeeeeeeeeeeee 😊😊😊😊

Charley Bednall

Shelly Ponsford-chambers Ashton would love this!!!! Xxxx

Catherine A M Murray

Liam Livett let's do this!

Seb Russell

James RussellLouise Russell get this for william (and me lol)

Lorraine Davies

Layten Grace Elyse Grace shall we get one lol xx

Sam Horsewood

Shane Scragleys Horsewood we need this In our room

Carla Stanfield

Craig Spacey Kaitlyn would love this! Beki Bentley

Emily Copeland

Kevin Weller for Elena 😂

Shauna Kennedy

Micheal Kennedy can we please 😂😂

Gail Conway

this would be u Liam James Conway

Rachel Phelan

Frank Quinn can we do this?

Kylie Louise Fisher

Kevin Fisher I need this lol

Rowenna Baker

Cathrine Jayne Hughes look how cool this is xxx

Stevie Franklin

Chanley Fielding need one 😂😂

Haylee Spencer

Gemma Spencer for you 😜

Tasha McGrath

Fran Morgan-hughes we need this

Laura Lacey

Lauren Simpson new house goals?

Hannah Hills

Mathew Hills Ellie Walton I want one! 😜

Sarah Maher

John Sheridan we need this

Kayy Louise

Ben Foweraker we need 1 😂

Sophie Seaton

Leon Gauntlett we need this

Nay Strickland

Nigel can we

Laura Harvey

Daniel Gunshon can we?!!!

Liza Todd

Dave Drain King Gillman can we get one xx

Mel Swainston

Adam Folkes lol xxxx

Kathleen Moloney

Stephen O'Sullivan....great idea

Ellie Groves

Rosie Whitmarsh I'll get Slide burn😂

Tara Jade Rehe

Sharne Graham do it!!!!

Lauren Lancaster

Stephen Robert Lancaster I need this!!! xx

Pamela Matondo Kitoko

<3

Emily Grainger

Olivia Grainger I want one

Samantha Ann Blount

Daniel Blount can we do this

Natalie Offley

Michael Williamson if we get a house !

Donna Richards

Megan Battersby Richards this will be David Phillips x

Claire Malins

Tom Grimes yaaasss!!

Claire Bevan

Gareth Bevan can we ?? 💕

Harley Ramage ㄨ

Kyle 😂❤️

Michelle Anne Hughes

Stefan Symko so us

Gemma Jackson

Matthew Jackson I want one!!

Sandy Roberts

Kelly Wozniak 👍😀

Rochelle Barker

Brandon Wayne can we? X

Emma Louise

Hayley Cockburn defo you 😁😁

Ann Conn

Stuart Conn fab idea

Sarah Phillips

Emma Walton!! 🤣

Alesha Hannah McClellan

Kaine Taylor for corey

Bobbie Truscott

Darryl Cartwright we need this

Victoria Jayne Cook

Robert ❤️😆

Jessica Holland

Lorna Anderson Keira Anderson

Kirsten Patterson

Becca Draper :)

Ashley Venables

James Venables 😂😂

Debbie Power

Shona, Jamie

Michelle Fisher

Dave Boswell 😅😂xxx

Anna Aldridge

Richard Aldridge!!

Kelli Linton

Vicky Harmes 😂😂

Debbie Poppea

Cliff Wright

Liz Chater

Amy Simmance.

Amy Louise Brakefield

Damian Bradshaw

Hannah Karns

Brent Karns

Emma Marriott

Chase 👌

Stacy Korzeniewski

Allan Mcmenamie

Ash Blonde

Melissa

Jasmine NicCos

Ryan

Toni Seaward

Carlo Macellaro

Megan Behan

Brenda Walker P.j. Mulhall

Chelsea Penny

Bogdan Hasiu

Kenzie McFarland

Andrew Thompson

Hannah Arnold

Shaun Sullivan

Vicki Leavers

Charlie

Suzanne Hoole

Deanne Nash

Vickie Jones

Lee Jones

Iz Rose

Drew McCoy

Nazmeen Akhtar

Shaheen Mazhar

Kacy Morton

Neil Ridgeway

Abbey Dyne

Nathan Orbell

Ness Dorgan

Jason Dorgan

Rachel Nichols

Molly Cooper!!!

Matt Hemming

Laura Hemming

Joanne Lee Barker

Simon Barker

Fiona Tyrrell

Dean Murphy

Rachel Phillips

Ricky Phillips

Teneille Rowe

Eleece Bridge 😂😂

Rachel Brown

Sarah Taylor

Jessica Oakes

Clarkz Thompson

Stacie Cowan

George Mackay

Karen Dewar

Graeme Haggart

Isabel Lim

Tammy Campbell

Claire Trayfoot

John Edwin Trayfoot

Katie Earle

Ryan Earle

Anneka Katie Pearce

Ben Pearce 😏

Carole Petherick

Clare Petherick! X

Lauri Flint

Tina Carrier 😂

Heather Ramage

Harley Ramage ㄨ

Rachel Day

Brendon Dappy Wilkins x

Jessica Elizabeth Gale

Michael Alexis Fuller 😱😱

Julie Richardson

Emma Richardson 😊

Jennifer Davidson Mcquillan

Marc Hope Charlotte McQuillan

Hannah Harper

Ryan Morton

Mark Crowther

Georgina Marie Crowther

Rachel Hutchinson-Walker

Sydney Maddie Shrimpton

Anita Griffin

James Fleming

Tina Allan

Scot Allan

Tara Wilson

Dean Tattooist Bird

Adele Delly Warnock

Paul Cottrell

Alice Heard

Jack Heard

Laura Hill

Rob Hill

Mandy Baker

Ken Hickman

Latasha Buckle

Nathan Buckle

Georgia G Pladdys

Tyler Ramplin

Louise Sprules

Allan Sprules

Stacey Jane Neilson

Claire Walker

Leanne Boyd

Steven Boyd

Toni Aston

Aaron Aston

Jennifer Smith

Mark Smith

Aimee Wrigley

Neil Turner

Amy Skaife

Jason Skaife

Sam Cowan

Trevor Cowan

Amy West

Adam I'mnotmoody Carruthers

Marie Lawrence

Chereisse Leanne

Jade Rigglesford

Amber Dee

Amanda King

Tom Lambell

Stacey Nelson

Hannah Exley

Angela Coffey

Ian Coffey

Leïla Rebekah Canniff

Declan Lobb

Mikaela Gardner

Daniel Meechan

Michelle Coonan

Craig Arthurs

Emma Hall

Shaun Flint

Sylvia Wilson

Brenda McKernan

Laura Perry

Helena Louise Broadbent Tom Broadbent

Melissa Snow

William Tyler Snow

Melanie Case

Sean Case

Hayley Brice

Jai Yearsley

Sarah Michelle Fish

Steve Bailey

Victor Wotton

Alice Bolton

Jacquetta Birrell

Tom Birrell

Bridget Smith

Liam Stein

Fred Scammell Raymond

Lauren

Anne-Marie Biscoe

Craig Franks

Adrienne Southern

Andy Brown

Jade Chloe Westlake

Duncan Cooper

Jodie Welsh

Dan Welsh

Lizi Whitehead

Chris Whitehead

Stephanie Ellison Gorman

Chris Gorman

Harrie-louise Day

Kieron Sinderby

Martin Pittock

Natalie Pittock

Samina Ali

Jane Moore

Nadine Timms

Gary Jones

Sarah Mooney

Philip Nolan 😀

Sarah Leggett

Bethan Leggett

Annmarie Nicholson

Ryan Nicholson

Bonnise Shade

Keiran Shade!