MATCHING SOCKS EVERY MOTHERS NEMESIS
September 25th, 2017
859 Views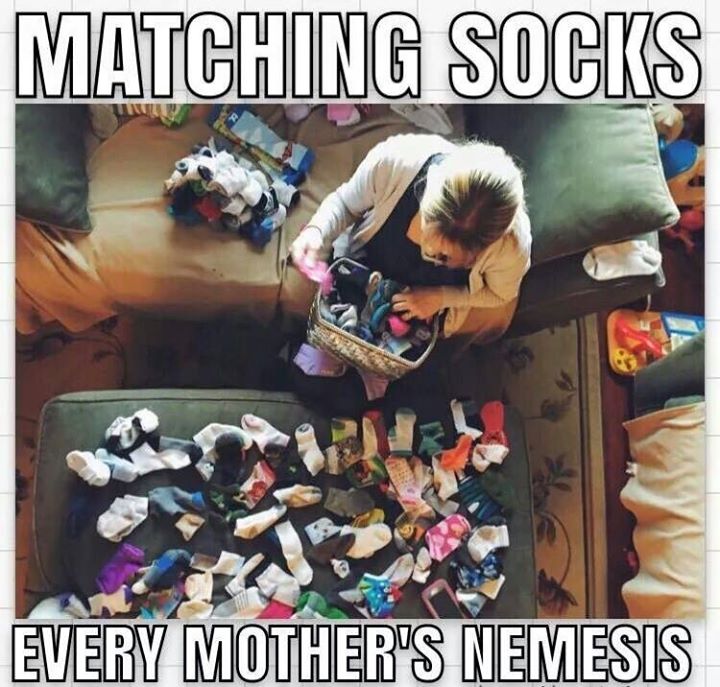 MATCHING SOCKS EVERY MOTHER'S NEMESIS
Fan Comments
Lauren Austin

Emily Goodman the worst part about having a family ... socks are really cheap these days so when ive had enough of more odd than matching i chuck all off them then do 15 pairs each and thus the cycle begins lool

Jessica Martin

My kids love this game and think it's fun we play who find the most pairs 😂 works well for now anyway not sure when they r older

Rebecca Kiley

Robyn looks like my house haha

Rachel Sutton

It's why it's a husband job lol

Louise M Curley

This is my 8 and 10 year olds job 😂

Joanna Louise

Chloe Smee we even have our own odd sock bag !

Amanda Hedley-cowton

We play agame .. Get kids involved who ever gets the most paired socks gets money 😀 kids love it for a few quid ! 😂😀

Kelly Marie

I make kids join in and play who can match the most 😂🤣😂who needs board games.

Shaz Helen

Harley Phoenix where the hell are all the pairs 😂😂😂

Doreen Jones

I love sorting the socks at my daughters

Marie Boultwood

This isn't yours auntie Donna is it x # sock police. 🤣😂🤣😜

Dawn Lee

And we still didn't find them all haha xxx

Catherine Doherty

Paul Burke Kerri and shea don't care if they match anyway lol

Bronwyn Carey

There is a sock farie in the washing machine that ceeps pinching one😂

Jaime 'jj' Denton

Haha yeah can remember that!! What a nightmare haha xx

Shirley-ann Boyle

Taylor Boyle This is your room full of my socks

Yvonne Ring

My daughter and her children say socks are to keep your feet warm don't need to match

Karen Young

Lisa may you love this haha xxxx

Jill Offen

I just chuck them in the bucket and they can match them or go odd lol x

Helen Sheldon

Stuart Cole 😂😂 look familiar xx

Siobhan Leeds

Dave Leeds....does this remind you of anyone 😂😂

Natalie Jayne Wyatt

Peter Lovell lol oh look it's my washing 😫

Kelly Latchford

Kim Akerman this has always been you 😂

Jill Foy

There the whole lot out sis xx

Roisin O'Reilly

Daisy's idea of heaven Marc O'Reilly 💰💰

Krystal Coats

I always give up an by new ones

Fransiska Marissa

Audy you are not alone 😂

Jenni Curtis

That's a night mare

Catrina Wells

Kayleigh Olivia and Maisie 😂

Karen Vercauteren-Cleeren

🤢

Ashley Connor

Rachel Mary Revill our pet hate lol xx

Laura Langdon

Charlene Long another one 😂

Catherine Gaffney

Shannon Gaffney Anthony Gaffney this is me all the time. 🤣

Amy Lloyd

Abbey Wheeler were not alone 😂😂

Sharmaine Street

Lillie-may Butler this is me!

Paul Kenney

April Williams not a problem 😂😂😂

April Mccreight

Julie Scates lol.xx

Annette Maggs

Dayvid Lol

Mandy Colley

haha Kara Colley x

Lynne Ronella Vitale

Josie McArdle! 😆😆😆

Dona Bamford

Rebecca Westall 😂😂

Lesley Riches

Jill Foy x

Kayla Howard

Lisa Denton 😂😂

Sonia Troup

Jennifer Lawrence 😂😂😂😂 x

Colleen Duffy

Mark Duffy 😂

Anita Westmoreland

Louis Annie 🤔😂

Charlotte John

Billy John Beth John Taylor Levi John Toby John 😂😂

Tracy Lee

Donna Gibb 🙈

Nicole Brasher

Vicky 🤣

Claire Dozzi

Nikki McLeod 🙄🙄🙄

Eline Bijnens

Andy Mijs 😂

Sam Fenn

Kim Swain

Celine Power

Darren Power

Dannielle Anne Burfitt

Sam Smith 😂😂

Steph Pugh

Dan Pugh🤣🤣

Gem Hodgson

Emma Bennett 😂😂

Sian Young

Jenni Maxwell

Kirsty Learmonth

Kirsty

Jade Sibley

Sophie Clifton

Tracey Edwards West

Becky Wilkes Fowler!!!!

Sammi-Jo Dodds

Richard Conopo

Laura Manders

Emmett Mooney

Hayley Fordham

Lisa Lyons 👐

Sally-anne Smith Chips

Jenni Curtis

Sarah Castle Woodward

Jill Offen

Jacquie Tanner

Dawn Mallinson 😂

Katie Coleman

Steve Coleman

Kirsty Bailey

Bronwyn Anne Burns-Elemes

Lisa Feldman

Stuart Feldman

Shaz Mcdill

Bianca King

Stacey Grainger

Simon Grainger

Jo Cowling

Taylor Cowling

Ruth Moore

Sophie Lucy Adams

Laura Johnstone

Adam Algotsson

Esther Snowden

Lorraine Lyne

Gemma Louise

William John

Claire Adams

Rose Scandrett

Stacey LoopyLou Hughes

Chris Clark

Sarah Campbell

Lucy Campbell

Karen Benfield

Steve Benfield

Susan Maria Varney

Gemma Marks

Lynette Smith

Lanie Smith Stagg

Julie Rutherford

Tony Rutherford

Arnold Roberts

Julie Roberts

Kimberley Rea

Emma Rea 😂

Beccie Benn

Adam Palmer

Tracey Davis

Rhiannon Hales

Pam Hubbard

Alex Hyde

Paulina Madden

Wendy Prayle

Tanya Jeanette Dowdall

Karl Jordan

Natasha Stelling

Trish Kiessler

Jessica Greensmith

Alison Wright

Graham Pepper

Michelle Bell

Sam Hedgecox

Luke Allen...